In an era where ecological competence has gained a pivotal importance in construction sphere, waterproofing membranes market is set to emerge as one of the most opportunistic business spheres of polymers and advanced materials industry. Pertaining to the growing concerns over environmental degradation and resource limitation, green roofs of late, are claimed to be the most widespread preference in the construction community. Needless to say, waterproofing membranes are absolutely critical for establishing these types of green roofs. While some are intrinsically impervious, most of these roofs require some kind of treatment to prohibit any kind of water leakage into the building.
Germany waterproofing membranes market size, by end-use, 2016 & 2024 (USD Million)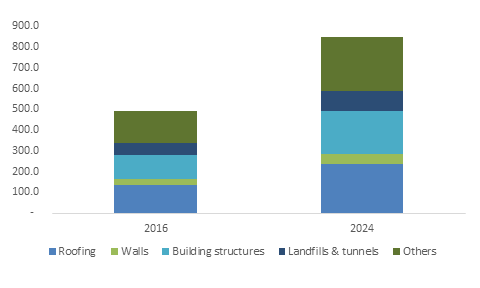 Indeed, the inevitable requirement of maintaining building sustainability has provided a significant impetus to global waterproofing membranes market trends. However, it is prudent to mention that in spite of the growing number of policies implemented by emerging economies with regards to building energy performance, the average energy consumption per person in the building sector practically remained unchanged over the past few years. As a matter of fact, global building related carbon dioxide emission has continued to rise by 1% since 2010. Amidst this slightly distressing scenario, waterproofing membranes industry is sending out waves of anticipation, on grounds of its contribution in reducing the environmental concerns. IEA's latest report claims that low carbon energy efficient building technologies can ultimately lead to improvement in global energy utilization per capita by at least 10% by 2025.
Regionally, China has emerged to be one of the profitable growth avenues for waterproof membrane market, primarily on account of the increasing infrastructural development and industrialization in the country. The growing infrastructural activities, in consequence, has tremendously upscaled the energy consumption in the China's building sector, which by extension has generated a massive demand for waterproofing membranes in the region. Statistics indicate that energy consumption of buildings in China accounts for nearly 15% to 16% of the total energy consumption of the nation. To speak of the product landscape, bitumen membranes, as it is observed, have been gaining a sheer popularity in China market for roofing applications, subject to its excellent adhesion properties and favorable regional governmental norms. As per estimates, China bitumen waterproofing membranes industry share from roofing applications is set to exceed USD 250 million by 2024.
Get a Sample Copy of this Report@ https://www.gminsights.com/request-sample/detail/173
Companies partaking in this moderately consolidated business space are deemed to witness lucrative opportunities over the ensuing years, given the rising preference of green buildings both across developing as well as developed nations. In the face of intense share battle, waterproofing membranes market players have been increasingly joining forces with one another to come up with innovative solutions, in a bid to substantiate their position. Recently for instance, BASF, one of the leading waterproofing membranes market giants, collaborated with SoloPower Systems, to launch a multi-layered seamless roofing system that would act as an interface between the environment and building. Reportedly, this highly enhanced multi-layered water proofing membrane holds considerable opportunities for cost effective energy saving in buildings. This breakthrough system, as per reliable sources is comparatively 60% lighter than the conventional roofs, subject to its unique architecture.  Backed by a slew of advantages with regards to energy efficiency and environmental viability, this groundbreaking roofing system plausibly would bring a disruption in the waterproofing membranes industry.
While speaking of the market's potential opportunities, it is also imperative to mention that the business space is subject to a string of constraints, fluctuating price trends of raw materials being at the pinnacle. The primary feedstocks for manufacturing these waterproofing membranes are bitumen and polypropylene. As these materials are mostly petroleum based, volatile crude oil price trends leave a somewhat deterring impact on waterproofing membranes industry outlook, in terms of overall production cost.  Nonetheless, with regional players making significant investments in product differentiation, both in terms of quality and cost, the industry is forecast to witness appreciable growth over the ensuing years. In terms of commercialization, the overall waterproofing membranes market would exceed a valuation of USD 10.5 billion by 2024.
Author Name : Satarupa De