Industry Trends
Global Biodefense Market size contribution was $9.8 billion for 2015 with CAGR of 6.91% predicted to be registered for forecast timeline. Rising bioterrorism threat and government support against bioterrorism are main aspects that are predicted to promote industry expansion in future. Many government legislations like project bioshield offers nations with counter measures against chemical, radiological, nuclear and biological attack.
U.S. Biodefense Market Size, by Product, 2012 – 2024 (USD Million)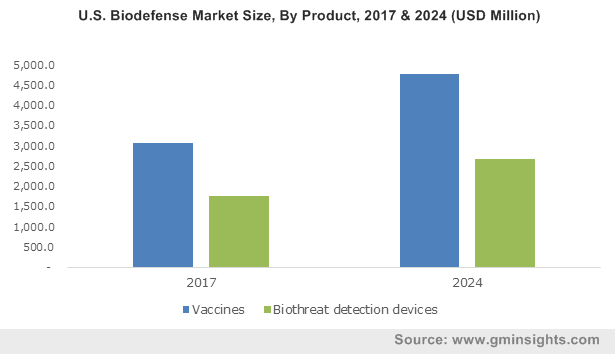 Project bioshield assures accessibility of next generation medical countermeasures against smallpox and anthrax agents. Main goal of the project is creating funding authority to build next generation counter measures, make innovative research & development programs and create a body like FDA (Food & Drug Administration) that can effectively use treatments in case of emergencies. All these factors are predicted to drive global biodefense industry trends.Furthermore, enhanced alertness displayed by public health organizations by investing in biodefense technology, skilled persons and materials along with heavy government support as well as funding from private & public sectors are predicted to contribute towards global biodefense market growth.
View a summary of the " Enterprise Application Market size, Industry Analysis Report"

@https://www.gminsights.com/industry-analysis/biodefense-market
Product Trends
Global biodefense industry is segmented into products like botulism, anthrax, nuclear/radiation and small pox. Anthrax product segment contributed about 31.6% to global biodefense market share for 2015 and is projected to surpass revenue of $4.21 billion by end of forecast timeframe. The reason for segment growth can be credited to the fact that bacillus anthracis is identified as greatest priority in biodefense study and positioned among 9 agents in A class according to CDC (Centers for Disease Control and Prevention) classification.
Further, government projects like BioShield, BARDA (Biomedical Advanced Research and Development Authority) and Joint Program Executive Office-Chemical and Biological Defenses offer large funding and vaccine doses against anthrax. All these factors are predicted to propel segment growth in future.
Radiation segment is predicted to record higher CAGR during forecast timeline. Rapid increase in research & development activities owing to outbreak of Ebola virus and possible use of the virus as bio weapon is projected to promote segment growth.
Regional Trends
Global biodefense market is segmented into geographical locations like APAC, Latin America, Europe, MEA and North America.
North America biodefense industry dominated the global industry by accounting for highest regional revenue share for 2015. It contributed about $8.91 billion in terms of revenue for this year. U.S. biodefense market share led the regional industry for 2015 in terms of revenue. The growth of the industry in U.S. cane be credited to factors like large scale funding for biodefense activities and government support.
Europe biodefense market is anticipated to register maximum CAGR of 11.41% during forecast timeline. UK's ministry of defense contributed highest regional industry share for 2012 by providing funds worth $75.67 million for defense & civilian research.
Get a Sample Copy of this Report @ https://www.gminsights.com/request-sample/detail/714
Competitive Trends
Key industry participants profiled in the report include Emergent Biosolutions, SIGA Technologies, Ichor Medical Systems Incorporation, PharmaAthene, Cleveland BioLabs Incorporation, Achaogen, Alnylam Pharmaceuticals, Xoma Corporation, Dynavax Technologies Incorporation, Elusys Therapeutics, DynPort Vaccine Company LLC, Bavarian Nordic and Nanotherapeutics Incorporation.