Industry Trends
Global Butane Market size is predicted to surpass 266 million tons with projected gains higher than 2.8%. Rising LPG (liquefied petroleum gas) demand due to its acceptance as domestic fuel, specifically in APAC and Africa, is projected to promote global industry trends. Governments all across the globe are encouraging its usage to reduce greenhouse emissions and coal dependency. They are providing subsidy on LPG to promote its usage as domestic fuel.
Butane market price trend is projected to soften during forecast timeline due to crude oil movement. Rising use of auto gas due to operational cost advantages as compared to oil based fuels like gasoline is projected to promote industry demand. It possesses high energy ingredients and burns easily as compared to other fuels. Use of auto gas as fuel is growing rapidly during past few years owing to ecological advantages.
Europe butane market size, by application, 2012-2022 (Million Tons)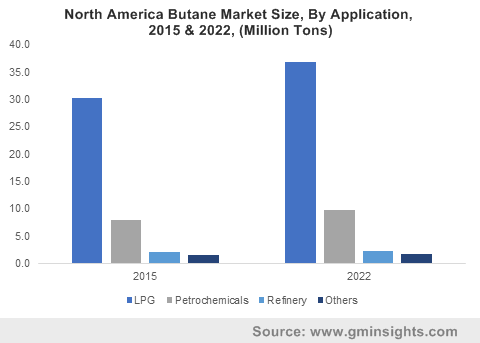 However, pollution of underground water due to leakage of methyl tert-butyl ether along with growing demand for ethanol as a replacement for gasoline is anticipated to hinder growth of global butane market in future.
Get a Sample Copy of this Report: @ https://www.gminsights.com/request-sample/detail/113
Application Trends
Global butane market is segmented into various applications like LPG, refinery and petrochemicals.
LPG segment was biggest and contributed higher than $121 billion for 2014. Rising demand for heating fuel in cold locations along with use of fuel for cooking purposes in APAC is anticipated to promote demand of butane for LPG production. Furthermore, most of the Asian and European nations have been accepting LPG as transportation fuel.
Petrochemical segment contributed higher than 16.1% of total demand and is projected to expand substantially during forecast timeline. Growth of the segment in middle east is projected to promote the demand during forecast timeframe.
Regional Trends
Global butane industry is segmented into geographical locations like North America, MENA, Latin America, APAC and Europe.
APAC, led by India and China butane market, contributed key industry share and produced revenue about $57.1 billion for 2014. Increase in population and growing requirement for energy, specifically in rural areas of China and India for cooking is projected to stimulate the demand for butane.
MENA (Middle East and North Africa) market share contributed more than 18.1 % of total size for 2014. Rising use of LPG as feedstock in replacing for natural gas & crude oil in factories and chemical sectors has enhanced the product demand in the region. This region is projected to experience exceptional growth owing to growth in countries like Nigeria, Saudi Arabia, UAE and Qatar.
Competitive Trends
Key industry participants profiled in the report include British Petroleum, ExxonMobil Corporation, Valero Energy Corporation, Royal Dutch Shell, Tyumen Oil Company, Perenco, Total S.A, Air Liquide, Energy Corporation of America, Chevron Corporation, ConocoPhillips Company, Sinopec Group and China National Petroleum Corporation.
Author Name : Dhananjay Punekar
This entry was posted in ENERGY, ENERGY, MINING, OIL AND GAS and tagged Application Potential, Butane Market Size By Application, Competitive Market Share & Forecast, Industry Analysis Report, Price Trends, Regional Outlook.