The carbon Nanotubes market has become a billion-value industry due to the high demand for these materials across various end use industries. Carbon nanotubes are allotropes of carbon having a cylindrical nanostructure and possess excellent properties, making it popular across electronics, optics, nanotechnology, and material science industries. Properties like high tensile strength and light- weight of these materials make them used widely across defense, aerospace, and electronics sectors.
As per a research report on Carbon Nanotubes Market by Global Market Insights Inc., "the global carbon nanotubes market worth USD 1.35 billion in 2015, is estimated to grow at a CAGR of 22.1 % over the period of 2016-2024, hitting USD 8.1 billion by 2024." Wide applications of these materials across energy, electrical & electronics, and polymers industries are likely to drive the market growth over the forecast timeframe, says the report.
U.S. Carbon Nanotubes Market size, by application, 2013-2024 (USD Million)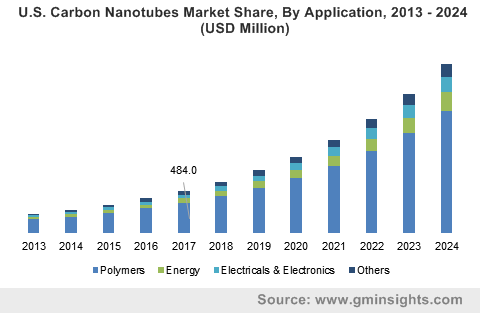 CNTs exhibit exceptional tensile strength which is approximately 20 times higher than that of steel. Moreover, these materials are five times lighter than steel. For instance, CNT can be used in turbine wind blades to reduce the mechanical stress and impart higher strength, thereby increasing the overall efficiency. In addition, surging demand for light weight products in polymers and electronics industry will also favor the carbon nanotubes market share over the coming years.
Get a Sample Copy of this Report: @ https://www.gminsights.com/request-sample/detail/744
The basic raw materials used in the manufacturing of CNTs are ethylene, methane, and acetylene. Prolonged exposure to nanoparticles may result in chronic disorders, which may hamper the industry growth over the coming years. Moreover, high production and operational cost will also restrain the market share over the forecast timeframe.
CNT market will significantly expand owing to its applications in the polymer industry. The polymer industry contributed towards 50% of the overall CNT market share in 2015, and is expected to be the dominant application segment over the coming years.
Electrical & Electronics will be another major industry supporting the growth of CNT market over the next eight years. The industry will demand for high use of CNTs in a wide set of applications like forming p-n diode by chemical doping and polymer coating, building electronic devices like field effect transistors, and dispersing heat from computer chips owing to their incredible thermal transmission properties. Electrical & Electronics application segment is pegged to grow at a CAGR of 20% over the period of 2016-2024.
Carbon Nanotubes are mainly used in the form of either SWCNT (Single Wall Carbon Nanotubes) or MWCNT (Multi Wall Carbon Nanotubes). SWCNTs accounted only for a small portion of the overall carbon nanotubes market. These are mainly used in electrical applications owing to the high electrical conductivity exhibited by these materials.
MWCNTs accounted for 90% of the overall market share in 2015, and is expected to register a CAGR of 22% over the period of 2016-2024. The high growth is attributed to the excellent electrical, thermal, and mechanical properties possessed by these materials which makes them extensively used as polymers additives, catalysts, electron field emitters, gas-discharge tubes in telecom networks, lithium-battery anodes, nanotube composites, nanoelectrodes, etc.
The U.S. CNT market worth USD 340 million in 2015, is set to witness noticeable growth over the coming years, primarily driven by government investments in nanotechnology and growth in the polymer industry across this region.
The Asia Pacific CNT market is estimated to register the highest CAGR of 23% over the next eight years. Expansion of polymer and electronics industry in this region will be primarily driving the industry share. China, Japan, and India are set to be the major revenue pockets for the CNT market in APAC.
The industry is quite fragmented with a blend of large and small market players. Key industry players like Hanwha Nanotech Corporation and Arkema SA are backward integrated, where they manufacture raw materials required for CNTs. Other participants such as C Nano Technology Limited, Nanocyl SA, Raymor Industries, Thomas Swan & Co. Ltd., and Nanoshel LLC have adopted regional distribution strategies to address the high demand for CNTs in end-use industries.
Author Name : Shikha Sinha
This entry was posted in Polymers and Advanced Materials and tagged By Application, Carbon Nanotubes Market Size By Product, Competitive Market Share & Forecast, Growth Potential, Industry Analysis Report, Price Trends, Regional Outlook.