Emerging economies to provide lucrative opportunities for the global oil storage market: Asia Pacific to witness significant growth .

Oil prices have been a debatable topic over the past couple of years. The crude prices underwent a major decline from trading at USD 105/barrel in 2012 to USD 43/barrel in 2016, resulting in a supply/demand imbalance. The supply of the crude oil has surpassed its demand leading to an overabundance of the crude oil worldwide. This has resulted in a surging demand for oil storage facilities across the globe. According to Global Market Insights, Inc.,
"the global oil storage market size valued 1400 million cubic meters in 2015, is estimated to surpass 2298.3 million cubic meters by 2025."
U.S. Oil storage Market size, by fuel, 2013 – 2025 (Million Units)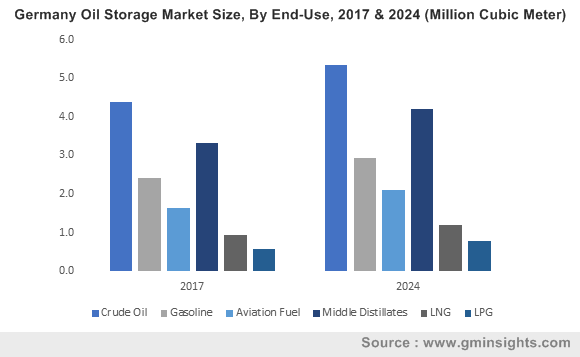 The declining crude oil prices have also built a tough competitive scenario in the market. The players are focusing towards expanding their operations to increase their supply and storage infrastructure, yet another reason for the oil storage market surge. The emerging economies, mainly the Asia Pacific is estimated to be a lucrative growth prospect for the oil storage market. Heavy import of crude oil across this region has resulted in an upsurge of storage facilities demand. National Bureau of Statistics depicted Asia having 191 barrels of crude in its petroleum reserve in the year 2015. The Asia Pacific Crude oil market size is estimated to surpass 326 million cubic meters by 2025.
Get a Sample Copy of this Report: @ https://www.gminsights.com/request-sample/detail/803
The government is also encouraging the growth of the oil storage facilities taking into consideration the national economic security as these oil reserves can be used at the time of energy crisis safeguarding the national economy. For instance, the petroleum ministry of India has declared about increasing its oil storage capacity taking the advantage of the reduced crude oil prices. The Government of India has set up three strategic crude oil reserves, each of 5 MMT capacity in Mangalore, Vishakhapatnam, and Padur. Rajasthan and Odisha are also under the pipeline for this set-up.
The Middle East and Africa oil storage market is estimated to witness a significant growth in the coming years mainly driven by the rising oil production and the declining crude oil prices across this region. As per the study, Iran will boost the production rate from 3.7 million barrels per day to 4.2 million barrels per day, resulting in a heavy demand for oil storage across this region. UAE market is estimated to grow at a CAGR of 4% over 2016-2025.
Also, shale revolution which resulted in an enormous production of oil has positively impacted the US oil storage market size. The US oil storage market share is anticipated to grow at a CAGR of 4.5% over 2016-2025.
The strategic oil storage reserves are popularizing owing to its adoption by private companies and government bodies to store crude, safeguarding the national security and economy during energy crisis. For Instance, Abu Dhabi National Oil Company or ADNOC made an agreement with India, wherein the former would store crude in India's strategic reserves. Commercial oil storage reserves are anticipated to witness significant gains over the coming years, mainly driven by the growing demand for petroleum products. The commercial reserve oil storage market is anticipated to grow at a CAGR of 6.3% over 2016-2025 (in terms of volume).
Oil storage tanks made of steel would witness high demand over the coming timeframe owing to the surging demand for petroleum products. Fiberglass reinforced plastic tanks would also witness significant gains owing to their properties such as light-weight, corrosion-resistance, and high strength. FRP oil storage tank market is estimated to surpass USD 3 billion by 2025. Carbon steel oil storage tanks are used to store flammable liquid owing to its property of withstanding high temperatures without cracking or melting, Carbon steel oil storage tank market is anticipated to grow at a CAGR of 5.5% over 2016-2025.
The major fuels contributing towards the global oil storage market share are Crude Oil, Aviation Fuel, Gasoline, LNG, Middle Distillates, and LPG. LNG storage market is estimated to exceed USD 2.9 billion by 2025. Gasoline storage market is anticipated to witness a CAGR of 4.9% over the period of 2016-2025, mainly driven by lower gasoline prices and the growing economic trends. Middle distillates storage market would witness significant growth trends, recording a CAGR of 3.4% over 2016-2025. The growth can be attributed to the rising demand for petroleum products worldwide. LPG reserves market is forecast to exceed USD 2.5 billion by 2025.
The coming years will witness the key players adopting strategic alliances and mergers & acquisitions as a major part of their growth strategy. The market participants will expand their supply and storage infrastructure to sustain the heavy competition. A recent such move was Suncor Energy Inc. selling its oil storage stake to Fort McKay First Nation to strengthen its bond with aboriginal groups located close to the oil sands. Some of the key oil storage market players are CST Industries, Inc., Poly Processing, Snyder Industries, Red Ewald, Inc., Synalloy (Palmer), Assmann Polyethylene Tank, ZCL Composites Inc., Zepnotek Storage Tank, Belco Manufacturing Co Inc, L.F. Manufacturing, Inc., Containment Solutions, Inc, Polymaster, Holvrieka, Tuffa Tanks, and Vopak.
Author Name : Shikha Sinha
This entry was posted in ENERGY, ENERGY, OIL AND GAS and tagged Application Potential, Competitive Market Share & Forecast, Oil Storage Market Size By Reserve, Price Trends.