Growing use of biocides in medicine, forestry, and agriculture is predicted to drive the biocides market  growth over the coming years. Surging demand for waste water treatment in residential and industrial sectors is expected to benefit the industry growth in near future.  Biocidal products also find various applications as disinfectants or anti-fouling agents. For instance, chlorine is used as a disinfectant in swimming pools. As per Global Market Insights Inc., "The biocides market is expected to reach USD 12 billion by 2022 at a CAGR of 5.1% over the period of 2015-2022."
Biocides finds myriad applications in paints & coatings, food & beverages, HVAC, water treatment, waste water treatment, personal care, oil & gas, boilers, wood preservation, and fuels industries. Biocides application in coatings industry worth USD 114 million in 2014, is anticipated to surpass USD 142 million by 2022. Enhanced application scope of biocides in paints & coatings industry due to its antibacterial, antimicrobial, and antifungal properties is expected to drive the market growth over the coming six years. High demand for biocides in the oil & gas industry is due to its ability to maximize the production, remove corrosion, and prevent the spoiling of functional fluids.
Central & South America biocides market share, by product, 2012 – 2022 (USD Million)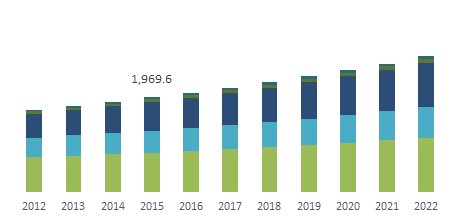 Biocides market share in the wood preservation industry is predicted to grow at a CAGR of 4.5% over the period of 2015-2022. Biocide will also witness significant growth in the water treatment industry due to the ability to annihilate pathogens and bacteria from water. Its applications in personal care industry is expected to grow at a CAGR of 5.2% over the period of 2015-2022 on account of its large-scale use in cosmetics like shampoo, shower gel, moisturizing, and liquid soap. Furthermore, it helps in enhancing the shelf life of these products and hinders the bacterial growth.
Get a Sample Copy of this Report:@  https://www.gminsights.com/request-sample/detail/150
Amongst the various kinds of biocides, the halogen compound based biocides is anticipated to contribute substantially towards the overall market share over the coming timeframe. Halogen compounds based biocides market worth USD 2 billion in 2014, is anticipated to grow at a CAGR of 4.7% over the period of 2015-2022. High growth of these compounds can be attributed to their large-scale applications in municipal as well as industrial projects for waste water treatment. In addition to this, easy availability of halogen compounds accompanied by low costs has contributed to its heavy use in various industries. The Nitrogen based biocides market is predicted to record a CAGR of 5.8% over the period of 2015-2022 owing to its wide set of applications (as food preservatives) in healthcare, food processing, and pharmaceutical industries. The copper biocides market share is likely to exceed USD 1.75 billion by 2022, growing at a CAGR of 4.5% over the period of 2015-2022.
The North America biocides market size worth USD 3.2 billion in 2014, is expected to dominate the regional landscape over the coming years, primarily driven by the US. The growth can be attributed to rapid infrastructural developments, heavy investments, and strict VoC emission norms across this region. The U.S. biocides market is estimated to surpass USD 3.7 billion by 2022.
The Asia Pacific biocides market is expected to witness a significant surge over the period of 2015-2022 due to heavy growth of food & beverages, construction, pharmaceuticals, and healthcare industries. China and India are expected to be the major revenue pockets.
The Europe market is forecast to witness a substantial growth over the period of 2015-2022 as a result of heavy demand for HVAC applications. The Germany biocides market is predicted to surpass USD 25 million by 2022.
Key industry players include Lanxess, Ashland, Champion Technologies, Troy, AkzoNobel, Arch Chemicals Inc., and Thor Specialties Inc., and Albemarle Corporation. The market players will try to increase their regional presence through R & D activities, product innovations, and mergers & acquisitions.
Author Name : Dhananjay Punekar
This entry was posted in Bulk & Specialty Chemicals and tagged Application Potential, Biocides Market Size By Application, By Product, Competitive Market Share & Forecast, Industry Analysis Report, Price Trends, Regional Outlook.