Growing popularity of music studios, gyms & workout centers, sound insulation materials, and sound quality auditoriums are predicted to propel global acoustic insulation market growth over the coming years. According to the Harvard School of Public health, over 47 million houses in U.S. were under-insulated in 2015 and these figures display a strong future growth prospective for the insulation industry in U.S. Moreover, increase in noise pollution due to lifestyle changes of the consumers along with legislations supporting sustainable infrastructure are expected to stimulate the demand for acoustic insulation in residential and commercial sectors. Expansion in sustainable infrastructure, owing to increasing purchasing capacity of the middle income-groups, particularly in BRIC countries, is expected to drive the acoustic insulation industry size over the coming years. Manufacturing, oil platforms, electronics, and construction are other vital sectors promoting acoustic insulation demand to curb noise pollution levels.
Russia Acoustic Insulation Market size, by application, 2013-2025 (USD Million)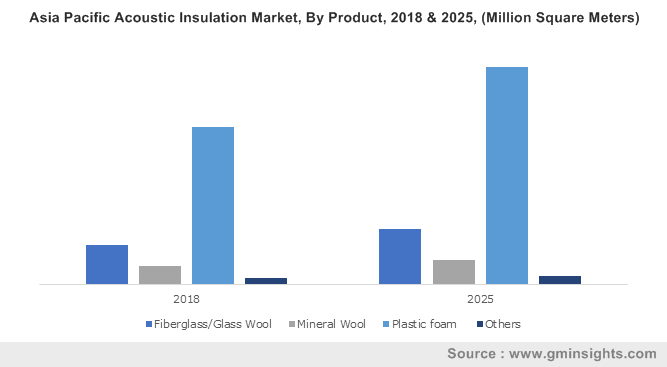 According to Global Market Insights, Inc., "Acoustic Insulation Market size worth USD 10 billion in 2015, is predicted to touch USD 22 billion by 2025, recording a CAGR of 6% over the period of 2016-2025." Acoustic insulation finds extensive application in construction and transportation industries. Acoustic insulation market size in the construction industry accounted for nearly USD 4 billion in 2015, and is estimated to grow substantially over the coming years. The growth can be attributed to the high demand for sustainable structures from middle-income groups along with rise in urbanization. Its application in transportation industry is predicted to grow at a rate of 6.3% over 2016-2025 due to growing requirement for soundproofing materials by hospitals, schools, and houses.
Get a Sample Copy of this Report:@ https://www.gminsights.com/request-sample/detail/802
Major acoustic insulation products include extruded polystyrene, glass wool, cellulose & aerogel, and rock wool. Extruded Polystyrene acoustic insulation market revenue is expected to surpass USD 9 billion by 2025, owing to its dense structure and moisture resisting property.  Cellulose & aerogel insulation market is expected to record a CAGR of 7% over 2016-2025 due to their outstanding sound absorption characteristics and ease of handling. Glass wool acoustic insulation market worth USD 3 billion in 2015, is expected to witness a substantial growth over the period of 2016-2025, owing to its effective lightweight features, high durability, flexibility, and acoustic & thermal properties.
Asia Pacific acoustic insulation market worth USD 2 billion in 2015, is predicted to witness a significant growth over 2016-2025 owing to the rising demand for soundproofing vehicles across the automotive sector. Growing focus on soundproofing and fire safety in high-rise infrastructure have boosted the demand for acoustic insulation products.
Construction industry will also play a vital role in APAC acoustic insulation market growth. Construction sector in Asia Pacific accounted for nearly USD 3.5 trillion in 2015. China dominated the Asia Pacific construction market in 2015 by contributing over USD 1.7 trillion to the overall revenue. China is predicted to be the key revenue pocket of APAC acoustic insulation market over the coming years. India and Indonesia will also significantly contribute towards the regional share.
North America market is expected to reach USD 5 billion by 2025 due to strong demand for acoustic insulation products across construction, engineering, industrial, and commercial sectors. U.S. is predicted to contribute significantly towards the overall market revenue of the region.
Europe acoustic insulation market is predicted to witness a high surge over the 2016-2025. Re-insulation of large amount of under-insulated homes in Europe to check noise emission is a major factor predicted to contribute towards the overall revenue of the region.
Enhancement of brand visibility, geographic expansion, strategic collaborations, and product portfolio improvement will be some of the major growth strategies adopted by the industry participants over the coming years. Key market players include Armacell, Rockwool International Company, Cellecta, SIDERISE, Owens Corning Company, AFICO, Knauf Insulation Company, Paroc, Kingspan Group, and Fletcher.
Author Name : Dhananjay Punekar
This entry was posted in Polymers and Advanced Materials and tagged Acoustic Insulation Market Size By Product, By Application, Competitive Market Share & Forecast, Growth Potential, Industry Analysis Report, Price Trends, Regional Outlook.