In a bid to respond to the rising health concerns, fitness equipment market has been experiencing a strong footing especially when technology is empowering this business space. Fitness has been recognized as an integral component of well-being and longevity. With regards to this, there has been an influx of latest trends in the healthcare fraternity that are specifically designed keeping into consideration the sedentary lifestyles of the consumers. The Italian fitness giant, Technogym, for instance, has recently opened a fully interactive concept store in Milan, offering the public with the latest interactive wellness solutions. The new space is designed in collaboration with Studio Antonio Citterio Patricia Viel Interiors. This is profoundly TechnoGym's flagship in the fitness equipment industry space, given the fact that this 750 square foot, 3 storied fully interactive store is reportedly the first of its kind.
India Fitness Equipment Market Size, By End-Use, 2012-2024 (USD Million)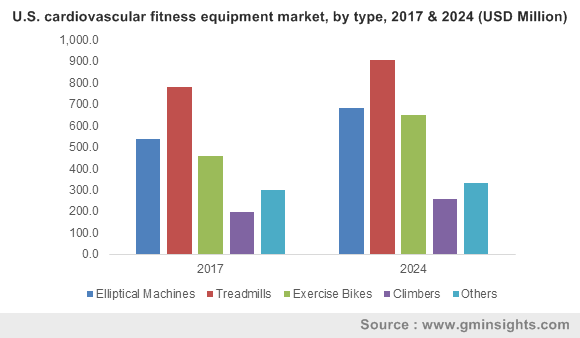 Today, hectic lifestyles and unhealthy diet are hitting a major chunk of the global population with a plethora of lifestyle disorders that are resulting from physical inactivity such as cardiovascular diseases, muscle degeneration, diabetes, and weight gain.  The increasing penetration of these aforementioned diseases has necessitated the requirement of physical activities, subsequently driving fitness equipment market commercialization. This is quite evident from the increasing number of membership at gyms and fitness club especially across urban areas in developed & developing nations. In fact, as per statistics, in 2016, around over 57 million Americans were engaged in fitness centers and health clubs, which shows an exponential increase over a period of six years (32.8 million in 2000). Not only America, Europe proved to be another outpacing region actively partaking in the fitness equipment market, subject to the fact the regional fitness membership exceeded 9 million in 2016.
Get a Sample Copy of this Report@ https://www.gminsights.com/request-sample/detail/443

A recent report brought forth by Global Market Insights, Inc. depicts that health clubs and gyms procures a sizable chunk of the overall fitness equipment industry share. Obesity considered as one of the root causes of the life style related diseases, is profoundly the key driving force behind the fitness equipment market proliferation. Evidence suggests that the situation is detrimental in developed belts like America and Europe. Enlisted below are some of the essential statistics by Centers for Disease Control and Prevention (CDC) related to U.S. obesity prevalence which in a way is leaving its connotation on the regional overall fitness equipment industry.
Almost 68.8% of the U.S. adults are considered to be overweight, out of which, almost 6.3% suffers from extreme obesity.
Obesity prevalence for both men and women is estimated to be around 36%.
Speaking along the similar lines, U.S. contributed for the majority of fitness equipment market share.  A large pool of the obese population is not only the only factor that has acted in favor of the regional market growth, but the technological empowerment has also parallelly complemented the business landscape. This can be evidenced by the abundance of advanced featured strength training and cardiovascular machines in the country's health clubs and gyms. In fact, statistics depict, cardiovascular training by the end of 2024, will cover almost 50% of the overall fitness equipment industry share.
Though the obesity prevalence is not so predominant in the APAC belt, fitness equipment market in this region is forecast to observe impressive growth in the coming seven years. The prime factor that is enhancing the regional market outlook is the affluence in middle-class population and the subsequent increase in the disposable incomes. Japan, South Korea, China, Australia stand as the major revenue pockets. Governments of these emerging economies are consistently partaking in health care initiatives and programs, which in a way is leaving a perpetual impact on fitness equipment market.  The Government of Australia, for instance, provides grant for applicants interested in setting a business venture related to gym and health centers.
Of late consumers have become increasingly health conscious, the fundamental aspect thriving the fitness equipment industry dynamics. The unprecedented advancement in healthcare IT has been successful in fetching consumers to improve their health by adopting novel technologies like software tracking apps, wearables, and connected devices. In this regard, the involvement of tech giants like Google, Fitbit, and Verizon is worth noticing. These mammoths are bringing the latest trend of onsite gyms that are facilitated with dedicated trainers 24*7. In this burgeoning business landscape, mergers and acquisitions is the prime strategy adopted by fitness equipment market players to strengthen their geographical presence by expanding the product portfolio. The past year acquisition of Cybex International Inc., the leading commercial fitness maker by Brunswick Corp is quite an evidence to the aforementioned tactic.  Reportedly, with this collaboration, Brunswick Corp is trying to exploit Cybex International's cardiovascular and strength training product segments. Some of the other prominent fitness equipment industry participants include Nautilus, Inc., Johnson Health Tech, Amer Sports, Icon Health & Fitness, and Technogym.
Global fitness equipment industry is forecast to record a valuation over USD 14 billion by the end of 2024, with a projected CAGR of 3% over the period of 2017-2024.  Despite the high cost that remains a significant restraining factor, fitness equipment market commercialization on a broader perspective is bound to witness an appreciable growth in the coming years, considering the health-driven consumer approach and technological proliferation in healthcare fraternity.
Author Name : Satarupa De