Global biotechnology market is expected to experience high growth prospects with the escalating occurrence of chronic ailments, encouraging more research in the field of DNA sequencing, fermentation, recombinant technology, chromatography, PCR technology, nanobiotechnology, and tissue engineering & regeneration. Today, scientists are using yet another new technology referred as CRISPR genome editing to eliminate HIV. Furthermore, they are carrying out extensive research on stem cells and exploring best possible ways of cancer cure. As per Global Market Insights Inc. report, "Biotechnology market size is expected to surpass USD 775 billion by 2024. ". Growing food concerns owing to the rising population, scarcity of land, irregular rainfall, and insect attacks have forced the governments to produce genetically modified crops, thereby complementing the industry growth.
U.S. Biotechnology Market Size, by Application, 2012- 2024 (USD Million)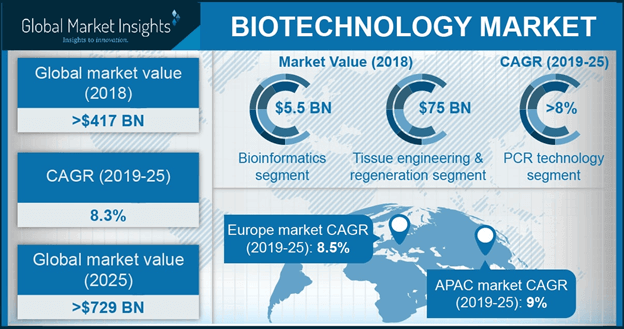 Tissue engineering market revenue, which was estimated at USD 5 billion in 2015, is expected is expected to observe a high surge over the coming years, and this in turn will stimulate the growth of biotechnology industry in the near future.  Moreover, Nanobiotechnology is also expected to witness a lucrative growth over the coming years, assisted by new innovations taking place in forensic science and forensic diagnostics. Cell based assays will also contribute considerably towards biotechnology market share over the period of 2016-2024, owing to its wide use in microfluid and cell testing technologies.
Get a Sample Copy of this Report:@ https://www.gminsights.com/request-sample/detail/784
Biotechnology industry is experiencing a high growth across Bioservices, Bioindustrial, Biopharmacy, and Bioagriculture sectors. Biopharmacy sector, which led the biotechnology business space in 2015, is expected to contribute substantially towards the industry growth over the next seven years. High demand for personalized drugs, supportive government policies, and rise in the number of patients suffering from acute ailments across the globe are expected to be the key growth drivers. Biotechnology market revenue across the bioservices sector is expected to witness a noticeable growth over the coming timeframe, driven by rise in the number of clinical research activities/trials carried out by biotechnology & pharmaceutical firms.
North America biotechnology industry size estimated over USD 137.4 billion in 2015, is projected to experience a high surge over the next few years, driven by high R&D investments coupled with growing awareness about its applications in various sectors. U.S. is anticipated to drive the regional growth.
Favorable government legislations related to healthcare along with growing public awareness about the significant benefits of biotechnological applications are expected to drive Europe biotechnology market value over the coming years.
APAC biotechnology market will exhibit a lucrative growth over the coming timeframe, driven by largest old population base, enhanced healthcare amenities, high disposable incomes, and high government support promoting intensive research in biotechnology. India and China are expected to be the key regional revenue contributors.
LATAM biotechnology industry is expected to witness a significant growth over the coming years. Mexico and Brazil are expected to contribute significantly towards the regional share.
Market players will try to increase their profit margins through strategic alliances, R&D investments, and technological innovations. Key industry players include Celgene, Johnson & Johnson, Novartis International AG, GlaxoSmithKline plc, AstaZeneca plc, Sanofi S.A., Abbott Laboratories, Biogen Inc., Amgen Inc., F. Hoffmann-La Roche AG, Lonza Group, Genentech Inc., and Pfizer Inc.
Author Name : Dhananjay Punekar