As the oil and gas industry witnesses consecutive highs & lows in addition to relentless demand, several verticals, artificial lift systems market among them are likely to be impacted in a noticeable manner. As per reliable estimates, annual oil demand is expected to grow by 1.2% and surpass 105 million bpd by 2025. As the oil fields across the globe reach a stage of maturity, their natural pressure tends to diminish, leading to a decline in production. However, this scenario may be marginally diminished as modern technology can now provide means for extraction such as electric submersible pumps, gas lifts and progressive cavity pumps. In this regard, most oil producing companies are incorporating secondary extraction techniques to boost oil production, thus stimulating artificial lift systems market trends.
North America Artificial Lift Systems Market Size, By Technology, 2017 & 2024 (USD Million)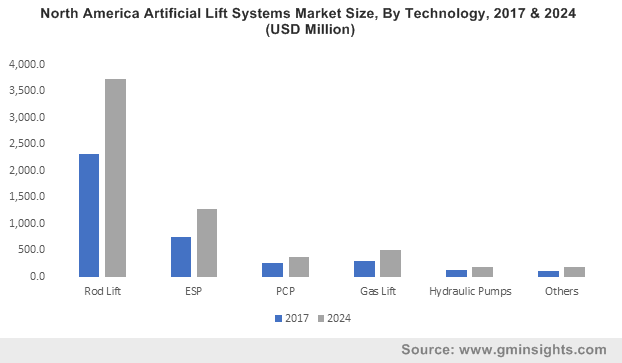 The last couple of decades have witnessed tremendous technological developments in artificial lift systems industry, enabling operators to produce oil even in the most challenging environments. With the installation of technologies like jet pumps, rod lifts and ESPs, a well producing 5000 barrels per day could yield up to 7000 barrels per day. Surface, reservoir operational conditions, and fluid together decide the kind of best artificial lifts to be deployed for maximum production. Armed with a simple design and easy operability coupled with low operating costs, rod lift based artificial lift systems market is expected to gain extensive momentum in the ensuing years. The ability of these systems to lift high temperature oil as well as high efficiency leading to 50% – 60% increase in production will further increase the deployment of rod lifts.
Get a Sample Copy of this Report:@https://www.gminsights.com/request-sample/detail/404
The electric submersible pump is another dependable technology that can handle volumes as large as 90,000 barrels per day drawn from great depths. Considering that ESPs are the most economic lifts that have proven to be very efficient, the increasing deployment of ESPs in oil fields has added stimulus to artificial lift industry outlook. ESPs can operate in horizontal wells as well in high angle ones, in addition to being able to change reservoir conditions due to variable speed drives. The rapid evolution in ESP technology has made this system capable of operating in gassy and abrasive environments – courtesy, the development of abrasion resistant zirconia bearings that has enhanced the run life of ESPs, eventually propelling artificial lift systems industry size.
Artificial lifts are being used in approximately 950,000 wells around the globe to improve production rates after nature pressure has declined. These lifts have motors and pumps that are controlled by variable speed drives to provide better insight and control over oil pumping in different stages. Variable speed drives have been developed over the recent decades and have integrated oil industry specific programs, enabling operators and engineers working with artificial lifts to access new opportunities with better control. Digital intelligence is also paving major pathways for the growth of artificial lift systems market, as is evident from the instance of Silverwell Technology Ltd. securing a significant investment from British entrepreneur Lloyd Dorfman. Being a prominent provider and manufacturer of digital intelligent artificial lifts, Silverwell's procurement of funds from Dorfman, that acquired a 20% equity interest in the company, indicates the interest the oil industry has taken in the development of digitally intelligent artificial lifts.
With perpetually fluctuating crude oil prices, oil extraction companies are compelled to optimize their spending, leading to an increased adoption of these lifts and the gradual surge of artificial lift market systems industry share. Artificial lifts are a cost-efficient alternative to the prospect of drilling a new well. Quite overtly, oil companies, in a drive to cut operation costs, readily deploy artificial lifts to optimize their spending without compromising on productivity. The trend of modernizing artificial lift systems with the integration of digital intelligence will further upscale the growth prospects of artificial lift systems market, slated to cross USD 14 billion by 2024.
Author Name :  Paroma Bhattacharya