The fundamental driving force behind the growth of door and window market is the escalating infrastructure development prevalent across the residential and commercial sector. Of late, most of the homeowners have been giving preference to high performance, attractive, and custom crafted products. Given the subsequently escalating demand for customized door and window, architects have been rapidly focusing on the improvisation of product design and development. In United States, for instance, near the Gippsland lakes, most of the homeowners have installed LEGG door and window, through which occupants have the privilege of capturing the beautiful view of the lake from every window in the house. Apart from the U.S., countries across the Middle East and Europe have also been heavily investing in innovative product design for commercial zones such as shopping malls and restaurants, which will favorably influence door and window industry share.
U.S. Windows and doors Market Size, By Material, 2012 – 2024 (USD Billion)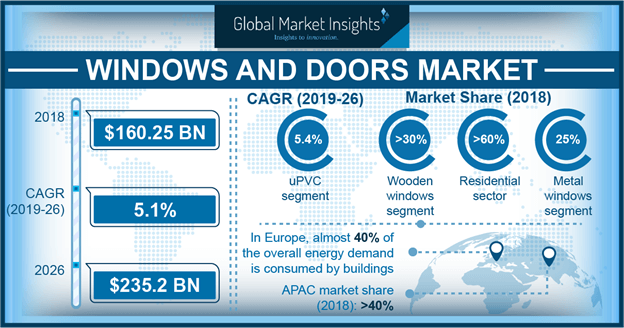 One of the most iconic developments in door and window market is the recent announcement by a select group of Norwegian architects stating that they are in the process of designing the first European underwater restaurant. Built with concrete, this spectacular edifice encompasses a 36-feet wide and 13-feet tall panoramic acrylic window that will be able to withstand the harsh undersea environment. Thus, having recognized the importance of strength and weight, architects have been giving preference to uPVC materials, since they are endowed with the characteristics of sound and thermal insulation. In 2016 alone, uPVC material held more than 33% of the overall door and window market share. Apart from uPVC based products, since the last few years, aluminum has gained popularity across doors and windows market. It has been observed that aluminum building components are being extensively used across the residential zones in Kenya, as these products offer several benefits such as durability, strength, light weight, less cost, and an aesthetically pleasant appearance. Furthermore, aluminum is strong enough to withstand calamities and is sufficiently flexible, on account of which manufacturers will have the freedom to develop a myriad range of designs. In order to increase the shelf life of building components, consumers have been inclining toward aluminum of late, which has considerably fueled door and window industry share.
Get a Sample Copy of this Report:@ https://www.gminsights.com/request-sample/detail/2119

Taking into account the proliferating trend of smart homes, participants in door and window market are revolutionizing their product pipeline with the help of new technologies such as sensors and IoT. Recently, the U.S. based Pella Corporation deployed wireless technology to increase the security system of door and window. In order to commercialize the product, the company teamed up with Resolution Products, one of the well-known providers of wireless solutions. This technology would be installed in doors and windows during the manufacturing process and would offer security to consumers without impacting the aesthetic properties of product. Thus, the shifting focus of the manufacturers toward development of innovative and advanced products is likely to augment doors and windows market outlook. Speaking of which, Pella Corporation, Anderson Corporation, Deceuninck, Weru Group, ATIS Group Inc., Centuryply, Performance Doorset Solutions Ltd., JELD-WEN, Wintech, LG Hausys Ltd., RENSON®, SGM Windows, B.G. Legno, Fenesta Building Systems, and YKK AP Inc., are some of the renowned players in door and window industry.
The ongoing trend prevalent in door and window market is that of renovating historic buildings with energy efficient windows. Due to the lack of funding for refurbishments from regional governments, engineers have been looking out for cost-effective and highly strong products that can be incorporated in building design. The increasing need to save energy has led to a major percentage of homeowners giving preference to energy efficient products, which will suitably propel overall door and window market size, slated to cross a mammoth valuation of USD 211 billion by 2024.
Author Name : Sunil Hebbalkar
This entry was posted in HVAC and Construction and tagged Door & Window Market, Door and Window Market, German Window and Door Market, Global Plastic Door and Window Market, Metal, Replacement Window Industry Trends, uPVC, Window & Door, Window and Door Industry news, Window and Door Industry Trends, Window and Door Market Research, Window and Door Market Share, Window and Door Market Size, Windows & Doors, Windows and Doors Market, Wood.