Global permanent magnet market is poised to increase commendably over the coming years owing to increasing investment in automotive developments along with applications like electronics, aerospace, medical, energy generation, among others. Automotive manufacturing is becoming a lucrative segment due to the extensive usage of magnets for several components like electric window regulators, door locks, speakers and windscreen wipers. Gradual demand for commercial vehicles and cars will fuel permanent magnet industry share considerably.
U.S. Permanent Magnets Market Share, by Application, 2013 – 2024 (USD Billion)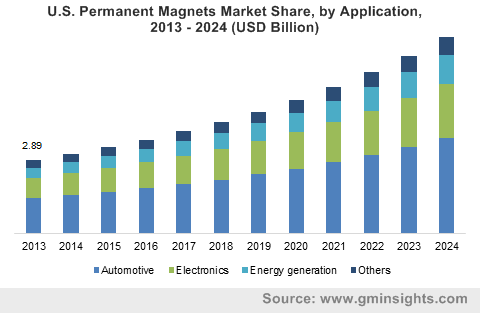 About 86 million cars were sold in the top 54 markets around the world in 2018, with SUVs being more popular while electric cars sales raised by 75%. During the past few years, electric motor applications have increased exponentially due to the advent of low cost and high-performance electronics with complementary improvement in permanent magnetic materials.
Rising R&D investments to develop new and higher quality magnetic material is anticipated to boost the industry demand. Few key factors impacting the scope of Asia Pacific permanent magnet industry over the forthcoming years have been expounded below:
Consistent application in automobiles
In recent years, automotive sector has rapidly shifted its preferences toward vehicle electrification which help in reducing the load on the engine and improves fuel economy and emissions, as well as passenger comfort.
With the introduction of advanced features like power windows, electrically adjustable seats, and other vital accessories, the electric load in vehicles is increasing year by year. This will entail more advanced developments and refinements in magnetic materials and manufacturing technology. Reportedly, automotive sector will account for a revenue of more than USD 25 billion of global permanent market share by 2024.
Get a Sample Copy of this Report:@https://www.gminsights.com/request-sample/detail/1113
In June 2019, TDK Corporation, a Japanese multinational electronics company had unveiled expansion of its portfolio of Micronas magnetic sensor with CUR 423x sensors developed for existing measurements in industrial and automotive applications. This technology is currently making way for ground-breaking coreless current-sensing applications. Such advancements would positively impact permanent magnet market outlook.
Widespread use of Neodymium magnet
Technological advancements in the automotive sector have compelled manufacturers to produce vehicle control systems that are more sophisticated and help burn less fuel. Neodymium (NdFeB) magnets have become substantial components in automotive electronic technology and have been broadly used in automotive safety and information systems.
Growing developments of lightweight and electrified vehicles will fuel the requirement for neodymium magnetic materials rapidly. In addition, with the introduction of driverless technology, several safety control systems like vehicle collision prediction system, safe driving assistant systems are being developed and used widely, fostering automotive tech expansion and offering lucrative growth platform for global permanent magnet industry share in turn.
In November 2018, an electronics company in Asia had acquired R&D business sector for magnet alloy from a chemicals company Showa Denko. The agreement was aimed to accelerate the development of new, high-performance, and high-quality neodymium magnets, as well as to establish a more resourceful production system for meeting the growing market demand.
Expanding automotive sector in Asia Pacific
Considering the regional landscape, China holds more than 95% of the rare earth metal reserves globally, making Asia Pacific region the leading source of rare-earth based magnets. APAC permanent magnet industry is projected to grow noticeably over the coming years due to increasing consumption across automobile, electronics and wind energy sectors.
Emerging economies like India and China will be among the foremost revenue pockets for regional magnetic material deployment. Several key players are putting their efforts to make new and better magnets for vehicles for making them safer and convenient to use. Nowadays, magnets are playing a major role in the production line of automotive industry and are extensively used in the locking system and seat belt indicator, which are important safety features.
With the expansion of automotive segment, market players are planning to invest massively in R&D programs to gain more revenue over the forthcoming years. Mergers & acquisitions would also become a major business strategy adopted by various industry participants.
Hitachi Metals, Adams Magnetic Products, Electron Energy Corp, TDK Corporation, Hangzhou Group, Arnold Magnetic Technologies are some of the notable permanent magnet suppliers worldwide. Global Market Insights, Inc., projects that global permanent magnet market size will be worth more than USD 50 billion a year by 2024.
Author Name : Sunil Hebbalkar