Shifting consumer focus towards the renewable energy sources, mainly wind energy will stimulate permanent magnet market share over the coming seven years. According to Global Market Insights, Inc., "Worldwide permanent magnet market is estimated to surpass a revenue of USD 50 billion by 2024, registering an annual growth rate of more than 10% over the period of 2016 to 2024." AS per the study by Global Wind Energy Council (GWEC), annual installation of the windmill will increase over 75GW capacity by 2019, which will boost the demand for global permanent magnet industry significantly.Moreover, climatic discussion at UNFCCC's Cop 21 announced that, by 2050 all power generation should be emission free, which will fuel the requirement of wind energy projects thereby, the surging need of the magnet will drive the permanent magnet market trends notably. Furthermore, rising R&D investment to develop new and superior quality magnetic material is expected to boost the industry demand.
U.S. Permanent Magnet Market size, by application, 2013 – 2024 (USD Billion)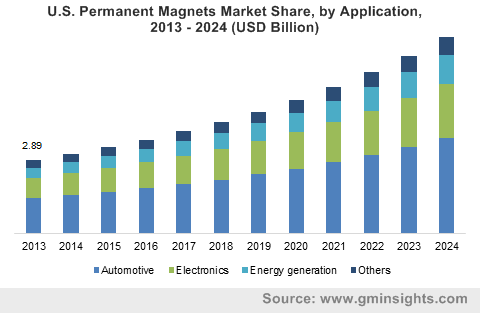 Energy generation, electronics, automotive are some of the prominent application areas of the permanent magnet market. Energy generation will be the major application segment and will record a CAGR of 10% over the coming seven years. The growth can be attributed to its escalating demand for wind energy projects. The automotive application will become a lucrative segment over the coming years, owing to the extensive usage of magnet for various motor accessories such as alternators, actuators, speakers, sensors, and meters. In addition, increasing demand for commercial vehicles and cars will fuel the global permanent magnet industry share considerably.
Get a Sample Copy of this Report:@https://www.gminsights.com/request-sample/detail/1113
Based on the product, permanent magnet market is mainly segmented into Aluminum–Nickel–Cobalt (AlNiCo), Ferrite, Samarium–Cobalt (SmCo), and Neodymium (NdFeB). Neodymium (NdFeB) based permanent magnet industry surpassed a revenue of USD 14 billion in 2015 and will exhibit a lucrative growth rate of over 10% over the coming seven years, owing to the capability of the NdFeB based magnet to generate products with good aesthetic features and light weight.
Considering the regional landscape, North America permanent magnet market collected a revenue about USD 4 billion in 2015 and is anticipated grow at a rate of 9% over the coming years of 2016 to 2024. U.S. automotive sector and wind energy projects will augment the regional industry growth significantly.
Asia Pacific permanent magnet industry size worth over USD 10 billion in 2015, is projected to grow noticeably over the coming timeframe, owing to its surging demand from electronic, wind energy and automobile sectors pertaining to the high growing production capability. India and China will be the major revenue pockets of the regional permanent magnet market.
The market players will invest heavily in R&D programs to gain more revenue over the coming years. Mergers & acquisitions will be the major business strategy adopted by the industry participants. Adams Magnetic Products Co., Inc., Hitachi Metals, Ltd., Hangzhou Permanent Magnet Group, Arnold Magnetic Technologies Corporation, Electron Energy Corporation, TDK Corporation, Molycorp Magnequench, and Anhui Earth-Panda Advance Magnetic Material Co. Ltd. are some of the notable industry players in the permanent magnet market.
Author Name : Sunil Hebbalkar