The lithium ion battery market has registered trends of exponential growth as the demand for lithium has soared with its increased application in battery operated electronics like smartphones, tablets and laptops as well as in electric vehicles which are being hailed as the revolutionary component for the electric automotive industry. According to estimates, by 2040 there will more electric vehicles than traditional fossil fuel ones. Lithium ion battery industry outlook is thus expected to ascend with almost every automaker striving to introduce its own line of electric vehicles. For the record, the global lithium ion battery market size is expected to surpass $60 billion by 2024.
     Asia-Pacific Lithium Ion Battery Market Size, By Application, 2016 & 2024 (USD Million)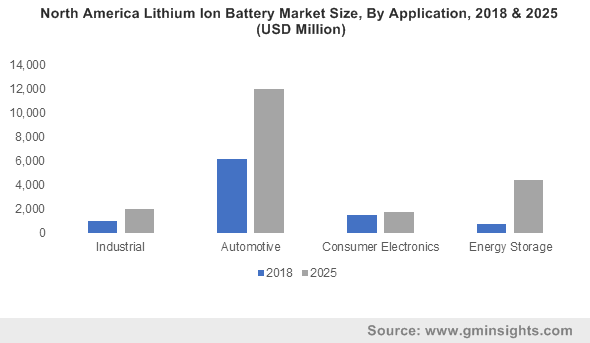 Aiding the growth of the lithium ion battery market will be a huge surge of research and development programs that are being encouraged by the significant demand for improving the capacity of lithium ion batteries. For instance, researchers at Department of Energy Technology of Norway have found a means to improve the capacity of conventional lithium ion batteries almost phenomenally. So much so that the new batteries can keep phones and laptops running for several days without charging and electric cars can travel as much as 1000 km with a single charge. The technology has exploited the proportion of silicon in graphite present in lithium batteries, an experiment that has been for long attempted by battery manufacturers as silicon can dramatically increase battery capacity. Nanotechnology has made it possible to introduce silicon in lithium batteries in such proportions that the battery capacity can now be improved 3 to 5 times.
Get a Sample Copy of this Report:@ https://www.gminsights.com/request-sample/detail/1135
In the near future the lab test results are expected to be made perfect for industrial use and many research groups and companies are already trying to overcome the problem of lithium ion batteries limitations. Such a move will be essential in an era where the demand for electric vehicles has been rising exponentially. According to the International Energy Agency there were more than 3 million electric vehicles across the globe by the end of 2017. China had the largest volume of EVs at 1.2 million and the country offers financial incentives to manufacturing and buying the vehicles. Other major economies including UK, France, India and Norway also have fixed target dates to reach a specified percentage of EVs on the road. Such policies are expected to increase the number of electric vehicles to approximately 125 million across the globe by 2030.
With the demand for electric vehicles, the lithium ion battery industry is also anticipated to witness commendable growth as automakers have started to strive in securing supplies with the increasing number of eco-friendly customers switching from their fossil fuel dependent, carbon emitting vehicles to an electric alternative with significantly lower maintenance and operating costs.
The expanding demand and use of renewable energy resources has led to the rise in demand for potent storage of the power sourced from solar and wind energy. The lithium ion battery industry has forged a major growth avenue thorough this demand as this battery has emerged as a clean, quick and dependable option for storing additional power generated by renewable resources. Compared to lead acid batteries, lithium ion batteries have a significantly longer life cycle leading to a greater number of charge/discharge cycles before their capacity drops to under 80%. When consumers consider buying a solar battery, size matters because after the source of the energy is gone the household of the facility using renewable energy depends entirely on the stored energy to sustain them during the absence of the energy source. During such times the reliability of the energy storage unit is of crucial importance and lithium ion battery has been able to fulfil expectations very sufficiently, adding to the lithium ion better market growth.
Some of the vulnerabilities of lithium ion batteries include volatility, protection required to keep them within safe operating limits, high cost and transportation restrictions. Also, lithium ion batteries are still an area of developing technology, indicating the frequent inflow of advancements in lithium ion battery industry. Driven by innovation and development adding continuous momentum to the business, the lithium ion battery market is expected to witness over 12% CAGR over 2017-2024.
Author Name : Paroma Bhattacharya