Rising incidences of neurological disorders among the geriatric population will influence neurostimulation devices industry growth. In addition, increasing demands for suitable, cost-effective treatment options, high-tech healthcare facilities, and technologically-driven infrastructure will drive product demand. According to Global Market Insights, Inc., "Neurostimulation Devices Market is predicted to observe a CAGR of more than 14% over 2016-2023."
Federal guidelines and lack of skilled professionals in the healthcare fraternity may hamper industry growth. However, global incidences of conditions such as epilepsy, migraine, depression, and other neurological ailments are on a constant rise, driving the requirement for positive therapeutic effects of neuro-stimulators.
Germany Neurostimulation Devices Market size, by product, 2012-2023 (USD Million)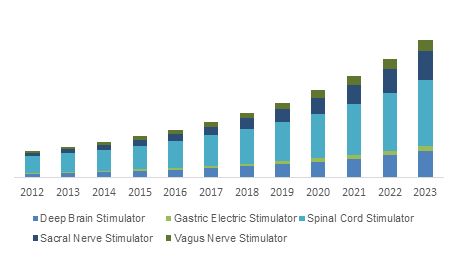 Neurostimulation Devices find applications in the treatment of Parkinson's Disease, Epilepsy Pain Management, Essential Tremor, Urinary and Fecal Incontinence, Gastroparesis Depression, and Dystonia.
Neurostimulation devices market size for pain management will register a revenue of more than USD 9 billion by 2023 and is expected to grow at a healthy rate owing to the high prevalence of chronic disorders.
Get a Sample Copy of this Report @https://www.gminsights.com/request-sample/detail/436
Therapeutic applications for Parkinson's disease will increase at a high rate over 2016-2023 driven by the increasing elderly population and limited treatment options.
The epilepsy application segment is predicted to exceed USD 600 million by 2023 driven by product efficiency and less availability of suitable treatment.
Tremors are commonly faced by people above the age of 40 and can be treated using implantable deep brain stimulators. Rising frequency of tremors and convenient FDA regulations for their treatment will help propel the market further.
Regional trends influencing neurostimulation devices industry growth:
China neurostimulation devices market is forecast to attain heavy gains at 18.0% over 2016-2023, driven by developing healthcare facilities and growing awareness regarding neurological disorders.
U.S. neurostimulation devices industry size was worth more than USD 2 billion in 2015 and is set to cross USD 5.5 billion by 2023, driven by high-tech medical infrastructure, excellent healthcare facilities, and growing patient awareness. Organizations such as the American Tinnitus Association and the North American Neuromodulation Society will help fuel regional growth.
Latin America neurostimulation devices market, dominated by Brazil and Mexico, contributed to around 4% of the overall share in 2015, and is likely to grow at a significant rate, which can be attributed to changing lifestyle, increasingly disposable incomes, developing healthcare facilities, and a huge number of patients.
Europe neurostimulation devices industry is set to register healthy gains, owing to contributing factors such as growing elderly population, government approval and encouragement, and rapid economic growth.
Neurostimulation devices market is segmented into products such as sacral nerve stimulator, gastric electric stimulator, deep brain stimulator, spinal cord stimulator, and vagus nerve stimulator.
Sacral nerve neurostimulation devices industry is expected to increase at a CAGR of more than 19% driven by the rising demand for incontinence products.
Spinal cord neurostimulation devices market is targeted to register around USD 6.5 billion by 2023, owing to the increasing recurrence of peripheral vascular disease, failed-back surgery syndrome, refractory angina pectoris, and complex regional pain syndrome.
Vagus nerve and gastric electric neurostimulation devices industry is anticipated to grow at a stable rate over 2016-2023.
Deep brain neurostimulation devices market is expected to depict profitable gains in the coming years and will grow at a CAGR of more than 17% over 2016-2023, driven by the requirement of treatment options for disorders such as dementia, depression, Parkinson's, and obsessive compulsive disorders.
Key industry participants in this market include Cyberonics Inc., Nevro, Medtronic, Neuronetics, and Boston Scientific. Other vital companies are IntraPace, Codman & Shurtleff Inc., and St. Jude Medical. Companies are rigorously involved in R&D activities to develop sophisticated technologies and highly innovative products, owing to the fact that this industry is still nascent.
An ever-growing geriatric population falling prey to disorders such as Parkinson's and Alzheimer's will fuel product demand. The implementation of advanced technological developments such as transdermal neuromodulation technology and MRI safety-enabled devices to develop suitable treatment solutions for obesity, migraine, sleep apnea, and related ailments will contribute toward neurostimulation devices industry expansion.
Author Name : Saipriya Iyer