Coil Coatings Market has established a strong presence with its distribution and sales channels reaching every nook across the globe. A sturdy distribution channel and network ensures two important success factors: good client service and ample availability of the product. The key players of coil coatings industry are widely adopting these practices to hold a firm position and compete with emerging participants. The notable participants such as The Dow Chemical Company, The Valspar Corporation, AkzoNobel N.V., Nippon Paint Co. Ltd., and BASF SE are vertically integrated. This integration allows these players to maximize the product's value at a competitive cost which will lead to a vigorous competitive scenario in coil coatings industry over the years to come.
U.S Coil Coatings Market size, by end-user, 2013-2024 (USD Million)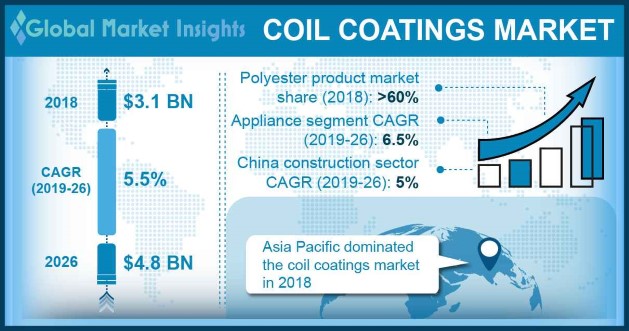 Robust growth in the end-use industry of Asia Pacific region will upsurge coil coatings market. The rising product demand particularly in India, China, and Japan is likely to dominate the overall revenue generation of the region. Escalating construction industry and rapid industrialization in this region will be the key driving factors for the growth of coil coatings market. The major industry giants like AkzoNobel, The Valspar Corporation, and PPG Industries, Inc., are putting in extra efforts for development in Asia Pacific region to maximize profits and cope up with rising product demand.
Get a Sample Copy of this Report @ https://www.gminsights.com/request-sample/detail/839
Coil coatings are extensively used in construction industry as it offers aesthetic finish to metals and provide weather & corrosion resistance. The worldwide coil coatings market is primarily driven by the rapid growth of the non-residential infrastructure (industrial sites, factories, commercial buildings, etc.). China, India, and Indonesia being some of the fastest developing economies across the globe are undergoing rapid industrialization and urbanization. In response to this fact, the rising end-use industries including automotive, construction, and appliances are generating heavy demand for coil coatings. According to Global Market Insights, Inc., "Coil Coatings market is estimated to witness a CAGR of 6% over the period of 2016-2024." 
Coil coatings market size in the construction sector is anticipated to register an annual growth rate of over 5% in terms of volume over the period of 2016-2024. Rising government spending in the construction industry for improving public infrastructure and facilities will fuel coil coatings market size.
Furthermore, appliances industry requires coil coated metals to improve aesthetic appeal. Growing reach of the appliance industries in remote markets will significantly propel the product demand. For instance, the high purchase power parity and premium range affordability of the population based in the Middle East is generating novel growth prospects for emerging industry players to watch for.
Based on coil coatings products, Polyester coil coatings market is anticipated to grow at a CAGR of 6% over 2016-2024, as it offers excellent corrosion resistance and low-price. Polyvinylidene Fluorides (PVDF) coil coatings is comparatively expensive and offers good aesthetic appeal which will help boost its use in the appliances industries.
Geographically, North America coil coatings market is witnessing a significant boost due to the uprising of non-residential construction industry post-recession. U.S. is the prominent region expanding the business, owing to the increasing demand for automobiles and appliances such as microwave ovens, dishwasher's, refrigerators, dryers, and freezers across this region.
In 2015, this industry was quite consolidated with top players sharing over 50% of the total consumption. The massive upswing in the demand for coil coatings especially across the end-use industries will provide attractive opportunities for the market players.
Author Name :Ojaswita Kutepatil
This entry was posted in Bulk & Specialty Chemicals and tagged coil coated metals, Coil Coatings, Coil Coatings Market, Coil Coatings Market Analysis, Coil Coatings Market Outlook, Coil Coatings Market Report, Coil Coatings Market share, Coil Coatings Market Size, Coil Coatings Market Trends, Paint & Coatings Polyester coil coatings market, Polyvinylidine Fluorides (PVDF) coil coatings market.