Photovoltaic Inverter Market will witness heavy growth over 2016 to 2024, driven by favorable government initiatives and a strict regulatory framework to promote deployment of sustainable energy resources. Monetary assistance along with various supporting schemes such as net metering, feed in tariff, and upcoming projects on renewable energy will further propel industry growth. In 2015, financial incentives and net metering accounted for 78% and 15% of the global photovoltaic inverter market respectively. As per a report by Global Market Insights, Inc., "PV Inverter Market size worth over USD 6 billion in 2015, is projected to exhibit high gains at a CAGR of more than 13% over the period 2016 to 2024."
U.S. PV Inverter Market share, by application, 2013 – 2024 (MW)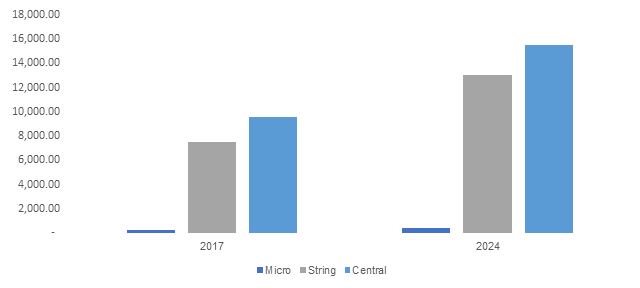 Surging demand for cleaner and more reliable electricity at affordable price will encourage more solar installation, thereby complementing the PV inverter industry. Growing inclination toward unconventional energy sources for safety and security purpose will favor the market expansion.
Get a Sample Copy of this Report @ https://www.gminsights.com/request-sample/detail/234
PV inverters find applications in residential complexes, commercial arenas, and utility segments. Residential photovoltaic inverter industry size exceeded a revenue of USD 1,480 million in 2015 and is expected to increase at a CAGR of 12% over the coming seven years. Increasing focus on the decentralization of power generation in emerging nations by electrification programs will have a positive impact on the global market.
Favorable government initiatives to bring down the carbon content and the increasing requirement for uninterrupted power supply will boost the commercial application growth. Commercial applications consumed more than 10 GW power in 2015, and will witness heavy growth in the next seven years.
PV inverter market size in utility application segment was 20 GW in 2015, and is expected to grow substantially in the years to come.
Standalone and on grid photovoltaic inverters are the two types of PV inverters. Strong urge toward off grid electricity clubbed with cost effectiveness of unconventional energy sources is having an assertive influence on the standalone photovoltaic inverter market. It is forecast to cross over USD 6 billion by 2024.  On grid PV inverter market size is estimated to generate a revenue over USD 10 billion, growing at an annual rate of 19% over 2016-2024.
Driven by the government measures toward adoption of renewable energy sources over conventional sources, US photovoltaic inverter market size is expected to record a significant CAGR of 19% over the period of 2026-2024.
Favorable initiatives by the African government to shift the focus toward renewable energy based power production is propelling the South Africa PV inverter market size, which is estimated to reach over USD 37 billion by 2024.
Geographically, China PV inverter industry is projected to remain one of the major regional contributors, with an estimated power generation of 70 GW by 2024. China also planned to implement photovoltaic poverty elevation program for the installation of 10 GW solar panels within four years.
Chile is one of the prominent region driving global PV inverter market. The rising implementation of numerous solar projects and the untapped scope of the renewable energy sector will drive regional growth.
Key players of the industry are KACO Energy Inc., REFUsol, Advanced Energy, Ingeteam, Schneider Electric, ABB, Sungrow Power, Elettronica Santerno, and Huawei Technologies.
Author Name :Satarupa De