Escalating terrorist attacks and criminal nuisances across the globe will push global handheld imagers market. Security concerns, especially at airports and stations due to the heavy crowd, is propelling the demand for handheld imagers across the globe. With the advent of technology, these imagers provide excellent features, such as barcode scanning, age verification, document scanning. Furthermore, prominent industry players are continuously investing in research activities to propose new thermal camera-based handheld imagers that will combat the fierce situational threat by ensuring adequate security. According to Global Market Insights Inc.," Handheld imagers industry, worth over USD 1.48 billion in 2015, is projected to grow significantly at a CAGR of 12% over the period 2016-2023."
Europe Handheld Imager Market size, by application, 2012-2023 (USD Million)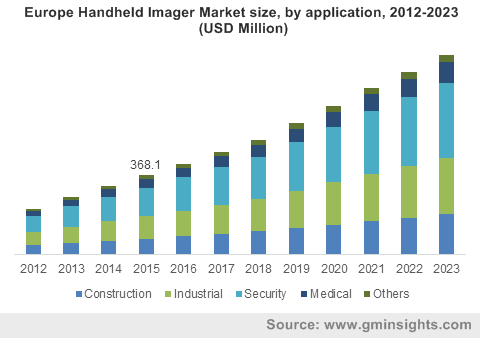 Based on product trends, handheld imagers market is fragmented into IR scanner, millimeter wave scanner, stud finder, and microbolometer. IR scanner industry is forecast to dominate the industry in the years ahead, driven by the excellent characteristics of these scanners such as inventory control, high-quality output, and time-efficiency. In addition, IR scanners, which are used for scanning and printing output codes from the computer will further fuel market demand, especially in the construction sector. Stud finder industry is also expected to witness substantial growth rate at a CAGR of 17% CAGR over 2016 -2023.
Get a Sample Copy of this Report @ https://www.gminsights.com/request-sample/detail/492
Millimeter wave scanners, which help sense objects hidden in an individual's clothing through electromagnetic radiation will also lucratively contribute to market growth. Airport security is one sector where these scanners are increasingly used for sensing any possible threat. Millimeter wave scanner handheld imagers industry is projected to grow heavily at an annual rate of 17% over 2016-2023.
Below are the regional highlights influencing the market globally:
North America handheld imagers industry accounted for the largest share in terms of revenue in 2015, and is poised to grow significantly at a CAGR of 12% over the period 2016-2023. High prevalence of criminal activities will prompt handheld imagers market to prosper in this region. Strict regulatory framework regarding security concerns at airports will stimulate U.S. handheld imagers industry.
Asia Pacific market is anticipated to witness noteworthy growth at an annual CAGR of 13% over 2016 -2023. High-security requirements will also enhance the regional demand. Moreover, the rising need to synchronize the scanning process to achieve overall cost reduction will result in substantial growth in India and China handheld imagers industry. Ability to detect weapons, explosives, and other dangerous objects will also propel the regional demand.
Driven by cost effectiveness, Europe is also expected to be one of the prominent regions to exhibit significant growth over the coming six years.
Medical application, which is actively partaking in the handheld imagers market, is anticipated to have a steady growth in future owing to the increasing patient health concerns. Advanced features, such as antimicrobial and aggressive decoding performance is having a positive influence on handheld imagers industry.
Although security application accounts for a large share of the market, handheld imagers market from the industrial segment is also expanding considerably owing to high product efficiency and durability.
Some of the notable players of the handheld imagers industry include Bosch, DRS Technologies, Zircon Corporation, Fluke Corporation, FLIR, Stanley Black & Decker and ULIS.
Author Name :Satarupa De