Given the current threats associated with cyber-attacks and potential damages to the aviation industry, airport security market is gaining tremendous traction of late. Of late, the aviation industry has been highly prone to threats relating to terrorism, smuggling activities, and other crimes, a factor that has highly driven the demand for strict security measures in this space. In response to this fact, the airport security technologies that offer enhanced security to the existing surveillance systems and better situational awareness are witnessing increasing adoption in the aviation industry. Furthermore, with the digital and connected solutions transforming the security landscape, companies are launching enhanced security systems to provide advanced surveillance and safety to the airports. Demonstrating a recent instance, Bosch, a leading supplier of security systems launched a Video Management System 7.5 software which has now allowed the security operators to have much faster access to video footage along with seamless management of space. Such product advancement trends are considered one among many factors that is underscoring the extensive developments prevalent in airport security market, which as per analysts generated revenue close to USD 9 billion in 2016.
China airport security market size, by technology, 2016 & 2024 (USD Million)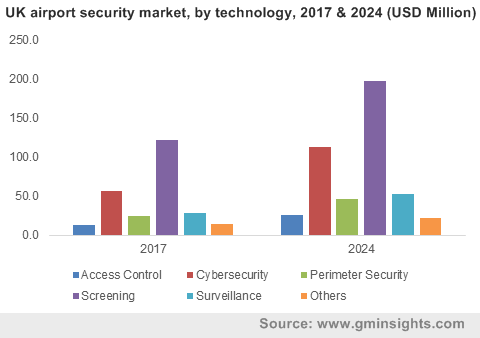 As per the recent research study, increase in the number of travelers and rising globalization trends have been the most pronounced factors contributing to rising growth of airport security industry. Development of new airports, owing to rising airline passenger, traffic has resulted in a tremendous demand for airport security systems. As per the estimates provided by the Centre of Aviation, currently more than 2,500 aviation projects are under operation, with Asia pacific solely spending USD 125 billion on airport construction. Developing economies in the region including India and China are experiencing rapid industrialization trends which have led to a massive increase in passenger traffic. The fad, in turn, has significantly led to rise in the demand for biometrics, full body x-ray scanners and other security technologies & processes at the airports which has fueled the airport security market size.
Get a Sample Copy of this Report @ https://www.gminsights.com/request-sample/detail/367

Speaking of the advanced technologies and product developments pertaining to airport security market landscape, Smiths Detection, a leading airport security industry giant has recently launched the HI-SCAN 6040 CTiX checkpoint scanner. Reportedly, this scanner was developed to deliver higher levels of security, optimize checkpoint performance, and improve the operational efficiency. The new HI-SCAN 6040 CTiX is being incorporated at several airports across Europe, where it has allegedly enhanced security check to the airport baggage system. Other airport security industry giants are offering technologies such as thermal cameras, video analytics systems, motion sensors, and advanced surveillance that can help airport authorities to easily enforce security protocols. Axis Communications, RedXDefense LLC, IBM Corporation, Thales Group, and Siemens AG are some of the prominent names in airport security market that are bringing end-to-end product and solutions, enhancing the product spectrum of the airport security industry.
Considering the geographical aspects of airport security industry, although Asia Pacific is expected to be a major investment hub, experts claim North America to dominate the regional landscape in terms of revenue in the following seven years. Stringent regulatory compliances to reinforce airport security and mitigate terror attacks have been the key factors leading to robust adoption of airport security technologies.
Amidst the perpetually rising terror attacks pertaining to the aviation industry, it is rather overt for the global airport security industry to garner huge proceeds and developments in the coming years. Global Market Insights, Inc., projects the overall airport security market size to register a y-o-y growth rate of 7% over 2017-2024, crossing a valuation of USD 16 billion by 2024.
Author Name : Ojaswita Kutepatil