Global Mining Equipment Market is witnessing many twists and turns since the past decade with the constant involvement of modern technology to enhance the quality of operation. Machine failure detectors, real-time monitoring, and open pit mining are the some of the hi-tech integrations fueling the smart mining solutions. The growing trend of using multifunction machinery instead of single function counter parts is also expected to positively influence the overall market expansion. As per a report by Global Market Insights, Inc., "Mining equipment market in 2015 generated a revenue of more than USD 69 billion, and is poised to grow lucratively at a CAGR of 4.7% over 2016-2024."
China Mining Equipment Market size, by application, 2013-2024 (USD Billion)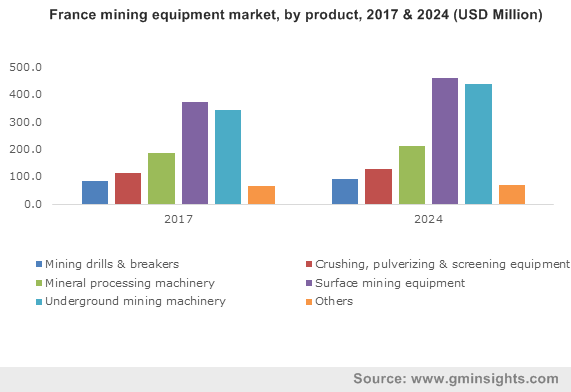 Another vital factor which is pushing mining equipment industry worldwide is the surging need to extract mines from lower grade ores and to cope with the remote locations. The constant effort by the key market players to address these major issues for enhancing the productivity and overall efficiency has resulted in automation and product innovation.
Metal mining applications to bring lucrative business opportunities for the global industry
Mining equipment industry has observed significant growth in two application sectors-metal mining and coal mining. In 2015, metal mining equipment market surpassed a revenue of USD 29 billion and is anticipated to grow exponentially in the upcoming period with an annual growth rate of 5% over the timespan 2016-2024.The heightening global demand for precious metals especially gold, as it supports the financial, emotional, as well as cultural values of the consumers, is augmenting the industry in metal mining.
Get a Sample Copy of this Report @ https://www.gminsights.com/request-sample/detail/793
Mining equipment industry from coal mining has also developed over the recent years, in the transition from manually extracting the coal on carts to economical open cut long wall mines. The massive progression can be credited to the rising electricity requirement to feed the growing population.
Surface mining and underground mining are two basic techniques adopted for extraction. Today, surface mining being more predominant, surface mining equipment market has evolved robustly. It had a revenue share of more than 35% of the total volume in 2015 and is slated to show heavy growth at a CAGR of 3.4% over 2016-2024. Rising trend of exploration of untapped resources specially across developing nations is expected to offer ample opportunities to the market over the years ahead.
Mining drills and breakers market will also benefit from the increase in demand for sub surface mining of metals, minerals, and coals with the incorporation of effective hi-tech solutions.
Asia Pacific, driven by China, to witness heavy gains over 2016-2024
Asia Pacific is one of the prominent regions propelling the overall market with a collected revenue of more than USD 40 billion in 2015. Increasing concerns toward worker's safety, strong demand for energy efficient technologies, and environmental considerations are the key factors driving the China mining equipment industry over the 2016-2024.
Furthermore, the recent market trend of using lease-based equipment is also encouraging industries to use more of advanced machinery. For instance, barcode technology helps in tool tracking, therefore various manufacturers are now incorporating digital barcode in hand tools as well as power tools to favor effective monitoring.
Another niche region driving the market is U.S. Key players in this region are investing continuously on energy efficient techniques, to reduce pollution.  U.S. mining equipment industry is set to cross over USD 11.5 billion by 2024, with a projected CAGR of 3.2% over the period 2016-2024.
Product diversification without increasing the overall cost is the prime focus of the industry participants. Prominent players of mining equipment market include Sandvik, Caterpillar, Atlas Copco, and Joy Global.
Author Name :Satarupa De