Sheer vulnerability to hospital acquired infections and rising cognizance about these diseases is slated to boost medical nonwoven disposables market. Geriatric population prone to urinary incontinence will offer lucrative avenues for medical non-woven disposables industry to prosper rapidly. Progression in healthcare IT such as peach mat absorbent core technology and micro encapsulation technology which helps high-level safety to incontinence patients and urine absorption respectively are expected to widen medical nonwoven disposables industry growth prospects. According to Global Market Insights, Inc., "medical nonwoven disposables market worth over USD 6.98 billion in 2015, is projected to record a CAGR of 7% over the period of 2016-2024"
Europe Medical Nonwoven Disposable Market size, by Product, 2012- 2024 (USD Mn)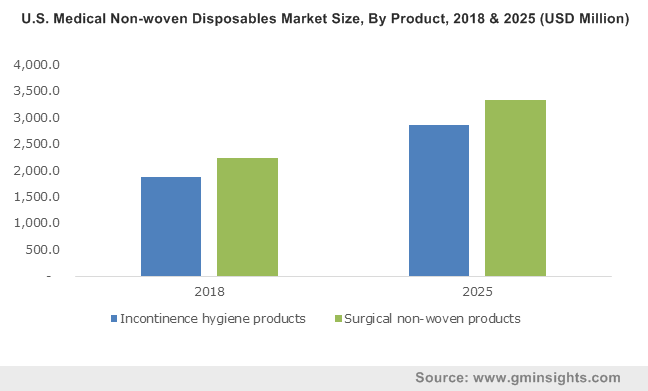 Emerging economics, growing awareness towards incontinence, and introduction of premium quality surgical and medical disposals have resulted in widespread acceptance of non-woven disposal products. In addition to this, strict reforms especially circulated in government hospitals which encourage more use of nonwoven fabrics, is expected to stimulate medical nonwoven disposables market over the forecast span.
Get a Sample Copy of this Report @ https://www.gminsights.com/request-sample/detail/805
Medical nonwoven disposals industry players are rigorously investing on introducing new, safe, value added enhanced quality medical apparels. For instance, well known global brands such as Kimberly-Clark and SCA introduced Core-Lokt technology and TENA Identifi respectively that offers better comfort to the patients suffering from incontinence.
Based on products, global medical nonwoven disposables market is fragmented into disposables nonwoven hygiene products and disposables nonwoven medical products. The nonwoven disposables hygiene products industry is poised to surpass a revenue of USD 6.5 billion by 2024, primarily driven by the growing prevalence of incontinence.
Medical supplies non-woven disposables include surgical masks, caps, drapes, sterile nonwoven swab, and gowns. Disposables surgical drape segment dominated the medical supplies product landscape and is forecast to reach a revenue worth over USD 2.5 billion by 2024.
The expansion of global medical nonwoven disposables market can be credited mainly to three geographies, North America, Europe and Asia Pacific. US medical non-woven disposables industry worth over USD 2 billion in 2015, is anticipated to show substantial growth over the coming years, driven by the increasing demand for incontinence products by women and children. An estimation shows that approximately 28 million people in North America use incontinence disposables products of which women hold a larger share of 33% followed by 10% geriatric population.
Japan accounted for a major portion in the Asia Pacific medical non-woven disposables industry by contributing 47% of the total revenue in 2015 and is predicted to record a revenue worth USD 1.2 billion at an annual growth rate of 6.5% over 2016 to2024.
Europe led by Germany is expected to exhibit a widespread growth in the medical nonwoven disposables market, mainly owing to the stringent government norms put forth in these regions.
Although the technical advancements and growing consumer awareness is pushing the manufacturers to incline toward non-woven disposables over woven fabrics, yet abundance of products' substitutes which are comparatively cheaper is restraining the nonwoven disposable market growth. However, implementation of AAMI (Advancement of medical instrumentation) for sterilization of medical tools will significantly augment medical nonwoven disposables industry growth.
Prominent market participants of the nonwoven disposables market include Kimberly Clark Corporation, Inc., Svenska Cellulosa Aktiebolaget (SCA), and Covidien.
Author Name :Satarupa De