Rising need for accurately recording & billing the electricity, gas, and water consumption will push smart metering systems market size. Strict legislations for efficiently monitoring the usage of public utilities will encourage energy savings and curb power supply theft. This in turn, is expected to support the industry development over the years to come. The U.S. Energy Independence Act (EISA) of 2007 has made it mandatory for its residents to fit smart electric systems as well as electric grids in their households, in order to accurately record power consumption and reduce energy wastage. Such regulations will further propel smart metering systems market. As per Global Market Insights, Inc., "Smart metering systems industry revenue is projected to hit USD 38 billion by 2024."
U.S. Smart Metering Systems Market size, By Product 2013-2024 (USD Million)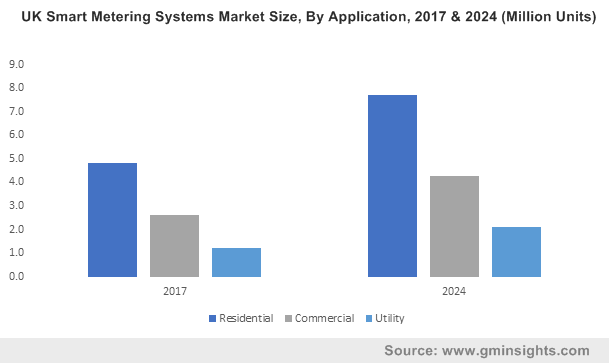 Smart metering systems will find wide applications across utility, residential, and commercial sectors. Smart metering systems industry revenue in the residential sector, worth USD 5 billion in 2015, is anticipated to grow noticeably over the coming seven years. Reasonable costs and high consumer awareness about the benefits of smart metering systems will drive the industry expansion. Commercial applications are expected to grow considerably over the coming years, driven by high product demand from firms to save costs and optimize energy consumption.
Get a Sample Copy of this Report @ https://www.gminsights.com/request-sample/detail/1180
Taking into consideration the regional trends, U.S. smart metering systems market value, estimated at USD 5 billion in 2015, is projected to observe a substantial surge. Strict government measures to reduce energy consumption and improve billing precision is expected to result in higher demand for smart systems across the region.
UK smart metering systems industry share is projected to register a CAGR of 16% over 2016-2024. Launching of schemes such as the National Smart Meter Roll Out program by the UK government for installing smart metering systems in every house in Wales, England, and Scotland will drive the regional revenue.
China smart metering systems market value is anticipated to cross USD 9 billion by 2024, driven by favorable government policies promoting the use of smart grid systems in each household. UAE smart metering systems market revenue is slated to increase at a rate of 9% over 2016-2024. Effective measures taken by the government to reduce harmful emissions and check illegal water consumption will promote the regional growth.
Smart metering systems industry size in Mexico is projected to grow strikingly over the years to come, driven by supportive government initiatives encouraging the use of smart meters in the region. Lebanon smart metering systems market is expected to grow at a CAGR of 9% over the period of 2016-2024, driven by rising government efforts to improve the current technology and offer perfect billing services to the end-users.
The dearth of natural resources along with growing government concerns over the excess wastage of water, gas, and electricity will favorably influence smart metering systems market trends over the forthcoming years. Industry players will try to raise their ROI and enlarge their geographical presence through large- scale R&D investments, new product launches, technological breakthroughs, and strategic alliances.  Landis+ GYR Corporation, Elster Group SE, Sensus Incorporation, Neptune Technology Group, Schneider Electric SE, Honeywell International Incorporation, Badger Meter Incorporation, Siemens AG, Osaki Electric Company Limited, Iskraemeco, and Itron Incorporation are the key participants of smart metering systems market.
Author Name :Dhananjay Punekar