One of first officially commercialized wireless charging device was the Oral-B rechargeable toothbrush. Since then, wireless charging market has been witnessing a plethora of developments with regards to battery recharge in electrical devices. Recently, the electronics giant Sony patented a unique technology that can harness power from a range of devices such as smartphones, laptops, TVs, washing machines, and refrigerators. Another notable development observed in wireless charging industry in 2016 was the launch of LG G6 and Galaxy S8, sporting wireless charging technology.
U.S. wireless charging market, by technology, 2016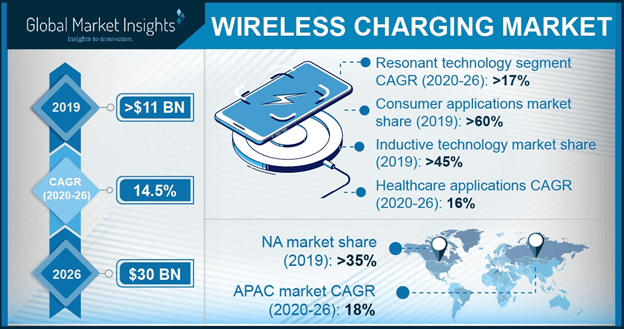 Nowadays, the Qi technology is being commonly incorporated in wireless charging products. With the implementation of Qi technology and standards, in 2012, Google's Nexus 4, Nokia's Lumia 920 & 820, and many other smartphone models were launched with the inclusion of inductive charging, thereby depicting that a high degree of digitization has phenomenally impacted the commercialization matrix of global wireless charging market in recent years. Global Market Insights Inc., in fact, estimates wireless charging market size to be worth more than USD 14 billion by the end of 2024.
Pertaining to the surging adoption of consumer electronic devices such as smart phones, tablets, and mobiles, tech magnates have been focusing on the implementation of new technological features in their products to widen their consumer base. For instance, Apple's iPhone series has been incorporated with wireless charging. As consumers seek the implementation of periodic upgrades in the preceding devices, consumer electronics manufacturers have been looking forward to investing heavily in research and development activities to innovate efficient technologies for wireless charging. In 2016, consumer electronics alone covered 55% of wireless charging industry share. The growth of this segment is inherently dependent on the support provided by various regional governments for intensive R&D programs.
Get a Sample Copy of this Report @ https://www.gminsights.com/request-sample/detail/440
Apart from consumer electronics, healthcare sector is another domain that would impel wireless charging market share, owing to the miniaturization of products and the possibilities of performing operations without the use of batteries. In addition to this, the increasing deployment of this technology in vehicle-charging, defense, and industrial sectors, will also leave a subsequent impact on the wireless charging industry application landscape.
In a bid to reduce the utilization of unwanted cables, one of the globally renowned automotive market giants, BMW has recently launched a wireless charging pad for cars, which may allow passengers to charge their smartphones very effectively. Taking into account the future scope of wireless charging, BMW has also been evaluating and testing this technology further, which is likely to have a considerable impact on wireless charging market trends in the years ahead.
Strategic collaborations have been one of the major growth tactics underlining the competitive landscape of wireless charging industry. In this regard, one such major instance was the PowerSphyr-Gill agreement. The California-based wireless charging technology giant, PowerSphyr Inc. acquired Gill Electronics, in a bid to fetch the engineering and production capabilities of the latter in-house. Reportedly, the deal enabled PowerSphyr Inc. to serve a broad range of OEM customers spanning across healthcare, industrial, and automotive sectors.
The adoption of novel technologies by core companies has a crucial role to play in augmenting the growth graph of wireless charging market. In fact, major tech biggies have already incorporated wireless charging in their flagship phones, whilst the smartphone market hulk – Apple, is also soon expected to switch gears and implement this technology. Speaking of which, some of the prominent players in wireless charging industry include Texas Instruments, Inc., Device Technology, Inc., Mojo Mobility, Inc., WiTricity Corporation, Powercast Corporation, Energizer Holdings, Inc., Powermat Technologies Ltd., Qualcomm Inc., Leggett & Platt Inc., Convenient Power Ltd., PowerbyProxi Ltd., and Murata Manufacturing Co. Ltd. This business space is likely to witness several companies competing for standards, licensing agreements, and technological innovations in the forthcoming years, which validates that wireless charging market would indeed garner commendable returns over 2017-2024.
Author Name : Sunil Hebbalkar