Global awareness to maintain a green environment coupled with rising concerns over carbon emissions will spur stationary catalytic systems market size over the forthcoming years. The governments of various countries are establishing stringent regulations to eliminate industrial emissions. For instance, strict norms such as National Ambient Air Quality Standards are imposed on firms in the U.S., which will act as a key driver to propel regional growth. As per Global Market Insights, Inc., "
Stationary Catalytic Systems industry
revenue, worth USD 3 billion in 2015, is slated to surpass USD 6 billion by 2024.
"
U.S. Stationary Catalytic Systems Market Size, by Application 2013-2024 (USD Million)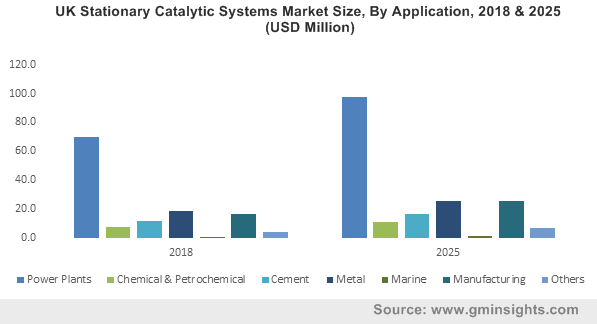 Escalating requirement of oxidation catalysts for annihilating VOC, formaldehyde, and carbon emissions from gas turbine power generators will spur the industry expansion over the coming timeframe. Growing urge for power supply, rapid industrialization, and the exponential rise in population are also factors that are projected to boost the market trends in the near future.
Get a Sample Copy of this Report @ https://www.gminsights.com/request-sample/detail/1093
Stationary Catalytic Systems find wide applications in Manufacturing, Cement, Metals, Power Plants, Petrochemicals & Chemicals, Refining, and Food sectors. Stationary Catalytic Systems Market share in Petrochemicals & Chemicals sector is slated to hit USD 700 million by 2024, due to high demand for petrochemical products across the globe. High infrastructural expansion across emerging economies is forecast to propel the business landscape over the next few years.
Metal applications are anticipated to record a CAGR of 5% over 2016-2024, driven by proliferating demand for steel across construction and automobile sectors. Stationary Catalytic Systems industry size in power plants, estimated at USD 1 billion in 2015, will grow considerably over the coming timeframe. The evolving need of power supply across the residential, commercial, and industrial sectors will accelerate the industry expansion.
Based on the technology, stationary catalytic systems market is mainly divided into catalytic oxidation and selective catalytic reduction. Catalytic oxidation technology covered 36% of the global industry revenue in 2015 and will register substantial growth rate over the coming seven years, owing to its increasing requirement for rubber & polymer manufacturing, organic chemical production, and resin production. The selective catalytic reduction technology segment will exhibit a CAGR of more than 5% over the coming years of 2016 to 2024, prominently driven by its increasing demand to reduce NOx content.
Below are the geographical aspects of stationary catalytic systems market:
India stationary catalytic systems market was worth more than USD 300 million in 2015 and is predicted to generate noticeable revenue over the period of 2016 to 2024. The growth can be attributed to the increasing investment in the infrastructural development projects.
China stationary catalytic systems industry accounted for more than 30% of the regional market share in 2015 and will exhibit considerable annual growth rate of more than 4% over the coming years of 2016 to 2024, owing to the growing installation of coal power plants across this region.
Germany stationary catalytic systems market covered more than 25% of the regional industry contribution in 2015 and is anticipated to surpass a revenue collection of USD 320 million by 2024.
Peru stationary catalytic systems industry will generate a revenue of over USD 40 million by 2024. More than 60% of the mineral commodity is exported from Peru across the globe. This factor, coupled with the escalating mining activities across this region, will propel stationary catalytic systems market.
Key players in stationary catalytic systems market are DCL International Inc., Johnson Matthey, CORMETECH, Ducon Technologies, Babcock & Wilcox Enterprises, Amec Foster Wheeler, BASF, Hamon Corporation, APC technologies, and Air Clean LLC.
Author Name :Sunil Hebbalkar