Pneumatic Conveying System Market will witness a massive surge over the coming five years owing to the growing requirement for effective filtration across the petrochemical, food, pharmaceutical, rubber & plastic, chemical processing, and ceramic sectors. Food sector, worth USD 5.7 billion in 2014, is expected to grow at a rapid pace in the coming years. As per Global Market Insights, Inc., "Pneumatic Conveying System Industry revenue is slated to hit USD 30.67 billion by 2022." Rapid technological advancements along with the escalating urge for improving the conveying process efficacy will further boost market demand. Customers prefer the pneumatic conveying system over its mechanical counterpart due to the former's favorable features such as the low space requirement and flexibility.
Pharmaceutical sector, estimated at USD 5 billion in 2014, will propel pneumatic conveying system industry development over the coming timeline. The growing popularity of this system across pharmaceutical sector can be credited to the escalating demand for power transfer through vacuum. Ceramics sector will surpass USD 5 billion by 2022, and is forecast to contribute substantially towards pneumatic conveying system market size over the forthcoming years, driven by the automation of processes in various industrial establishments.
Germany pneumatic conveying systems market size, by technology, 2012-2022
(USD Million)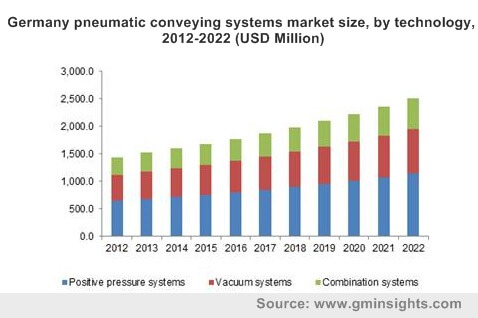 Based on the operating principle, pneumatic conveying system is segmented into two main types – Dilute Phase Conveying System and Dense Phase Conveying System. Dilute phase conveying system is expected to record a CAGR of 5.5% over 2015-2022. It is likely to   dominate global pneumatic conveying system market revenue over the next few years, driven by its ability to use air pressure effectively for conveying materials. Dense phase conveying system, estimated at USD 5 billion in 2014, will record significant gains over the coming timeline, driven by the efficient usage of pressure and blow tanks.
Get a Sample Copy of this Report @ https://www.gminsights.com/request-sample/detail/127
Taking into consideration the regional trends, Asia Pacific pneumatic conveying system industry is forecast to display highest growth over the next few years. Speedy industrial development across India and China is expected to drive the regional growth. Pneumatic Conveying System market in China is projected to grow at a rate of 6.2% over 2015-2022. Driven by the high rate of industrialization, India Pneumatic Conveying System industry is anticipated to hit USD 1,240 million by 2022.
U.S. industry is anticipated to reach USD 6 billion by 2022, and will drive North America Pneumatic Conveying System market in the years ahead. Easy availability of technologically advanced filters along with the introduction of novel methods that facilitate free material flow will contribute significantly towards the expansion of the industry.
Europe Pneumatic Conveying System industry value, which was estimated at USD 6 billion in 2014, will grow considerably over the coming five years. Stringent rules for maintaining sanitation and improved hygienic standards will boost the regional revenue.
Market players will try to increase their ROI through strategic alliances and new product launches. Key industry participants include Gericke, Pneucon Valves Private Limited, Atlas Copco, Flexicon Corporation, Coperion K-Tron, Dynamic Air Incorporation, Schenck Process LLC, Dong Yang P&F Company, Cyclonaire Corporation, and AZO GmbH & Co. KG.
Author Name :Dhananjay Punekar
This entry was posted in Electronics and Media and tagged Combination Systems, Dense Phase Conveying, Dilute Phase Conveying, Global Pneumatic Conveying Systems Market, Pneumatic Conveying System Market, Pneumatic Conveying System Market Size, Pneumatic Conveying Systems Market, Pneumatic Conveying Systems Market Size, Positive Pressure Systems, Vacuum Systems.