Retail POS terminals market, often claimed as one of the fasting growing business spaces of recent times, is highly driven by the digital influence in the financial sector. Over the recent years, cashless mode of payment has observed a tremendous surge, a factor that has massively proliferated the demand for adequate acceptance infrastructure like POS terminals. According to the Federal Reserve Payment Study of 2016- the number of non-cash transaction in U.S. including credit card, debit card, check payments, and ACH has crossed almost 144 billion in 2015, having a valuation of over USD 178 trillion. Total non-cash payment transaction in the country has risen by almost 5.3% by number and 3.4% by value over 2012-2015, having held a valuation of USD 17 trillion in 2012, cite sources. The aforementioned statistics not only cite the growth potential of retail POS terminals market, but have also sourced a plethora of technology behemoths to invest in the business space.
China retail POS terminals market size, by application, 2016 & 2024 (USD Million)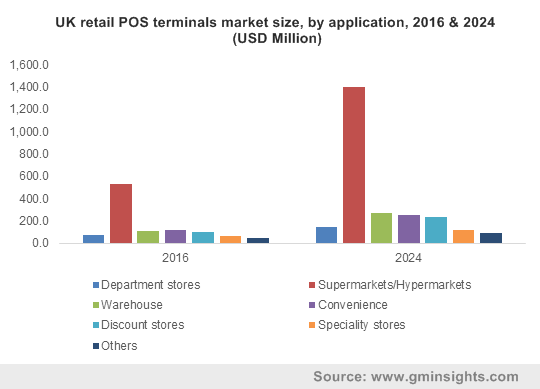 Notable behemoths of retail POS terminals market including Toshiba Corporation, VeriFone Systems Inc., Samsung Electronics Co., Ingenico Group, Panasonic Corporation, NCR Corporation, Hewlett-Packard Company, and PAX Technology Inc. have been increasingly vying up with one another to bring innovative technology in the foreground. For instance, Mastercard, the U.S. based financial conglomerate has recently teamed up with Verifone, in a bid to roll out an innovative point-of-sale financial application in U.K. retail space. Claimed to be the first of its kind in Britain, the 'Mastercard application app' is reported to launch on Verifone's patent payment terminals at some of the specific U.K. retailers in January, and then it would be rolled out to other shops across the nation down the line. This absolutely state-of-the-art POS financial app is deemed to garner a mass popularity in Britain retail space, leaving a subsequent impact on the regional retail POS terminals industry.
Another pathbreaking innovation, that has, of late, fetched much of an attention in retail POS terminals market is HP's all-in-one POS system, ElitePOS. Reportedly, with the launch of this innovative, versatile POS solution at 'India Retail Forum 2017', the American multinational tech giant is planning to work with hospitality customers and leading retailers to enhance customers' in-store experience. For the record, ElitePOS features a sleek modular design and is capable of supporting several other applications apart from check out and payment such as employee attendance, interactive signage, and several other self-service applications. Overall retail POS terminals marketplace is all inclusive of similar breakthroughs, which is likely to bring major disruption in the business space over the ensuing years.
Get a Sample Copy of this Report @ https://www.gminsights.com/request-sample/detail/291
The latest trends of retail POS terminals market are extensively tech-driven, given the mammoth proliferation of IoT in retail space. Retail management systems, nowadays have been increasingly deployed for web applications. However, in order to bring a consequential transformation in the retail business with regards to efficiency and performance, it is imperative to explore newer technologies. Cloud-based computing observes a huge potential in this regard. Subject to the cost competitiveness and reduced manpower requirement, high accuracy, and in-depth insight, cloud-based POS systems are witnessing a heavy demand in the retail space, which by extension is making noteworthy contribution in retail POS terminals industry share.
Technological advancements such as biometrics, and NFC (Near Field Communication) technology, have completely revolutionized the age-old concept of retail business. Business owners, nowadays, have been depicting a high interest in flexible payment option such as checks, digital payments, and credit cards, which by extension is upscaling the retail POS terminals industry demand.   As far as the technological proliferation is concerned, U.S. is expected to emerge as stronger growth ground for retail POS terminals industry in the coming years.
One of the pivotal factors that can be held responsible for the massive expansion of retail POS terminals market is the widespread application matrix. Practically in every retail business sphere ranging from cash payment and consumer data collection to inventory management, the requirement of efficient POS systems is surging day by day. With incessant efforts undertaken by the leading retail giants to improve the operational efficiency and customer experience, retail POS terminals industry size is sure to widen in the coming years. It is imperative to mention here that a considerable economic upliftment across major economies is phenomenally complementing the business opportunity.  Given that expanding application horizon of POS systems across retail vertical, retail POS terminals market size, according to Global Market Insights, Inc., is slated to record a valuation of USD 40 billion by 2024.
Author Name : Satarupa De