Food additives market over the recent years has been profoundly successful in bringing forth a noticeable shift in food trends. This change of preference can be credited to the slew of ready-to-eat, packaged, processed, and on-the-go food items which extensively make use of food additives to enhance the texture, taste, color, and flavor of the food products. The massive demand for these products from the F&B industry has thus impelled several food additives industry players to invest in introducing a gamut of additives that can be used for improving the freshness, natural flavor, and nutritional content, especially of the packaged food products.
U.S. Natural Food Colorants Market Size, By Application, 2017 & 2024, (Million Tons)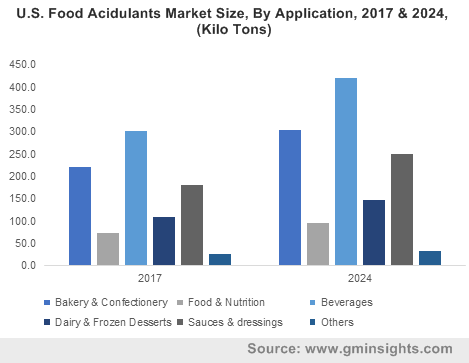 Elaborating further, sweeteners are one of the most widely used additives in the F&B industry. In fact, sweeteners market growth sounds very promising, given the consumer shift toward ready-to-eat food & sweets that comprise a significant amount of artificial flavors and sugar additives. Sweeteners-based food additives market is witnessing extensive demand from soft drinks, aerated drinks, cakes, bakery products, and other products alike to enhance taste and flavors. However, the consumers' growing health consciousness regarding artificial or synthetic components have in turned generated greater demand for natural sweeteners. Date syrup, coconut sugar, yacon root, brown rice syrup, and palmyra jaggery are some of the trending natural sweeteners in the industry, though stevia has been witnessing a greater popularity as a natural & organic ingredient.
Stevia has gained considerable traction in food additives market as it is a nutrition rich plant-based sugar substitute with zero-calories and has proved to be beneficial over artificial sweeteners. The natural sugary substitute, incorporated with compounds that are 250-300 times sweeter than sucrose, is also beneficial in lowering high blood pressure by 6% to 14%. This has subsequently increased the product demand leading to robust growth in stevia market. Estimates further claim stevia industry to witness a remuneration exceeding USD 610 million by 2024.
Get a Sample Copy of this Report @ https://www.gminsights.com/request-sample/detail/155
Analysts deem that the significant surge in the health-conscious consumer base preferring natural and organic products over their synthetic counterparts has prompted food additives industry players to focus on introducing products that add natural flavor & nutrients to food items. Moreover, food & health regulatory agencies have been also pressurizing food additives market players to reduce artificial sugar compounds as the global obesity rates are on a record high. Such prominent initiatives have impelled several companies to bring forth new nutrition rich products and natural additives.
A classic example justifying the aforementioned statement is that is the food additives industry player Archer Daniels Midland (ADM) that has launched two new sweetener brands – VerySweet monk fruit and SweetRight stevia. The two-brand new sweetening solutions, sourced through ADM's partnership with GLG Life Tech Corp., have reportedly joined ADM's VivaSweet sucralose, which is the high intensity, zero calorie sweetener in ADM's portfolio.
SweeGen is yet another natural-based sweetener company that has recent grabbed the headlines for receiving a green signal for its advanced non-GMO Reb M sweetener that is derived from the stevia leaf and can be used as a tabletop sweetener. Industry experts speculate that these new additions in the food additives industry have helped food & beverage product companies meet the growing consumer demand for natural & low-calorie sweetening compounds. It therefore comes as no surprise that sweeteners-based food additives market size, strongly characterized by natural product development trends is projected to exceed valuation over USD 60 billion by 2024.
On this note, it is imperative to mention that the 'naturally sourced' additives trend has not only taken a significant shape in the sweeteners industry but has also been predominately faring across other product segments of the food additives market. In fact, natural food colorants market size is expected to surpass USD 65 million by 2024 in Europe, given the mammoth demand for natural & organic functional food additives. Natural flavor market is another in the line that is predicted to witness phenomenal proceeds, owing to companies extracting flavors from natural sources to meet the growing consumer demand.
Quite overtly, the vast expense of the global food additives market is inherently vivid from the changing consumer focus toward incorporating more natural and healthy food into their otherwise sedentary lifestyles. Quite ironically, on one hand, busy urban lifestyles have had a significant impact on food additives market because of the increased interest in packaged foods and changing diet patterns, while on the other hand, the very same drivers have led to the natural ingredients trend that has brought renewed dynamism to this business sphere. A report by Global Market Insights, Inc., further sheds light on the future growth aspects of food additives market that is all set to cross USD 115 billion in remuneration by 2024.
Author Name :Ojaswita Kutepatil