Strict government measures addressing the most vital issues pertaining to waste disposal will upswing sludge dewatering equipment market growth. The U.S. Solid Waste Disposal Act of 1965 forbids landfilling, waste disposal oceans, and sludge burning. Rising volumes of sludge, especially in the urban areas has caused enormous ecological deterioration, prompting the necessity of effective sludge disposal. Emerging wastewater treatment chemicals sector is forecast to have a significant influence on the industry revenue. As per Global Market Insights, Inc., "Sludge Dewatering Equipment Industry, which accumulated a revenue of USD 3 billion in 2015, is slated to surpass USD 4.9 billion by 2024."U.S. Sludge Dewatering Equipment Market size, by application, 2014-2024 (USD Billion)
U.S. Sludge Dewatering Equipment Market size, by application, 2014-2024 (USD Billion)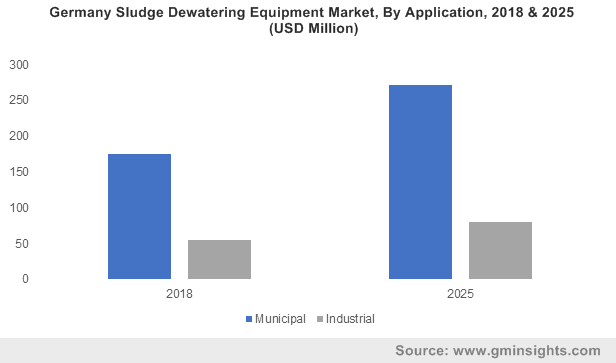 Escalating demand for sludge dewatering equipment across the horticulture, cement production, farming, mineral processing, and mining sectors has encouraged new entrants to enter the business. This has helped established industry players to focus more on business expansion through strategic alliances and product innovations. The aforementioned factors have contributed substantially towards sludge dewatering equipment market growth.
Sludge dewatering equipment makes use of prominent technologies such as screw disc, belt filter press, centrifuges, and rotator disc. Centrifuge technology, which contributed more than USD 800 million to sludge dewatering equipment industry revenue in 2015, is predicted to register an annual growth rate of 5% over the period of 2016-2024. Municipalities prefer this technology to dispose sludge wastes.
Get a Sample Copy of this Report @ https://www.gminsights.com/request-sample/detail/1149
Rotator disc technology, which accounted for over USD 600 million of the overall industry share, is forecast to observe robust expansion in future. Extensive R&D activities for introducing convenient and cost-effective equipment will further impel the industry growth. Sludge dewatering equipment market revenue from screw press technology is expected to hit USD 1.5 billion by 2024. The rising need to effectively dispose industrial wastes within a shorter span is expected to raise the demand for this technology. Belt filter press technology is projected to contribute over USD 600 million to the overall revenue by 2024.
Sludge dewatering equipment find applications across industries and municipal corporations. Industrial applications are forecast to surpass USD 2 billion by 2024 as a result of the chemical and manufacturing sectors contributing toward large waste heaps. Sludge dewatering equipment industry size in municipal corporations is expected to grow at a CAGR of 4% during the period from 2016 to 2024. Stringent rules to eradicate domestic wastes coupled with proficient waste processing management will benefit the business landscape.
Considering the geographical trends, North America sludge dewatering equipment industry is anticipated to register a CAGR of 3% over the coming seven years. Increasing awareness about the adverse effects of environmental pollution on human health along with strict norms prohibiting inappropriate disposal of wastes will augment the regional expansion. The large presence of sludge dewatering units in the region will further contribute towards the industry growth. U.S. sludge dewatering equipment market, estimated at USD 1 billion in 2015, is likely to drive the regional revenue.
Europe sludge dewatering equipment market is expected to grow considerably over the span of few years. The growing menace of pollution due to sludge waste along with low land availability for waste disposal will be the key growth drivers. UK and Germany are projected to be the chief contributors toward the regional growth. Germany sludge dewatering equipment industry is forecast to record a CAGR of 4% over 2016-2024, while UK industry is forecast to hit USD 450 million by 2024.
China sludge dewatering equipment industry, which is likely to exceed a revenue of USD 400 million by 2024, will propel APAC market. South Africa sludge dewatering equipment industry is projected to register significant gains of 6% during the period of 2016 to 2024.
Phoenix Process Equipment Company, Alfa Lava AB, Palmetto Water Solutions LLC, Andritz AG, J.M. Huber Corporation, Dewaco Limited, Aqseptence Group, and The Hiller Companies Incorporation are the key participants of sludge dewatering equipment industry.
Author Name :Dhananjay Punekar