Over the recent years, intragastric balloon market has been occupying a chunk of the ever-evolving healthcare industry. The modern day hectic lifestyle is causing a plethora of risk factors, with obesity as the prime concern in the checklist. A recent estimation by WHO depicts that global obese population has doubled since 1980, primarily driven by U.S. and Sub-Saharan region. There has always been a surge in demand for cost effective and safe weight reduction methods for the treatment of obesity. Intragastric balloons have proved to be an attractive intermediate alternative to address this need. According to Global Market Insights, Inc." Intragastric balloon market having held a revenue of USD 120 million in 2015, is projected to register a CAGR of 9.5% over the period of 2016-2024."
Mostly, intragastric balloons are inflated with saline or gas. Gas-filled intragastric balloon market demand is heightening, as its three-layered bacteria resistant design ensures patient's comfort in case of balloon deflation. This market is anticipated to exhibit a significant annual growth rate of 10% over the coming seven years. Saline filled intragastric balloon market dominated the industry in 2015 and is projected to generate substantial revenue in the years ahead, with an estimated annual growth rate of more than 9% over the period of 2016-2024.
UK Intragastric Balloon Market Size, By Product, 2012-2024 (USD Million)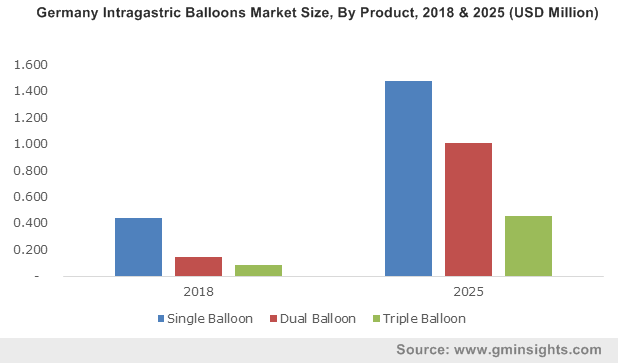 Based on the product types, single, dual, and triple are the three categories of intragastric balloons prevalent in the industry. Single intragastric balloon market covered more than half of the total market in terms of revenue in 2015 and is anticipated to record a striking annual growth rate of 8.5% over the coming seven years. Dual intragastric balloon industry is also projected to record significant gains with a forecast revenue of USD 85 million by 2024. Growing patient inclination toward minimally invasive surgeries over bariatric surgeries such as sleeve gastrectomy, gastric bypass etc. is pushing triple intragastric balloon market. The study estimates the triple intragastric balloon industry to register a CAGR of 11% over the timeframe of 2016-2024.
Get a Sample Copy of this Report @ https://www.gminsights.com/request-sample/detail/1173
US is one of the leading regions spending heavily in healthcare programs, with a major focus on chronic ailments. Obesity is becoming a prime concern for the U.S. population taking into account the increasing premature deaths in the region from obesity driven diseases such as strokes, heart diseases, and even cancer.  As per the statistics provided by the OECD, in 2014 35% of the U.S. population were examined to be obese.  Driven by the aforementioned fact along the improved patient awareness level, favorable government initiatives, and advanced healthcare infrastructure, U.S. intragastric balloon market is poised to witness a lucrative roadmap in the coming years.
Hospitals and clinics are the major end-use sectors of the intragastric balloon market making an appreciable revenue contribution to the global share. Intragastric balloon industry share from hospitals is likely to exceed a value generation of over USD 100 million by 2024. Moreover, increasing spending on healthcare facilities has considerably fueled the clinics market contribution which is set to display a CAGR of 10% over the period of 2016-2024.
Ambulatory surgical centers are also poised to observe a steady growth potential with its enhanced quality of patient care and cost-effective services. Intragastric balloon market share from ambulatory surgical centers is forecast to register a CAGR of 9.5% over the period of 2016-2024.
The inclination toward enhancing the healthcare infrastructure in terms of cost, treatment methodologies, and technological developments will significantly fuel intragastric balloon industry size in the coming years. In response to this fact, India and Brazil each are estimated to record a CAGR of 10% over the coming seven years.
Taking into consideration the competitive outlook, the major intragastric balloon industry players are adopting mergers & acquisitions as the key strategy to accomplish global expansion and recognition. Allurion Technologies, Obalon Therapeutics Inc., ReShape Medical Inc., Silimed, Districlass Medical and Apollo Endosurgery Inc. are few of the notable participants of the intragastric balloon market.
Author Name :Satarupa De