The world is witnessing a rise in the number of population suffering from malnutrition subject to metabolic dysfunction. Clinical nutrition market will observe an exponential growth over the next few years, pertaining to the above factor. As per the American Heart Association, nearly 34% of adults in the U.S. are affected by metabolic syndrome. Enhanced usage of nutritious products across home healthcare, food, and pharmaceutical sectors will help in rapid expansion of clinical nutrition market. The rampant surge in the world population and rise in premature mortality rates will also benefit the business. The rise in the rate of chronic ailments, especially among the elderly population will offer a strong platform for the industry to explore its growth potential. As per Global Market Insights, Inc., "Clinical Nutrition Industry is slated to reach a targeted revenue margin of over USD 80 billion by 2024."
Europe Clinical Nutrition Market, By Product, 2012 – 2024 (USD Million)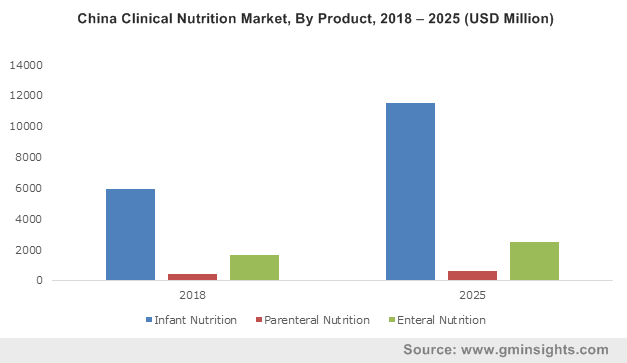 Considering the regional trends, Asia Pacific captured 40% of overall clinical nutrition industry share in 2015 and is projected to cross a revenue of USD 30 billion by 2024. High birth rate, swift economic development, and developing healthcare facilities are the key attributing factors toward the regional growth. China clinical nutrition industry, worth USD 6 billion in 2015, is forecast to grow at a CAGR of 9% over 2017-2024 subject to the high occurrence of diseases caused due to metabolic malfunctioning.
Get a Sample Copy of this Report @ https://www.gminsights.com/request-sample/detail/1324
Latin America clinical nutrition market is expected to grow at an annual rate of 8% over the coming seven years. Escalated occurrence of chronic ailments, rapid economic development, and effective healthcare services will drive the regional demand. Mexico and Brazil are likely to be the key regional revenue pockets, with Mexico industry projected to record significant gains of 9% over 2017-2024.
Europe clinical nutrition industry is forecast to grow notably over the next few years, driven by mounting aging population, rise in disposable incomes of the patients, and an elevation in the rate of metabolic disorders. UK and Germany are expected to drive the regional share.
U.S. clinical nutrition market revenue, which amassed a revenue of USD 8 billion in 2015, is projected to register a substantial gain of 6% during the period of 2017 to 2024. It is expected to contribute significantly towards North America clinical nutrition market size in the years ahead. Mounting chronic disorders among the rising population along with beneficial reimbursement policies will augment the regional growth.
Based on the product trends, clinical nutrition industry is classified into infant nutrition, enteral nutrition, and parenteral nutrition. Enteral nutrition, which contributed more than 30% of the clinical nutrition market share in 2015, is expected to hit USD 20 billion by 2024. High patient preference toward enteral nutrition products subject to its longer shelf life will spur the market demand. Infant nutrition, which acquired 55% of clinical nutrition industry share in 2015, is expected to register an annual growth rate of 9% over the period of 2017-2024. Toddler, being more prone to metabolic disorders, are generating a high demand for infant nutrition products, which will subsequently contribute toward infant clinical nutrition market growth.
Parenteral nutrition, estimated at USD 4.2 billion in 2015, is expected to hit USD 7 billion by 2024. The increasing occurrence of diabetes, HIV, and cancer across the globe will increase the product demand.
Firms are trying to expand their bases in developing countries to explore the untapped market potential and increase the returns on sales. Key industry participants include Mead Johnson Nutrition Company, Abbott Laboratories, Fresenius Kabi, Baxter International Incorporation, Danone, B Braun Melsungen AG, Hospira, Nestle S.A., Perrigo Company Plc, and The H. J. Heinz Company.
Author Name :Dhananjay Punekar