The commercialization matrix of power transmission lines & towers market has gained a substantial traction over the past few years, in sync with the increasing need of power supply across the globe. In a bid to address the expanding consumer base with unremitting electric supply, electric utilities have been scrupulously investing in novel grid infrastructure projects. Some of the encouraging efforts by both the developed as well as developing nations, in this regard, is prudent to take a note of.
Europe Transmission Lines & Towers Market Size, By Voltage, 2017 & 2024 (USD Million)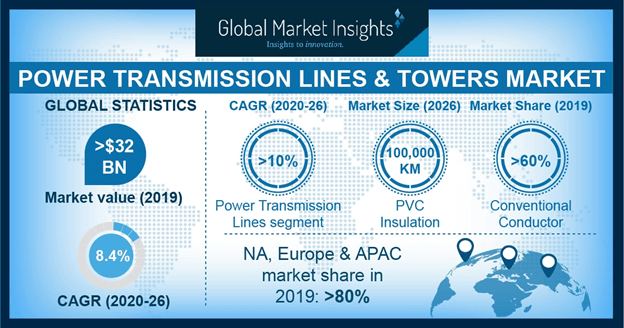 Under Trump's administration, the United States is projected to invest USD 110 billion in smart grid infrastructure by 2027. The figure itself gives a clear picture of the regional power transmission lines & towers market demand. In fact, as per estimates, U.S. market is forecast to exceed USD 4 billion by 2024.
For a significant transmission line refurbishment project between Mbarara and Masaka, Africa power transmission lines & towers market recently witnessed a sudden push. For the records, in a bid to suffice this massive project, Uganda recently received a hefty sum of USD 44.2 million from AFD (Agence Française de Dévelopement), after the two signed a financial agreement on the same.
The Chinese government has recently proposed a joint DPR (detailed project report) of the first China-Nepal cross border transmission line. Reportedly, the 800km extended transmission line would span from Galchhi of Nepal to Shigatse, China.
Get a Sample Copy of this Report @ https://www.gminsights.com/request-sample/detail/1182
These aforementioned projects, needless to say, have left an inexorable impact on power transmission lines & towers industry share. Testament of the fact is a USD 30 billion industry valuation in 2017. Transmitting bulk power with minimal line resistive loss is the prime focus. As a result, HVDC and HVAC transmission have been gaining a burgeoning demand in the power sector worldwide, leaving a perpetual impact on HVDC and HVAC power transmission lines& towers industry share.  Recently, China's State Grid Corporation signed a contract with Power Division of Pakistan for the construction of a 600 KV HVDC bipolar transmission line extending from Matiari to Lahore. China's favorable regulatory framework with regards to HVDC network integration, as per experts' opinion, has allowed the country to easily operationalize various cross border interconnection plans, which by consequence boosted China power transmission lines & towers industry.
Considering the huge expansion in the renewable energy space, it is quite coherent that power transmission lines & towers industry would also witness a consequential transformation. The clean energy propaganda is expected to influence majority of the regional markets, in response to which, the Europe power transmission lines & towers market is likely to be strongly characterized by the sustainability trends. The European Government's constant push to streamline electricity transmission via renewable means by providing viable incentives to energy efficient components is probably the primary factor driving the regional market.
Speaking of the competitive landscape, major power transmission lines & towers industry participants such as ABB, K-line, General Electric, Arteche, and General Cable have been investing heavily in rural electrification and renewable energy projects. In support of the regional governments, these firms are making incessant efforts to combat the power supply shortage across the world, which in essence has contributed immensely toward the business augmentation. Inherently stimulated by a slew of governmental as well as corporate initiatives in pipeline, global power transmission lines & towers industry share is slated to exceed USD 60 billion by 2024.
Author Name :Satarupa De