Surging use of conversion coatings in metals to improve corrosion resistance and organic film adhesion will stimulate Pretreatment Coatings Market. The flourishing automotive sector across countries such as Taiwan, Japan, Malaysia, India, Indonesia, and China will also unravel more profitable avenues for the business. Powder coating industry, evaluated at USD 8.5 billion in 2015, is set to surpass USD 17 billion by 2024. The growing application of powder coatings in electronics, vehicles, farming equipment, and household devices subject to its anti-corrosive features can constructively influence the business roadmap. According to Global Market Insights, Inc.," Pretreatment coatings industry revenue is projected to hit USD 15 billion by 2024, growing at a CAGR of 5.5% over 2016-2024."
U.S. Pretreatment Coatings Market size, by end-use, 2013-2024 (USD Million)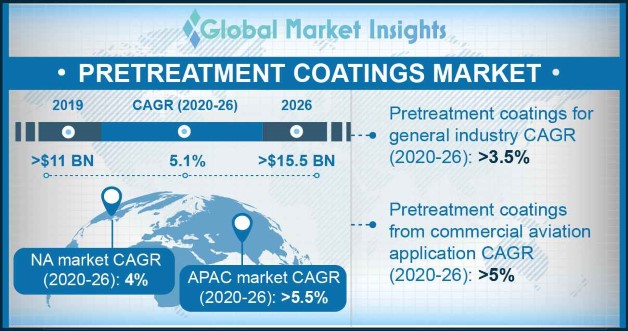 Pretreatment coatings find extensive applications in aluminum, zinc-aluminum alloys & die castings, and metals. Aluminum application is expected to experience significant gains of 4.5% over 2016-2024, driven by the product usage across end-use industries such as food packaging and automobiles. Pretreatment coatings industry revenue from metal applications, which produced more than USD 6.5 billion in 2015, is slated to grow enormously over the coming years.
Considering the end-user trends, pretreatment coatings market is segmented into metal packaging, aerospace, automotive, cold forming, general industry, and coil. Pretreatment coatings market in the automotive sector, which collected a revenue of USD 2.8 billion in 2015, will record a CAGR of 4.5% over the period of 2016-2024. High consumer demand for visually appealing vehicles embedded with UV and temperature protection mechanisms will boost the business landscape. General industry end-use segment is expected to produce a revenue of more than USD 4.1 billion by 2024, growing at a rate of 5% over the coming seven years. The growth can be attributed to the extensive use of pretreatment coatings in architectural aluminum, HVAC, automobiles, office furniture, ventilation, and the manufacturing sector.
Get a Sample Copy of this Report @ https://www.gminsights.com/request-sample/detail/1091
Taking into consideration the topographical trends, UK pretreatment coatings market size is expected to grow at a CAGR of 3.5% over 2016-2024, with aluminum applications contributing significantly towards the regional revenue. Brazil pretreatment coatings industry revenue from aerospace sector is expected to reach USD 85 million by 2024. U.S. pre-paint conversion coatings industry sector is expected to grow at 6% over the next seven years and will accelerate pretreatment coatings industry size.
France metalworking fluids sector, which will grow at a CAGR of 2% over 2016-2024, is expected to propel pretreatment coatings industry expansion over the next few years. Enhanced usage of metalworking fluids as a corrosion inhibitor along with its ability to annihilate thermal deformation and dispose removed material will boost the revenue further.
China pretreatment coatings market is predicted to register a CAGR of 5.5% over the coming seven years, owing to increase in vehicle sales across the region along with beneficial norms subject to the manufacturing sector. Japan pretreatment coatings market is expected to witness a significant growth in future, with the cold forming end-use sector making considerable contributions toward the regional share.
Pre-paint conversion coatings, metalworking fluids, cleaners, anti-corrosive coatings, and final seals are the major products of pretreatment coatings market. Cleaners sector will grow at a rate of 4% during the period of 2016 to 2024, owing to its ability to reduce surface tension in stamping, machining, spinning, and bending processes. Its large-scale utilization in the metal finishing sector is expected to enlarge the business growth.
Anti-corrosion coatings market is forecast to grow significantly at a rate of 5% over the years ahead. The growth can be attributed to the product ability to shield the metal against moisture degradation, oxidation, and industrial chemicals. Metalworking fluids market is anticipated to record an annual growth rate of 3% over the span of few years, subject to its use in metal protection and metal treatment along with its ability to impart the best surface finish to metal cuttings.
AkzoNobel N.V., Axalta Coating Systems, Barton International Group, Kansai Paint Company Limited, Troy Chemicals, Abrasives Incorporation, The 3M Company, and Cym Materials S.A. are the major players of pretreatment coatings market.
Author Name :Dhananjay Punekar
This entry was posted in Bulk & Specialty Chemicals and tagged Anti-corrosive Coatings, Coatings Market, Metalworking fluids, Pre-paint Conversion Coatings, Pretreatment Coatings, Pretreatment Coatings Market, Pretreatment Coatings Market Analysis, Pretreatment Coatings Market Applications, Pretreatment Coatings Market Data, Pretreatment Coatings Market Outlook, Pretreatment Coatings Market PDF, Pretreatment Coatings Market Price, Pretreatment Coatings Market Report, Pretreatment Coatings Market Share, Pretreatment Coatings Market Size.