As the world experiences a tremendous need to conserve natural resources such as water, smart water metering market will gain considerable traction, subject to the rising demand for efficient water consumption. Smart meters help record real-time data and reduce water bills, thereby enabling water conservation. The deployment of smart water meters will augment the rising efforts to save water and prevent its unnecessary wastage, thereby stimulating smart water metering industry. A report by Global Market Insights, Inc., states that smart water metering market, worth more than USD 6 billion in 2016, will register a revenue of more than USD 14 billion by 2024.
Stringent regulations toward the conservation of water and the regulation of the water distribution network will propel smart water metering industry. As per the EC Directive 2000/60/EC, it is mandatory for respective nations to prioritize the prevention of water wastage and water conservation, especially in drought-ridden areas of the region. Technologically, smart water meters can be deployed based on two key technologies – automatic meter reading (AMR) and automatic meter infrastructure (AMI). AMR-based smart water metering market is slated to surpass 150 million units by 2024, primarily driven by the increasing adoption of this technology across myriad application sectors for the last two decades. AMR technology is also deployed in smart electric meters and smart gas meters, thereby stimulating global smart electric meter industry and smart gas metering systems market respectively.
Germany Smart Water Metering Market Size, By Application, 2016 (Million Units)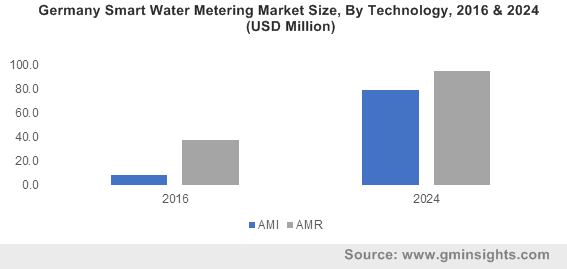 Smart meters help curb water losses and streamline billing processes. Water utilization data gathered by AMI-based smart meters also help identify problems in water distribution and manage water allocation in an efficient manner, which eventually serve to understand consumer requirements. On these grounds, AMI-based smart water metering market size is slated to exceed 50 million units by 2024, with a CAGR projection of 10% over 2017-2024. While AMI technology is relatively advanced, its excessive cost may restrain the market growth over the next few years. This technology is widely deployed across residential and utility application sectors.
Get a Sample Copy of this Report @ https://www.gminsights.com/request-sample/detail/697
Smart water meters, in general, find massive applications across the commercial, residential, and utility sectors. Smart water metering industry from commercial applications will witness a CAGR of more than 155 over 2017-2024, driven by rising water bills pertaining to the irregular supply of water. End-users of commercial applications have gauged the importance of water and the effects of unregulated resource spending on the application sector, owing to which smart water metering market from commercial applications is likely to witness enormous growth prospects. Commercial applications accounted for more than 35% of the overall smart water metering market in 2016.
Smart meters are widely used across residential applications, subject to the high demand for transparency in water utilization and billing. Smart water metering industry from residential applications will exceed 90 million units by 2024, pertaining to the rising need for efficient consumption tracking and water bill reduction.
AMI-based smart meters are particularly used across the utility sector, for efficient water allocation and management. Stringent regulations regarding water conservation will drive smart water metering market from utility applications, projected to grow at a CAGR of 13% over 2017-2024.
Glendale was the first city in the United States that set a benchmark for better utility management and responding to unexpected natural calamities such as droughts, by means of implementing smart meters to develop a smart grid network. Rising adoption of smart water meters and strict norms pertaining to accurate billing and water conservation will drive U.S. smart water metering industry, set to surpass USD 3 billion by 2024. Government regulations toward the accountability of NRW (non-revenue water) will also augment the regional growth.
UK smart water metering market is forecast to grow at a CAGR of 12% over 2017-2024, subject to the increasing demand for smart metering infrastructure. The government of Japan aims to achieve a 100% roll-out of smart water meters by 2025, which will propel Japan smart water metering industry, worth USD 300 million in 2016.
Companies operating in global smart water metering market are engaged in periodic mergers and acquisitions to consolidate their position. Key participants include Datamatic, Arqiva, Neptune Technology, Siemens AG, Diehl, Arad, Itron, Elster, Badger Meter, Aclara Technologies, Sensus, Xylem, Landis+Gyr, and Kamstrup.
Author Name :Saipriya Iyer