Material handling equipment market has stood as one of the most remunerative business spheres in the construction domain. The industry landscape is prominently underlined by technological interventions and development in logistic operations, where the parameters define the key to opportunities and profitability. Amidst this dynamic competitive scenario, product improvisation via mergers & acquisitions have emerged as the top-notch growth strategy adopted by the major players. Toyota Industries' yesteryear tie up with renowned material handling equipment industry player Bastian Solutions LLC is an exemplary precedent depicting the same. The deal signified Toyota full-scale entry in the North America material handling equipment market, in the backdrop of the massively expanding e-commerce sector in the region. It is prudent to mention that e-commerce is indeed one of the major application avenues for material handling equipment industry growth. The segment contributed a total of USD 14 billion to the overall business in 2017.
Germany Material Handling Equipment Market, By Product, 2017 & 2024, (USD Million)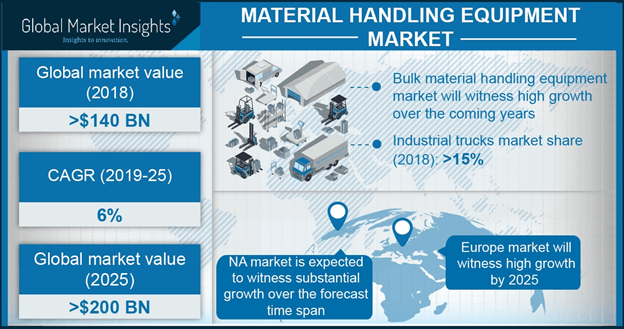 With manufacturers, retailers, and distributors striving to deliver efficient operations that not just meet the traditional business demand, but also the e-commerce operations, development of optimized warehouses and DCs to support the multifaceted operations has become an absolute necessity. Today's advanced material handling solutions significantly improve the inventory control, leaving a subsequent impact on the overall supply chain model. With notable developments in omni-channel operations, in-store pickup, return processing and specialty labelling, e-commerce sector is rightly touted as a major investment spot for material handling equipment market players.
Regionally, the European belt is claimed to be highly profitable growth ground for material handling equipment industry, subject to the stringent governmental regulations with regards to workplace safety in the continent. This has subsequently prompted manufacturers to come up with products that are absolutely in compliance with the standards enforced by the European Union regarding design, construction, and handling of the equipment.
Get a Sample Copy of this Report@ https://www.gminsights.com/request-sample/detail/1384
In a recent turn of events witnessed across Europe material handling equipment market, Plug Power, a renowned name in the energy solutions provider list announced its Europe team's participation as a partner at the World of Material Handling conference. Reportedly, the event is hosted by one of the leading material handling equipment market players, Linde Material Handling in Germany.
Through this venture, Plug Power would be integrating its patent fuel cells into Linde's warehouse vehicles, thereupon increasing the adoption of H2 (hydrogen) in Europe manufacturing market. The collaboration move between Plug Power and Linde is claimed to remarkably facilitate the penetration of hydrogen fuel cells across Europe. Underlined by similar strategic developments in the manufacturing sector, Europe would continue to witness a percentage of supremacy in the business sphere. In terms of commercialization potential, Europe materials handling equipment industry share is forecast to exceed USD 25 billion by 2024.
While a rich application landscape ensures a rather lucrative terrain for the material handling equipment market, the huge capital investments in the maintenance and operation of these equipment might challenge the industry trends in the coming years.  Also, the complexity associated with integrating hardware and software in one platform for upgrading the manufacturing facilities is another deterring factor in materials handling equipment industry growth, Nonetheless, with industry participants making incessant efforts toward developing products that are affordable and efficient, the market is certain to witness remarkable proceeds in the coming timeframe.
One of the anticipated trends to be watched for remains the growth of material handling equipment market in emerging economies, where manufacturing sector is booming. The robotic technology will also mark a disruption of sorts in this domain, primarily fueled by the demand for cost-effective and efficient approaches. In this regard, China and India which are indeed witnessing a remarkable rise in industrialization are slated to be the chief avenues for material handling equipment market. In fact, Asia Pacific, driven by these economies is expected to witness an appreciable CAGR of 6.5% over 2018-2024. The global business share is projected to surpass USD 190 billion by 2024.