Material handling equipment industry has evolved in the past few years with advanced technological interventions such as voice picking, RFID, Big data analytics, IoT, etc. With the developments in logistics operations globally, the adoption of material handling systems across several end users has turned huge. A strong investment in the installation of these machineries in warehouses to enhance the productivity, is anticipated to directly influence material handling equipment market growth path. Some of the end use industries such as general merchandise, food retail, and durable manufacturing are also automating their production base by incorporating material handling equipment in the process. As per Global Market Insights Inc., "Material handling equipment market having held a revenue of USD 110 billion in 2015, is slated to exceed USD 190 billion in the next seven years, with a projected CAGR of 5% over the period of 2016-2024."
Global Material Handling Equipment Market Size, By Application, 2015 & 2024 ($ Bn)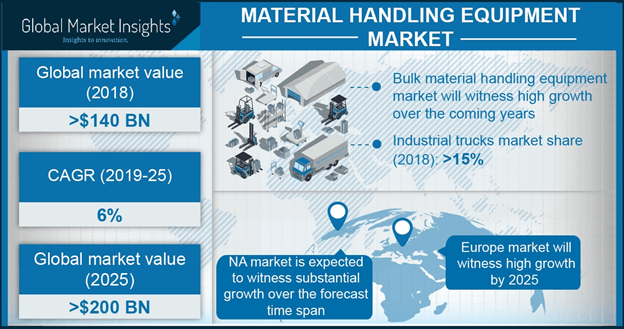 Automated Storage & Retrieval System (AS/RS)), industrial trucks, storage & handling equipment, and robotics are the major products prevalent in the market. Material handling equipment industry from robots is witnessing a significant demand. The high-end manufacturing plants are incorporating robots to offer high level productivity on grounds of minimum manual error. These robots can efficiently transport objects from one location to other without human involvement.  Industrial trucks usage has also increased in the recent times. The recurring transfer of goods from one place to other through a conveyor system is not at all a convincing option, which in turn is propelling material handling equipment market demand from industrial trucks sector. In a continuously developing dynamic manufacturing environment, automated storage & retrieval System (AS/RS) will also witness large scale adoption. (AS/RS) requires less human involvement, reduced floor space, and inventory levels, which puts them on a higher edge than manual storage approaches.
Get a Sample Copy of this Report @ https://www.gminsights.com/request-sample/detail/1384
E-commerce is expected to dominate the application landscape for material handling equipment industry in the years ahead. The advent of e-commerce has provided the customers with an infinite variety of choices, leading to a surging demand for faster deliveries worldwide. Numerous vendors of e-commerce industry are installing ware house management system for monitoring inventory levels, which is expected to have a direct impact on material handling equipment market growth chart.
Asia-Pacific region is anticipated to witness substantial growth in material handling equipment industry in the coming timeframe. A major share of the region's growth projection can be credited to the increasing industrial developments and the growing adoption of E-commerce across this belt that propels the implementation of material handling equipment. In addition to this, low labor and reduced transportation costs across these regions is allowing the manufacturers to incline toward automated systems, which in turn is influencing the regional growth.
Material handling equipment market is highly competitive with more number of industry participants investing in research activities to upgrade the product portfolio. Though high maintenance cost is acting as a major challenge for the market players, yet global consumer cravings for integrating advanced technologies in logistics operations is expected to catalyze the market demand. Some of the key players in material handling equipment industry include Kion Group AG, Daifuku Co. Ltd, Bastian Solutions LLC, Dematic GmbH, etc.
Author Name :Satarupa De