Breakthroughs in osteology which has resulted in development of cost-effective equipment coupled with rise in sports injuries will impel orthopedic devices market growth. The new inventions in 3D printing technology and robot assisted surgeries will also generate lucrative avenues for the orthopedic devices industry in the years to come. The geriatric population base which is highly susceptible to bone diseases such as arthritis, osteoporosis, etc. will substantially drive the demand for these devices. As per the WHO, the worldwide population above 60 years of age will reach 2 billion by 2050. With this escalating trend, the orthopedic devices market is certain to witness a strong growth chart ahead. Global Market Insights, Inc. projects the orthopedic devices industry to surpass USD 53 billion by 2024.
Europe Orthopedic Devices Market Size, By Product, 2013-2024 (USD Million)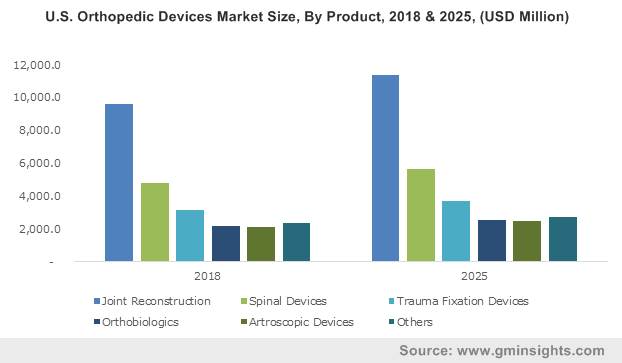 Rising preference for minimally invasive surgical procedures and massive usage of novel biodegradable implants for medical treatment will contribute substantially towards orthopedic devices market share in future. Obesity, sedentary lifestyle, irregular diet, and high consumption of alcohol will further add to the growing popularity of the orthopedic devices. The orthopedic devices industry is foreseen to witness remarkable growth in developing nations as compared to developed nations, owing to large-scale acceptance of the devices in the emerging economies plus market saturation in developed economies.
Taking into consideration the regional trends, UK orthopedic devices industry, which contributed more than 15% of Europe industry revenue in 2016, will exhibit an appreciable surge over the next few years. Rising frequency of bone disorders among the increasing elderly population is predicted to spur the revenue.
Get a Sample Copy of this Report @ https://www.gminsights.com/request-sample/detail/1501
U.S. Orthopedic devices market, which was estimated at USD 20 billion in 2016, is forecast to exceed USD 25 billion by 2024. Enhanced healthcare amenities along with burgeoning demand for orthopedic services due to high incidence of ailments such as osteoporosis, musculoskeletal disorders, and osteoarthritis will accelerate the business growth.
Mexico orthopedic devices industry, worth USD 300 million in 2016, is projected to expand remarkably over the next few years subject to escalating rate of road accidents and increase in the number of the bone disorders. High research in the field of arthroscopic equipment and orthobiologics is expected to drive Germany orthopedic devices industry development which contributed over 20% to the Europe industry share in 2016.
Brazil orthopedic devices market, which accumulated a revenue of USD 750 million in 2016, is anticipated to experience a bulging growth over the coming years. Rise in the disposable income and high investments in orthopedic care activities will make the environment of the region more business & entrepreneur friendly, thereby fostering the industry expansion.
Orthopedic devices industry in China is forecast to grow significantly at a CAGR of 12% over 2017-2024, driven by swift economic development and high patient consciousness about novel orthopedic services. Japan orthopedic devices industry, which accounted for more than 40% of the APAC industry revenue in 2016, is projected to hit USD 2 billion by 2024. Acceptance of modern technologies coupled with rise in the occurrence of spinal cord disorders are few of the factors predicted to contribute prominently towards the regional revenue.
Arthroscopic devices, Joint Reconstruction, Orthobiologics, Trauma Fixation Devices, and Spinal Devices are few of the major orthopedic devices. Joint reconstruction devices, which accounted for more than 40% of orthopedic devices industry revenue in 2016, is set to grow at a rate of 3% over the coming seven years. Increase in the number of road and sports injuries will boost the product demand.
Orthopedic devices market revenue from orthobiologics is predicted to surpass USD 4 billion by 2024, driven by its immense usage as substitutes and bone grafts. Spinal devices are projected to observe a notable gains of 3.5% during the period from 2017 to 2024, owing to high occurrence of degenerative disc disorders among the aging people plus product innovation for treating disorders of spine.
Trauma fixation devices are likely to collect a revenue of USD 7 billion by 2024, subject to its high need in developing regions and product differentiation in the comparatively matured markets of developed regions.
Market players are trying to implement major business growth strategies such as product development, joint ventures, and strategic alliances to retain their position in the industry. Stryker Corporation, Medtronic, Zimmer Biomet, Smith & Nephew Plc, MicroPort Scientific Corporation, NuVasive Incorporation, DJO Global, ConforMIS, The DePuy Synthes Companies, Globus Medical, and The Medacta Group are the major participants of orthopedic devices industry.
Author Name :Dhananjay Punekar