Insulated Concrete Form Market size is expected to rise prominently, driven by escalating demand for green construction across the residential and commercial sectors. The ability of the product to provide material strength, sound absorption, high indoor air quality, fire protection, energy efficiency, and ecological sensitivity to the buildings will generate profitable avenues for the business. Manufacturers have recognized the importance of minimizing operating costs, which will play a crucial role in shaping the industry trends in the next few years. The Federal and State governments are also contributing toward the business expansion. For instance, the European Union has introduced new building codes to be agreed upon by the construction sector. Even the U.S. government has implemented energy conservation programs. These initiatives are sure to leverage the business expansion. As per Global Market Insights, Inc., "Insulated concrete form industry, which collected the revenue of USD 470 million in 2015, is set to surpass USD 970 million by 2024."
U.S. Insulated Concrete Form Market size, by application, 2013-2024 (USD Million)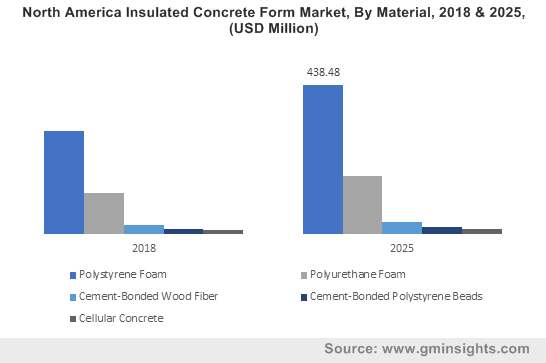 The worldwide construction sector is expected to hit USD 15 trillion by 2030, with the U.S., India, and China contributing nearly 57% towards the overall construction spending. APAC is predicted to make notable contributions toward the global construction sector, which in turn will stimulate the development of insulated concrete form market. Asia Pacific insulated concrete form market is likely to make notable gains of over 10% during the period from 2016 to 2024. The growth can also be attributed to high consumer inclination towards the usage of PU foam based insulated concrete form across the construction sector. PU foam based insulated concrete form market contributed over USD 15 million to the APAC industry revenue in 2015.  India, China, Japan, and Australia were the major regional revenue pockets.
Get a Sample Copy of this Report @ https://www.gminsights.com/request-sample/detail/725
North America insulated concrete form industry is anticipated to expand remarkably over the years ahead, subject to growing consumer preference toward green buildings. U.S. insulated concrete form industry from the residential sector was worth USD 100 million in 2015, is likely to drive the regional growth over the coming years. Insulated concrete form market in Europe is expected to witness a high surge in the future, having attained a revenue of more than USD 120 million in 2015.
Insulated concrete forms also find extensive applications across the infrastructure and industrial sectors. Industrial applications are expected to grow at a CAGR of more than 10% over 2016-2024, driven by strict government rules favoring infrastructural development along with increased funding for commercial construction projects. Residential applications, which accounted for more than 55% of insulated concrete form market share, are forecast to gain a sizable revenue over the coming seven years. Nearly 80% of insulated concrete forms find applications across residential sectors – ICF market from residential applications are slated to reach a targeted revenue margin of USD 500 million by 2024.
Cellular concrete, polyester foams, cement bonded polystyrene beads, polyurethane foams, and cement bonded wood fibers are some of the major products of insulated concrete form market.
Polystyrene foams, which accumulated USD 300 million in 2015, are expected to make significant contributions toward insulated concrete form market revenue over the span of few years. Favorable product characteristics such as longevity and fire & heat resistance are expected to drive the business landscape.
Polyurethane foam industry, which accrued a revenue of more than USD 100 million in 2015, is expected to contribute remarkably toward insulated concrete form industry share in future. Growing product popularity across ICF constructions is expected to drive the revenue.
Manufacturers will try to acquire maximum share in this highly competitive insulated concrete form market through product differentiation, mergers & acquisitions, and new product launches. Quad-Lock Building Systems Limited, Airlite, Logix Insulated Concrete Forms Limited, IntegraSpec ICF, Nudura Corporation, Superform Products Limited, Plasti-Fab Incorporation, and BuildBlock Building Systems are the major players of insulated concrete form industry.
Author Name :Dhananjay Punekar