Commercial refrigeration equipment market is widening its horizon with the surging global demand for safer and sustainable food preservation techniques. Along with the provision of cooling at diverse storage conditions, these equipment manufacturers are also focused on minimizing the harmful environment impact of the refrigerants, which puts the market on a higher edge. Mandatory rollouts, especially across developed nations, for banning fluorocarbon based refrigeration that in turn leads to ozone depletion, is expected to further augment the market demand. Estimate depicts air conditioner and refrigerators to together account for one-fifth of the overall energy consumption which is huge and is anticipated to result in an energy crisis in near future. In this scenario, growing demand for high energy efficient technologies is indeed providing lucrative opportunities to commercial refrigeration equipment industry in the global business space. For instance, magnetic refrigeration system has resulted in a saving of 30% of the overall energy consumption. As per Global Market Insights, Inc., "Commercial refrigeration equipment market is forecast  to hit a revenue record of USD 47.75 billion by 2023."
Germany commercial refrigeration equipment market size, by application, 2012 – 2023 (USD Million)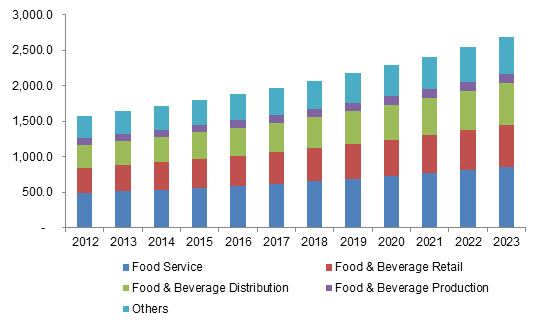 Substantial growth in the retail sector along with increasing penetration of food related service chains are leaving a direct impact on the overall commercial refrigeration equipment market dynamics. A paradigm shift in the global food consumption trend fueled by the rising disposable incomes of the consumers has led to an escalation in frozen food demand. Huge capitalization related to food services along with increasing deployment of these devices for horticulture, seafood, and other processed food items is expected to elevate commercial refrigeration equipment industry growth. Furthermore, a subsequent development in the international trade of frozen food items is also projecting a favorable market outlook.
Considering the geographical aspect, Asia Pacific is poised to mark a strong footprint in global commercial refrigeration equipment market over the coming six years. The ever-increasing middle-class population of China along with large number of fast food chain across this belt is positively influencing the regional market dynamics. APAC commercial refrigeration equipment industry is estimated to record maximum growth rate in the years ahead, with a revenue record of USD 14.5 billion by 2023.
Get a Sample Copy of this Report@ https://www.gminsights.com/request-sample/detail/414
Commercial refrigeration equipment market is primarily driven by processed food and beverage sector. Since food and beverage market has observed tremendous development in recent years, it is expected to leave a direct impact on the overall industry share. A significant increase in the number of fast food outlets around the world along with rising frozen food consumption slates for the tremendous growth that the market is anticipated to witness in the coming years. Food service sector is expected to dominate the application landscape of global commercial refrigeration equipment industry, with a projected revenue collection over USD 15 billion by 2023. Certain segments like ice creams, soft drinks, seafood, branded dairy products and other packaged food production have grown sharply. The industry is undergoing an evolution with the emergence of supermarkets, shopping malls, departmental stores selling all kinds of packaged food items. These have resulted in an increase in deployment of hi-tech advanced refrigeration equipment that efficiently monitors the overall refrigeration leak, system pressure, and liquid level. Commercial refrigeration equipment market from food and beverage production is poised to grow substantially at a CAGR of 6.6% over 2016-2023.
U.S is one of the major regions projected to experience significant growth based on food and beverage production ground. Upgraded production services which include improvised materials, microprocessor-based controller, smart defrost system etc. along with appreciable demographic trends is driving U.S commercial refrigeration equipment market. In addition to this, regional players' effort of reducing the labor costs by transiting the production facilities overseas will also complement the market outlook.
Fluctuating crude oil price rate is expected to challenge the commercial refrigeration equipment industry price trends, especially in refrigeration transportation sector. However, development of zero emission technology in order to mitigate the environmental issues will keep commercial refrigeration equipment market demand high. Key players of the market are engaging themselves in research activities to incorporate the technical advancements in the product design for enhancing the portfolio. Some small-scale companies are collaborating with big banners to sustain in the competitive market. Prominent commercial refrigeration equipment industry players include Johnson Controls, Carrier Corporation, Daikin, and Dover Corporation.
Author Name :Satarupa De