Ionic liquids market
is generating a heavy momentum in the chemical industry space, owing to the growing concerns over VOCs and other toxicity emissions from organic solvents. Driven by the regulatory pressure and the growing awareness regarding environmental issues, green solvents are being extensively used for wide range applications which include paints and coatings, adhesives, pharmaceuticals, printing inks, and even in cosmetics. Better environmental portfolio characterized by low viscosity, superior thermal stability, non-combustibility, and negligible vapor pressure gives ionic liquids industry a competitive advantage over organic solvents. Some of the liquids such as imidazolium, pyrrolidinium, ammonium, piperidinium experience high market demand owing to their tremendous production flexibility. Concurrently, favorable programs initiated worldwide by bodies such as REACH, EPA to curb environmental emissions is expected to complement the market dynamics
. A report by Global Market Insights, Inc. estimated that Global ionic liquids market will exceed a revenue of USD 2 billion by 2022.
U.S. ionic liquids market share, by application, 2014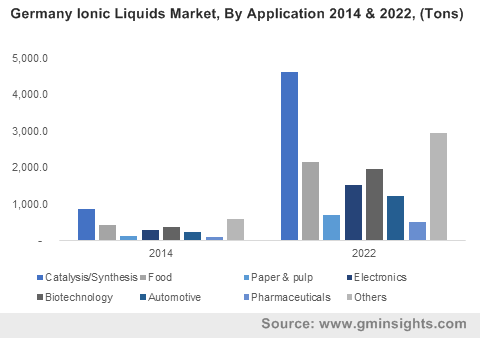 China is projected to be the major hub for ionic liquids industry in the coming five years. Records depict that China accounted for 17% of the overall ionic liquids industry share in 2014. An appreciable shift in consumer preference for green solvents over conventional organic solvents to mitigate the global environmental concerns is fueling the regional market demand. With a strong target of reducing the pollution level within next few years, China ionic liquids market is set to attain the highest annual growth rate of 24.2% over 2016-2022. In addition, a large number of small and medium scale manufacturing units in the country is expected to augment the industry size in the years ahead.
Get a Sample Copy of this Report @ https://www.gminsights.com/request-sample/detail/121
Ionic liquids market is projected to surpass a volume of 50 kilo tons by 2022. Owing to their versatility and process efficiency, this liquid finds a wide set of applications in the food sector. Extraction, purification, separation, and derivation of biogenic compounds are the numerous areas of food processing unit where these solvents are gaining a huge popularity. Ionic liquids industry from food sector held a considerable share of almost 11% in 2014 and is projected to be one of the major application segments of the global market. Catalysis and synthesis dominated the ionic liquids application landscape in 2014, by accounting for 27% of the overall industry share. Increasing demand for lithium ion and lithium air batteries have increased the penetration of ionic liquids market in the electronics sector as well. Electronics application covered one tenth of the overall market in 2014 and is projected to grow substantially over the coming years.
U.S. Ionic liquids industry dominated the global landscape in 2014, with a revenue collection of over USD 200 million. It almost covered 35.9% of the total volume in the aforementioned year. Positive response toward usage of green solvents for numerous end use industries including pharmaceutical, chemical, oil and gas, food processing etc. is driving the expansion of regional ionic liquids market.
Toxicity issues of some of the traditional liquids such as tetraalkylammonium, N-alkylpyridinium over their release in water and soil is a persistent concern, which may act as a restraint in the industry growth. However, continuous technological interventions to upgrade the product quality is likely to add growth opportunities to the ionic liquids market. Prominent ionic liquids industry participants include Solvionic, Coorstek, BASF, TCI, and IOLITECH GmbH.
Author Name :Satarupa De