The world is taking balanced steps toward the adoption of renewable energy, subject to which
District Heating Market
size is likely to multiply over the next few years. In a bid to conserve energy, recycle waste energy, and reduce GHG emissions, the government has also mandated a strict regulatory framework. Countries such as China, Russia, Germany, UK, and Denmark have set a deadline for reducing the carbon emissions under their climate action programs, thereby contributing notably towards the business development. According to the European Union, traditional boilers working on natural gas generate more than 260 kg of carbon emissions per kWh, while district heating systems operating through CHP (Combined heat and power) sources emit only 100 kg of carbon dioxide. District heating systems offer various benefits such as enhanced air quality, high quality service, less heat loss, and low operational costs accompanied by enhanced use of green energy, which will stimulate the market trends. As per Global Market Insights, Inc., "
District heating industry size, estimated at USD 200 billion in 2016, is set to surpass USD 280 billion by 2024.
"
Europe District Heating Market Size, By Source, 2016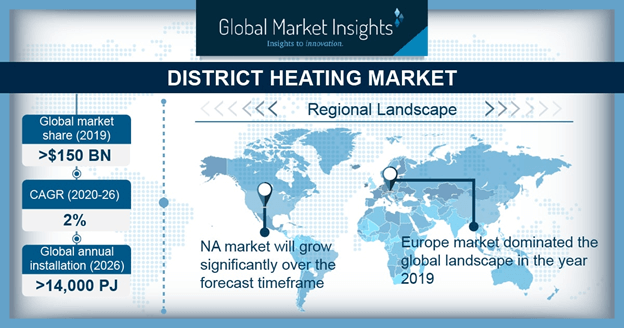 District heating finds extensive applications in the residential, industrial, and commercial sectors. District heating market across the residential sector is forecast to record a CAGR of 3% over the coming seven years subject to the replacement of traditional electric heating systems with more advanced district heating systems to lower energy consumption.
Commercial applications are expected to grow at an annual rate of 4% over the period of 2017-2024, driven by the rapid surge in the construction of massive commercial complexes across emerging economies.  District heating industry in the industrial sector, which was evaluated at USD 60 billion in 2016, is expected to witness a considerable growth over the years ahead. Favorable system features such as gas safety and negligible transmission loss will spur the revenue.
Get a Sample Copy of this Report @ https://www.gminsights.com/request-sample/detail/1401
Taking into consideration the geographical trends, Germany district heating industry is projected to observe a prominent expansion in future. The rising consumer trend toward green technologies along with tax benefits provided by the government will propel the business space.
Escalated preference for sustainable and cogeneration systems coupled with strict legislations pertaining to energy preservation will stimulate the growth of Japan district heating market. The government of Japan, with the help of private organizations, is investing heavily to construct gas fired district heating systems to reach its target of providing 15% of overall power supply via CHP technology by 2030.
U.S. district heating industry, worth USD 20 billion in 2016, is forecast to experience a robust development over the coming timeframe. High product demand across the industrial and residential sectors is predicted to impel the business expansion.
Strict regulations to reduce energy wastage through installation of power-conserving technologies is expected to constructively impact the growth of Russia district heating market. Escalating requirement for modernizing existing heating systems to minimize the loss of energy will contribute considerably towards the revenue. Russia has also planned to reduce carbon emissions by 75% by 2020.
Based on the source trends, district heating industry is classified into CHP, heat only boilers, solar, and geothermal based district heating systems. Growing awareness about the environmental benefits accrued due to utilization of the clean energy as compared to fossil fuels is expected to impel solar based district heating industry size.
CHP based district heating market is forecast to grow at a CAGR of 3% over 2017-2024, driven by low operating costs, less fuel emissions, reliability, operational safety, and a convenient heat distribution network. Enhanced heat producing capacity of the source can further drive the revenue. Geothermal based district heating industry, which contributed more than 6% of the overall share in 2016, is projected to expand remarkably over the span of few years. Factors such as low dependence on conventional fuels and economic feasibility are predicted to beneficially leverage the business landscape.
Shinryo Corporation, Kelag Warme, Keppel Corporation, DONG Energy, Statkraft, Ramboll Group A/S, Vattenfall, Goteborg Energi, Steag Company, NRG Energy Incorporation, Korea District Heating Corporation, RWE AG, Hafslund ASA, and Fortum Corporation are the key participants of district heating market.
Author Name :Dhananjay Punekar