Escalating requirement for accurate billing along with the necessity to monitor power consumption will result in Smart Electric Meter Market expansion. Smart systems help in controlling the magnetic theft, most prominently witnessed in the UK, which lead to huge losses for the power suppliers.  The advent of IoT and its integration with smart electric meters is expected to reduce the product price as well as complexity and will create lucrative opportunities for the business. Many countries, such as the U.S., UK, Japan, Italy, China, and Sweden have mandated the use of smart systems as a part of their green energy promotional schemes. As per Global Market Insights, Inc., "Smart electric meter industry value, which was assessed at USD 5 billion in 2016, is set to surpass USD 11 billion by 2024."
UK Smart Electric Meter Market Size, By Application 2015-2024 (Million units)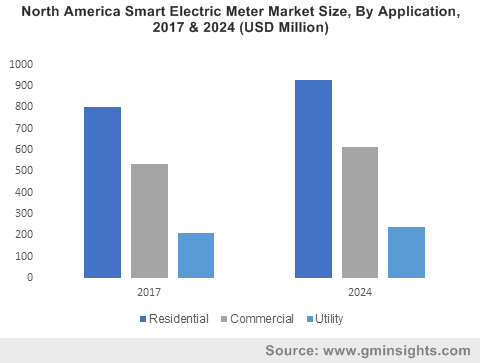 Smart electric meters find extensive applications across utility, residential, and commercial sectors. Smart electric meter industry share from the commercial sector is expected to grow at the rate of 9% over the period of 2017-2024. Residential applications, which were evaluated at USD 1 billion in 2016, are projected to experience a high surge over the years ahead. The expansion can be attributed to the rising consumer focus on energy savings along with the ability of the products to effectively record the data pertaining to energy usage. Smart electric meter industry size from the utility sector is expected to expand enormously in the near future, driven by the product ability to curtail the overall usage of electricity and cut the power bills.
Considering the topographical trends, China smart electric meter industry is predicted to register a CAGR of 10% over the coming seven years. Large-scale installation of intelligent systems across the region will propel the revenue. Smart electric meter market in the U.S. is projected to experience a considerable development over the next few years subject to favorable government legislations promoting the use of advanced technologies such as AMI (Advanced Metering Infrastructure) systems.
Get a Sample Copy of this Report @ https://www.gminsights.com/request-sample/detail/1503
Mexico smart electric meter industry is foreseen to reach the targeted revenue of USD 100 million by 2024, owing to high acceptance of smart systems in commercial sectors accompanied by the country's swift economic development. Japan smart electric meter market is also forecast to observe a noteworthy expansion over the span of few years due to escalating demand for AMI products along with heavy installation of smart systems.
UK industry, which accounted for 20% of Europe smart electric meter market share in 2016 in terms of volume, is expected to grow remarkably over the next few years. Favorable norms encouraging the deployment of smart electric meters in each house for saving energy will drive the revenue. Smart electric meter industry size in France, which accounted for more than 15% of the European industry in 2016, is projected to witness a strong development over the coming seven years. The growth can be credited to higher funding for improving the digital infrastructure of the nation along with the objective of the French government to deploy more than 35 million intelligent systems by 2020.
Based on the technology trends, smart electric meter market is segmented into automatic meter reading and advanced metering infrastructure. Automatic meter reading technology is forecast to contribute more than USD 4 billion towards smart electric meter industry revenue by 2024, driven by its ability to provide regular alerts to customers in cases of leak detection, meter altering, and low battery. It can also provide authentic energy consumption records & billing information to its users coupled with real-time reading.
Smart electric meter industry size from advanced metering infrastructure is projected to experience a high surge over the coming timeframe, due to its ability to provide two-way communication in an effective manner. Many developed nations such as UK, Japan, Italy, Norway, U.S., Spain, and Sweden are deploying these systems as they assist in effective data transmission and offer more advanced features such as time-based pricing and quick notifications.
Honeywell International Incorporation, Toshiba Corporation, Holley Metering Limited, Itron, Schneider Electric SE, Wasion Group, Siemens AG, Osaki Electric Company Limited, Aclara Technologies LLC, Networked Energy Services Corporation, Jiangsu Linyang Electronics Company Limited, Elster Group SE, Genus Power Infrastructures Limited, Atmel Corporation, Badger Meter Incorporation, Neptune Technology Group, and Landis+GYR Corporation are the major participants of smart electric meter industry.
Author Name :Dhananjay Punekar