The growing need to obtain fresh water subject to the huge influx of waste water from industries will drive chitosan market over 2016-2024. Many government and private organizations are investing heavily in waste water treatment due to ecological concerns, which will help expand chitosan market. The standard of living and food habits of the current generation is undergoing a rapid change. Additionally, the growing consciousness of people regarding health issues will also stimulate the industry trends.
As per a report by Global Market Insights, Inc., "Worldwide
Chitosan Market
having had a revenue collection of USD 1.52 billion in 2015, will register a CAGR of more than USD 16% over the period of 2016 to 2024.
U.S. Chitosan Market size, by application, 2013-2024 (USD million)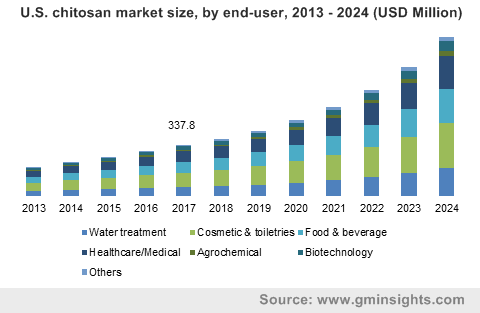 Chitosan is widely used in manufacturing cosmetics. Chitosan market size from cosmetic applications was worth USD 500 million in 2015 and will record considerable growth rate over the coming timeframe. The growing usage of the product in anti-aging creams, hair care serums, and other beauty products will stimulate chitosan industry noticeably.
Asia Pacific chitosan market will exhibit a CAGR of about 18% over the period of 2016 to 2024, driven by the surging requirement of clean water subject to the growing industrialization across this region. Considering the manufacturing and consumption rate of the product, Japan leads the APAC region. China will also contribute significantly toward the regional growth of chitosan industry share. Water treatment application generated a revenue of USD 300 million in 2015 and will collect substantial revenue over the years ahead. The product has the capability to remove chemicals such as phenol and polychlorinated biphenyl that contaminate water. In addition, the product is extensively used in waste water treatment plants owing to its the non-toxic nature and biodegradability.
Get a Sample Copy of this Report @ https://www.gminsights.com/request-sample/detail/760
Chitosan products have high anti-microbial resistance capability, which fuel the demand for this polymer to be used in the manufacturing of wound dressing medicines. Due to wound healing capabilities, the product is also used to manufacture bandages. Subject to the aforementioned factors, chitosan market from biomedicine and pharmaceutical applications will record a CAGR of more than 17% over the coming years of 2016 to 2024.
U.S. chitosan market contributed to a substantial share of North America industry in 2015 with a revenue collection of USD 400 million. The growth can be attributed to the escalating need of the product for health problems such as obesity. Obesity is the main cause of many ailments such as diabetics, blood pressure, and cardiac diseases. Chitosan based products are mainly used to reduce weight, which will augment chitosan market share. Additionally, increased expenditure on dietary supplements will help fuel the industry share notably.
Changing food habits are also the main cause of obesity and related health ailments. Recognizing the need for healthy nutrition, chitosan market from food & beverages applications will register a CAGR of more than 16% over the coming years of 2016 to 2024.
Market players are investing heavily to develop enhanced techniques that will help reduce overall manufacturing cost of the product. The noteworthy participants in chitosan market are Golden-Shell Pharmaceutical Co., Biothera Pharmaceuticals, Inc., FMC Health and Nutrition, PT Biotech Surindo, Xianju Tengwang Chitosan Factory, GTC Bio Corp., Panvo Organics Pvt Ltd., and KitoZyme S.A.
Author Name :Sunil Hebbalkar