Emerging economies across the world are witnessing a slew of construction projects in residential & commercial sectors. Silica Flour Market is projected to experience a significant upswing subject to this very factor. Silica flour is basically obtained by grinding quartz sand that contains high silicon dioxide content, in vibration mills. The ground material comprises very small particles, which is obtained through air separators driven by strong rotors. Silica flour industry is anticipated to witness a y-o-y growth of 7% over 2016-2024, owing to the usage of this product in glass and flouring applications. A report by Global Market Insights, Inc., states that silica flour market size, having had a valuation of USD 350 million in 2015, is expected to cross a revenue of USD 650 million by 2024, primarily augmented by the rising demand for high quality and durable glass across the thriving construction sector.
Europe Silica Flour Market Size, By Application, 2013-2024 (USD Million)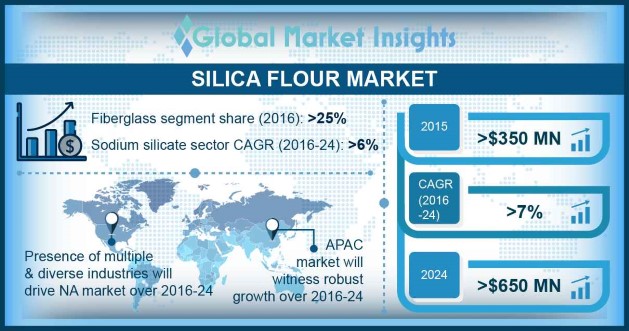 Silica flour is used to manufacture sodium silicate that is used as a chemical, catalyst base, binder, detergent, zeolite, deflocculate, anticorrosive, adhesive, coagulant aid, and cement, subject to its highly beneficial chemical and physical properties and reasonable cost. Silica flour industry from sodium silicate applications is set to observe a CAGR of 6% over 2016-2024, owing to its extensive usage across myriad industrial sectors.
Of late, automotive companies such as Mercedes-Benz, Volkswagen AG, BMW AG, Audi AG, and Porsche AG are venturing into construction and infrastructural development. This has paved the way for a heavy consumption of sodium silicate, which will further augment silica market share from sodium silicate.
Get a Sample Copy of this Report @ https://www.gminsights.com/request-sample/detail/1176
The aforementioned companies have a strong base in Germany, the automotive center of the world, owing to which Germany silica flour industry will earn a remarkable revenue over 2016-2024. The increasing usage of sodium silicate in construction projects will also spur Europe silica flour market, with Germany being a key regional contributor. These companies are pioneers of novel technologies, and have recently begun to implement fiberglass in their automobiles, as it prevents external factors from affecting the comfort factor of the vehicles, thereby spurring silica flour industry from fiberglass applications.
Fiberglass possesses high insulation properties, subject to which it is used in construction and renovation activities. It also reduces the heat exchange from the building interiors to the external surroundings and maintains overall building temperature, thereby complying with building norms laid out by the government. Owing to this factor, fiberglass applications had contributed to more than 25% of the overall silica flour market in 2015 and is anticipated to grow significantly over the coming years.
The rapidly growing construction sector in APAC region will lead to the growth of silica flour industry in the region. China and India are the leading contributors toward APAC silica flour market, given that the construction and automotive sectors of these countries are witnessing an upsurge.
Prominent usage of carbon black and amorphous silica in the rubber industry as reinforcing fillers will stimulate silica flour market. The product helps increase the shelf life of tires, reduce GHG emissions, and maintain temperature within the vehicle, owing to which it is deployed heavily in the automotive sector. North America silica flour industry will also witness an upswing subject to the product usage in the developing tire manufacturing sector. The extensive usage of silica flour in myriad industrial sectors will also propel U.S. silica flour market, which in turn will positively influence North America regional industry.
Leading silica flour market players include Premier Silica LLC, Silica Holdings, Inc., Saudi Emirates Pulverization Industries Co., Opta Minerals, Inc. Premier Silica LLC, AGSCO Corp, FINETON Industrial Minerals Ltd., Delmon Group of Co., Adwan Chemical Industries Co., Ltd., SCR-Sibelco N.V., and SIL Industrial Minerals, Inc. The United States houses most of these participants, owing to which U.S. silica flour industry will progress rapidly.
Constant exposure to silica flour may cause harm, owing to which global regulatory organizations have mandated stringent norms regarding its usage. Industry players need to be aware of this issue and implement safety procedures at worksites to avoid workplace hazards and fatalities due to excessive product usage.
Author Name :Saipriya Iyer