Phytosterols Market revenue is expected witness a lucrative growth over the years to come, subject to the product's ability to reduce cholesterol level. The escalating demand for food globally has led to increased usage of phytosterols across the food & beverage sector, particularly as an additive in food products such as milk, sausages, yoghurt, bakery items, and margarines, which will generate lucrative avenues for business development. Food & beverage sector, which had collected a revenue of more than USD 15 trillion in 2015, is predicted to record a CAGR of 4% during the period from 2016 to 2024. This surging growth rate is expected to further impel phytosterols industry expansion. According to Global Market Insights, Inc., "Phytosterols market is predicted to surpass a targeted revenue margin of USD 1 billion by 2024, registering an annual growth of 9% over the period of 2016-2024."
U.S. phytosterols market size, by application, 2015 & 2024 (USD Million)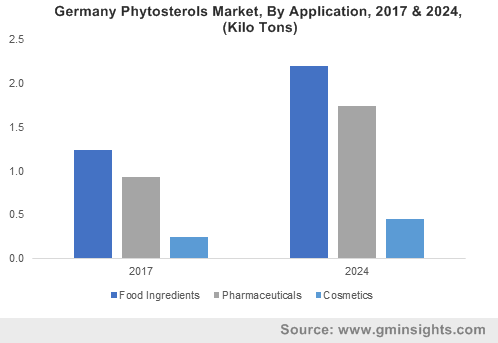 Taking into consideration the topographical trends, Germany phytosterols industry size is slated to produce more than USD 55 million by 2024. The growth can be credited to the rising awareness about the health benefits accrued due to intake of natural ingredients. France and UK along with Germany are expected to drive the growth of European industry and contribute notably towards the overall phytosterols market share.Phytosterols industry size in China is anticipated to grow at a CAGR of 9% over the coming seven years, driven by the growing product usage in cosmetics for improving skin texture and protecting it from harmful UV rays.
U.S. phytosterols industry is predicted to experience a massive growth over the coming years. This can primarily be attributed to the high product applications across pharmaceutical sector. Phytosterols market in Brazil is forecast to experience substantial gains over the coming seven years and will push LATAM industry size, owing to intensified demand for the product in thriving personal care sector.
Get a Sample Copy of this Report @ https://www.gminsights.com/request-sample/detail/776
Increasing consumption of food supplements as a result of growing health awareness among the consumers is expected to positively impact the development of Middle East & Africa Phytosterols market. South Africa, UAE, and Saudi Arabia are likely to influence the regional demand.
Phytosterols find extensive applications across cosmetics, pharmaceuticals, and food ingredients sectors. Phytosterols industry share across the pharmaceuticals sector is estimated to grow at a rate of 9% over the coming timeframe. Enhanced utilization of product in medicines for curing ailments such as psoriasis, asthma, bronchitis, allergies, and hair loss will suitably leverage the industry growth.
Cosmetic applications are expected to generate a revenue of more than USD 100 million by 2024, subject to the product's ability to protect the skin from ultraviolet radiations maintain the smoothness of skin. Rising consumer demand for anti-ageing creams incorporated with the product's anti-inflammatory properties will further boost the revenue.
Stigmasterol, beta-sitosterol, and campesterol are the major products of phytosterols. Beta-sitosterol industry size is predicted to hit USD 700 million by 2024, growing at a rate of 9% over the period of 2016-2024. The growth is driven by high product application in medicines used for cardiovascular disease treatment and for reducing the proportion of high-density lipoprotein. Campesterol market is predicted to grow considerably over the next few years and is expected to boost overall phytosterols market size. The expansion can be attributed to the high product application in drugs and dietary supplements.
Worldwide phytosterols industry share is rather consolidated with key market players contributing more than 45% of the overall demand in 2015. BASF SE, ADM, Cargill Incorporation, Enzymotec Company, FenchChem, E. I. du Pont de Nemours and Company, Arboris LLC, PrimaPharm Incorporation, Fenchem Biotek Limited, Eugene Science Incorporation, and Lipofoods are the major participants of phytosterols industry.
Author Name :Dhananjay Punekar