Low availability of land and fluctuating weather conditions will lead Vertical Farming Market to generate a sizable revenue over the next seven years. Of late, the issues of excess population, water conservation, crop production, and recycling have been plaguing the world. Vertical farming is expected to provide a feasible solution for these problems. Being the latest phenomenon in urban farming, vertical farming is secured with biosecurity procedures that prevent pest attacks on crops and restrict plant disease. Additionally, there is no concept of seasonal crop or run-offs, which eliminates crop spoilage and transport costs, thereby fueling vertical farming industry expansion. A report by Global Market Insights, Inc., state that vertical farming market size is expected to cross USD 13 billion by 2024, with a striking CAGR of 27% over 2017-2024, having had a base valuation of USD 2 billion in 2017.
U.S. Vertical Farming Market Size, By Technology, 2013 – 2024 (USD Million)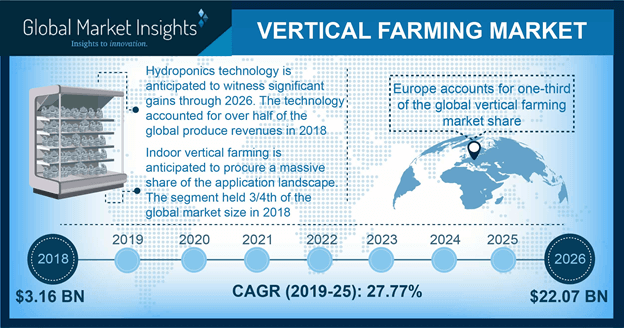 Vertical farming involves plants being grown in vertical layers, stacked one after the other in warehouses, barren lands, deserts, high-rise buildings, and shipping containers. It reduces the necessity of pesticides, sprays, and herbicides in cropping systems and helps farmers deliver their produce on time. These benefits are expected to positively influence vertical farming market. Players operating in this market engage in collaborations to enhance crop yield and provide a positive impetus to vertical farming market. For instance, Canada based Ecobain Gardens recently formed an alliance with Philips Lighting Holding B.V. with an aim to replace its lights with Philips GreenPower LED lights to improve crop quality and increase its sales.
The product landscape of vertical farming industry encompasses fruits, vegetables & herbs, equipment, and aquatic species. Raising fish and crabs in vertical farms has brought about increased economic growth in most European countries. High consumption of farm-raised fish and tilapia will lead Europe vertical farming market to grow at a modest rate over 2017-2024. Belgium, UK, Netherlands and Germany are slated to be major revenue contributors. Subject to the increased consumption of vegetables and fruits, lettuce held more than 30% of the total fruits, vegetables & herbs segment in 2016 and is expected to increase over the next few years.
Get a Sample Copy of this Report @ https://www.gminsights.com/request-sample/detail/1525
Vertical farming can be implemented in an outdoor or indoor setting. Outdoor applications held less than 30% of the overall vertical farming market and will depict a slightly sluggish growth rate over the next seven years. Indoor applications, on the other hand, held a rather significant share of vertical farming industry in 2016 and will exhibit a huge growth rate over the years ahead.
This type of farming is especially prevalent in the United States and China, owing to the fact they account for additional income apart from the economic benefits obtained from traditional farming methods. North America accounted for a huge share of global vertical farming market in 2016, subject to the increased number of indoor farming applications, extensive R&D research, and strong technical expertise.
Hydroponics technology held more than 50% of the overall vertical farming industry and is expected to grow significantly over 2017-2024. Aeroponics, however, is anticipated to be the fastest growing technology over the next few years, subject to the fact that its usage saved more than 95% of water used in farming.
Asia Pacific vertical farming market is anticipated to grow at a lucrative CAGR subject to the deployment of high grade farming technologies. Notable revenue contributors include Japan, Taiwan, Singapore, Inia, China, and South Korea. Owing to the fact that Japan houses a vast number of vertical farms, the region accounted for more than 25% of APAC vertical farming share in 2016 and will grow notably over the years ahead. Singapore is also expected to be a profitable avenue for the growth of vertical farming market.
General Hydroponics, Urban Crop Solutions, Green Spirit Farms, Spread Co. Ltd., Aerofarms, Mirai Co.Ltd., Plantagon International AB, Sky Greens, and American Hydroponics are major participants operating in global vertical farming market. These firms are engaged in numerous growth tactics such as strategic partnerships and improved product development to enhance the growth of vertical farming market.
Author Name :Saipriya Iyer