The rising occurrence of numerous disorders and the ever-growing global geriatric population are slated to augment medical biomimetics industry share over the next few years. The growing incidences of organ failure have led to numerous patients opting for organ transplants. As per the UNOS (United Network for Organ Sharing) estimates, the last 10 years witnessed a 15-fold rise in the number of patients queuing up for a liver transplant. This increase in the number of patients wanting an organ transfer will propel the usage of biomimetic technologies for organ regeneration, thereby stimulating Medical Biomimetics Market, set to grow at a rate of 5.5% over 2016-2024.
U.S. Medical Biomimetics Market size, by Product, 2012- 2024 (USD Mn)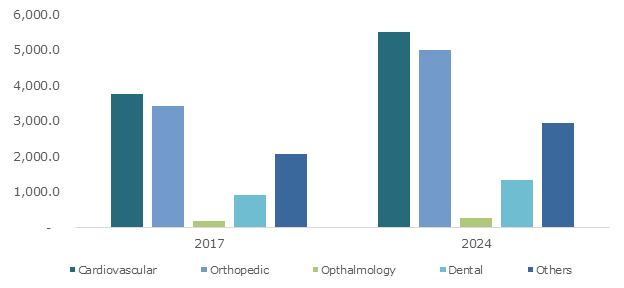 According to UN estimates, global geriatric population was projected to be more than 800 million in 2012, and is slated to hit 2 billion by 2050. With the growing elderly patient base, vulnerable to harmful disorders and subsequent organ failure, the number of organ transplants are expected to rise significantly. This will suitably impel medical biomimetic industry size, which was worth USD 21.4 billion in the year 2015 and is forecast to cross a revenue of USD 34.4 billion by 2024.
Biomimetics find applications across tissue engineering, plastic surgery, drug delivery and wound healing. High grade technological advancements in organ and tissue regeneration and the rising occurrence of chronic ailments have contributed to the lucrative growth of tissue engineering market, which will directly impact medical biomimetics industry.
Tissue engineering and drug delivery were two of the applications that majorly contributed toward the growth of medical biomimetics market in 2015. Tissue engineering sector has witnessed the artificial design and production of biomimetic scaffolds that mimic characteristics of the natural ECM, such as adhesion, differentiation supporting cell seeding, and proliferation, which will fuel global medical biomimetics industry.
Get a Sample Copy of this Report @ https://www.gminsights.com/request-sample/detail/767
Cardiovascular medical biomimetics market is anticipated to grow at a rate of 5.6% over 2016-2024, subject to the rising geriatric population and the growing incidences of cardiovascular disorders. In addition, rising prevalence of obesity, a sedentary lifestyle, and favorable government financial policies will fuel medical biomimetics industry share from cardiovascular products, which accounted for more than 36% of the overall revenue in 2015.
Speaking along similar lines, U.S. dominated the regional medical biomimetics market in 2015 and will grow remarkably over the next few years. This growth can be credited to the huge geriatric patient pool and an increased number of R&D medical activities. Besides, tremendous technological advancements, increased patient spending capacity on healthcare, and the rising prevalence of cardiovascular ailments should also expedite U.S. medical biomimetics industry share.
Subject to the growing incidences of high blood pressure, rheumatoid arthritis, coronary heart disease, stroke, cubital tunnel syndrome, congestive heart failure, and osteoarthritis, cardiovascular and orthopedic products together held more than 69% of the overall medical biomimetics market share in 2015.
With U.S. as one of key contributors, North America medical biomimetics industry was worth more than USD 10 billion in the year 2015 and will grow significantly over the next few years, given the increasing elderly population in the region. UK and Germany together accounted for more than 50% of Europe medical biomimetics market, primarily due to the increased healthcare expenditure, technological advancements, contributions by research organizations, and rising prevalence of organ failure among the elderly patients.
The Asia Pacific belt is forecast to observe maximum gains of 7.7% over 2016-2024. Major Asian countries have a rather huge pool of elderly patients susceptible to diseases and organ failure, which will fuel APAC medical mimetics industry. China and India are slated to be the major revenue contributors.
In addition, medical tourism is witnessing prominent growth in regions such as Malaysia, Japan, and Thailand. The rise in the number of conferences and seminars related to robotics and biomimetics across these regions will also fuel APAC medical biomimetics market.
Major participants operating in global biomimetics industry include HStar Technologies Corporation, Forschungszentrum Jülich, Avinent, Biomimetics Technologies, BioHorizons, and Applied Biomimetic. This market is rather fragmented and includes the presence of numerous small and medium sized enterprises and research organizations. Global medical biomimetics market size is rather dynamic, subject to the numerous technological innovations, which have unlocked potential growth opportunities for market players to diversify their product offering and expand their global presence.
The latest trend in medical biomimetics industry is that of nanotechnology. This technology will help generate biomimetic materials that will aid biological recognition for tissue engineering devices and for drug targeting. Additionally, it will also help synthesize protein delivery systems and biomimetic gels. The rapid advancements in the field of nanotechnology will thus, favorably influence medical biomimetics market growth.
Author Name :Saipriya Iyer