Conjunctive efforts by the renowned regulatory bodies to increase awareness regarding oral hygiene is pushing tooth filling materials market's application horizon. Growing prevalence of dental disorders especially among geriatric population has resulted in an increase in the cosmetic dental procedures, which in turn is providing a lucrative opportunity to the overall market. As per an estimation, merely 42% of the adult population use oral hygiene products and around 21% of the adults regularly visit dentists annually. This depicts the low level of awareness regarding the oral hygiene among the global population, which results in tooth ailments, in turn driving the tooth filling materials industry. According to Global Market Insights, Inc., "Tooth Filling Materials Market is slated to exceed a revenue of USD 1.4 billion by the end of 2024, with a projected CAGR of 3.7% over the period of 2016-2024."
Europe Tooth Filling Materials Market size, by product, 2012-2024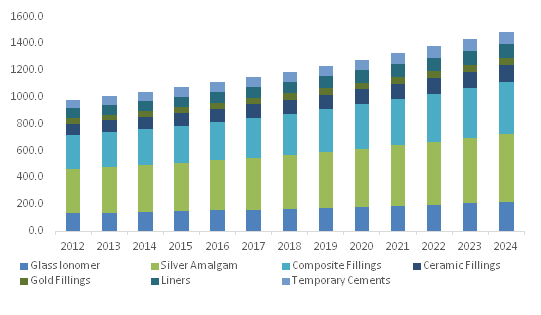 Tooth filling materials industry is gaining a prominence with the advancements of technology in dentistry along with shifting trends of cosmetic dental procedures. In this regard, U.S. is one of the leading regions experiencing a significant upturn in the regional industry. It accounted for a revenue of USD 270 million in 2015. Diversification in related products and growing consumer preference toward aesthetic dentistry are favoring the U.S. tooth filling materials market growth. ADHA (American Dental Hygienists Association) reported that 80% of U.S. population suffers from periodontal gum disease, and almost 78% at least have a single cavity by the time they touch the age of 17.
Get a Sample Copy of this Report @ https://www.gminsights.com/request-sample/detail/816
Silver amalgam, gold, ceramic, and composite are the basic four types of filling materials that are being adopted in the filling process. On account of the expanding cosmetic dentistry, silver amalgam tooth filling materials industry dominated the global share by accounting for over USD 360 million in 2015. The product demand is anticipated to observe a surge in the years ahead with a projected revenue of more than USD 506 million by the end of 2024. Gold is another lucrative filling material with a high growth prospect owing to its compatibility with food compounds and related social value. Gold is one of the oldest dental restorative materials that is still being widely used. Gold tooth filling materials market is estimated to grow substantially at a CAGR of 2.9% over 2016-2024. Glass ionomer are popular among lower age group due to least pain associated with it, and color compatibility of it. The spreading awareness regarding oral hygiene has resulted in an increase in routine dental checkup rate which, in turn, is catering composite filling market. As per the estimates, composite based tooth filling materials market is expected to grow at an annual rate 3.8% over the coming seven years.
APAC tooth filling materials market contributed 36% of the global revenue in 2015 and is set to witness appreciable growth trends over the coming timeframe. China is likely to drive APAC industry with a projected CAGR of 4.6% over 2016-2024. Europe tooth filling materials industry will also experience a steady gain with Germany at the growth forefront. The growth can majorly be attributed to the favorable reimbursement policies and growing demand for cosmetic dental procedures across this region.
Price remains a major growth deciding factor for the overall industry.  Tooth filling materials market is fragmented and fiercely competitive which requires high-level efforts by the players to offer a diversified product portfolio in terms of cost and technology. Vertical integration is one of the key strategies adopted by the industry participants to improve supply value chain. Prominent tooth filling materials industry players include DENTSPLY International, DMG Chemisch-Pharmazeutische Fabrik, SDI Limited, DenMat Holdings, Coltene Whaledent, GC America, and Heraeus kulzer gmbh.
Author Name :Satarupa De