Surging global demand for electricity coupled with an inclination toward gas fired technologies will favor industrial gas turbine market growth over the coming seven years. These turbines are basically internal combustion engines that fire an air and fuel mixture to generate hot gases and are used heavily across the manufacturing, power generation, and oil and gas sectors. Governmental concerns regarding the harmful effects of GHG emissions from coal fired plants is forecast to impel the growth of industrial gas turbine market, slated to cross a revenue of USD 18 billion by 2024, having had an initial valuation of USD 10 billion in 2015.
U.S. Industrial Gas Turbine Market, by Capacity, 2013 – 2024 (GW)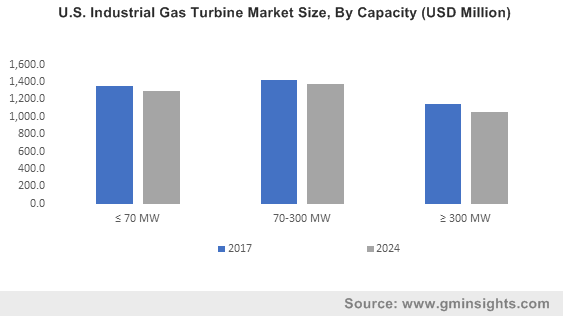 Of late, the governments of various countries have made notable financial contributions toward the production of new gas fired generation facilities that will propel industrial gas turbine industry trends. For instance, in 2017, the U.S. regulatory bodies approved Xcel Energy's plan to replace its 680 MW coal fired plant with a 786 MW gas fired power station. Such consistent efforts by government bodies and other regulatory organizations are  likely to positively impact global industrial gas turbine market, which will expand at a growth rate of 6% over 2016-2024.
The U.S. Federal Government has plans to reduce GHG emission levels by 28% by 2025. In 2016, China introduced a new set of action plans aimed at reducing GHG emission levels to 18% by 2020, subject to which China industrial gas turbine market share is likely to grow at a CAGR of 11% from 2016 to 2024. Increasing number of investments to develop high capacity electricity generation stations will also augment the product demand.
Get a Sample Copy of this Report @ https://www.gminsights.com/request-sample/detail/272
These turbines are massively deployed across the oil & gas sector, subject to which industrial gas turbine market from O&G applications will increase at a rate of 8% over 2016-2024. Additionally, the increasing number of ultradeep drilling activities across offshore sea beds will propel the industry trends. Rising number of offshore and onshore activities will augment UAE industrial gas turbine market size, which was worth more than 4.5 GW in 2015, in terms of volume.
Industrial gas turbine market from manufacturing applications is slated to cross a revenue margin of USD 5 billion by 2024, primarily due to the rapid industrialization across the emerging economies such as Brazil and India. Additionally, these countries have been deploying these turbines heavily across the electricity generations sector, to fulfill the escalating demand for uninterrupted power supply.
In 2015, power generation applications covered more than 55% of industrial gas turbine industry share, owing to the rising government focus to replace traditional steam and coal fired power stations with natural gas fired power generating stations. In 2015, natural gas accounted for 25% of total electricity in the U.S. It is expected this this number will increase to 30% by 2025, which will fuel industrial gas turbine market size.
These turbines operate on combined cycle and open cycle technologies. Combined cycle based industrial gas turbine industry size is anticipated to surpass USD 12 billion over 2016-2024, pertaining to an enhanced design, high efficiency, and the subsequently reduced start-up time. Open cycle technology covered more than 35% of the overall industrial gas turbine market in 2015 and will grow remarkably over 2016-2024, owing to the capability of this technology to reduce fuel consumption.
Turbine capacity plays a huge factor in determining its efficiency. Gas turbines operate in capacity ranges of ≤ 70 MW, 70-300 MW, and ≥300 MW. Higher the capacity, better the efficiency.
Turbines with a capacity of less than 70 MW find applications across mid-sized industries, subject to which industrial gas turbine industry from ≤ 70 MW capacity is expected to grow at a rate of 8% over 2016-2024. On the other hand, turbines with a capacity of 70-300 MW are deployed across power stations to provide uninterrupted power supply, thereby impelling industrial gas turbine market size from 70-300 MW capacity, which was worth 9 GW in terms of volume in 2015.
The government of various countries have been striving to implement high capacity turbines at power stations, to cater to the global electricity demand. This will unlock potential opportunities for industry players to manufacture turbines with a very high capacity. Industrial gas turbine industry size from ≥300 MW capacity is slated to expand at a CAGR of 7% over 2016-2024.
Heavy duty industrial gas turbine market was worth more than USD 9 billion in the year 2015 and will grow remarkably over 2016-2024, pertaining to the rising product deployment across large capacity electricity generating stations. Companies have been focusing on manufacturing heavy duty turbines to cater to the power demand across the globe. For instance, the year 2017 witnessed the nomination of Mitsubishi Hitachi Power Systems by Entergy Louisiana for supplying 2 M501GAC turbines that were digitally enabled, for the company's power plant at St. Charles with a capacity of 980 MW.
Major players in global industrial gas turbine market include Mitsubishi Hitachi Power Systems, Man Diesel & Turbo, Kawasaki Heavy Industries, Bharat Heavy Electricals Limited, Ansaldo Energia, General Electric, NPO Saturn, Zorya-Mashproekt, Vericor Power Systems, Cryostar, Siemens, Capstone Turbine, Opra Turbines, Harbin Electric, and Solar Turbines Inc.
Aeroderivative industrial gas turbine market size is expected to grow at a rate of more than 10% over 2016-2024, subject to the product's applications across the aviation and marine sectors. In 2016, General Electric had supplied 20 LM2500 aeroderivative turbines to the U.S. Navy under the Austal USA LCS program.
Speaking on similar lines, U.S. industrial gas turbine market was worth more than USD 1 billion in 2015 and is anticipated to observe a notable growth rate over 2016-2024. This growth can be credited to huge investments by private entities to deploy gas fired plants and favorable government policies to encourage the adoption of sustainable technologies.
UK industrial gas turbine industry is forecast to observe a CAGR of more than 6% over 2016-2024, subject to regulatory efforts to replace conventional coal fired stations with gas fired stations. In 2015, the UK government had declared that all coal power stations in the country would be closed by 2025 and replaced with gas fired stations.
Major industry players have been striving to expand their presence across the globe. Pricing is a crucial factor as far as business expansion is considered, owing to which huge corporations adopt several inorganic strategies to sustain their position in global industrial gas turbine industry.
Government bodies and private entities have been investing heavily to replace conventional systems with high grade systems subject to the latter's enhanced power to weight ratio, compact size, and high power rating. Furthermore, increased investments toward shale gas exploration activities will fuel industrial gas turbine market growth over the years to come.
Author Name :Saipriya Iyer