Organic Seed Market is witnessing a speedy growth with the rising consumer demand for non-chemical and non-synthetic foods. The trend of going completely organic is booming, with people becoming more attentive toward their food safety and food consuming habits. A paradigm shift seen in the consumer buying preferences from processed food to natural organic food has provided a major thrust to the growth of organic seed industry. Better nutritional value, higher antioxidants properties, and better taste provided by the organically grown food have considerably led to a high demand for organic seeds.
U.S. Organic Seed Market Size, By Crop, 2013 – 2024 (USD Million)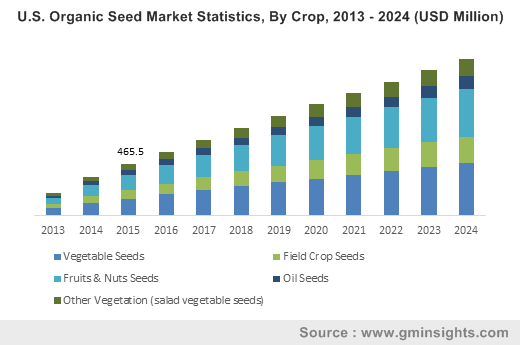 Governments and many other private agencies are constantly taking initiatives to promote chemical-free farming. This type of farming will not only boost the organic seed market but will also address the rising concerns pertaining to arable lands. Non-chemical farming does not make use of harmful chemical fertilizers, herbicides, pesticides, and insecticides in the process of crop production. This in turn helps the arable land in maintaining its natural nutritional level and the quality of soil.
Get a Sample Copy of this Report @ https://www.gminsights.com/request-sample/detail/247
Today, organic foods are a smart priority and an effectual choice for healthy lifestyle. This has significantly uplifted the organic seed market demand in fruits & nuts, oil, crops, vegetables, and other vegetation. With an estimation of more than 33% of the overall revenue by 2024, vegetable is set to lead the overall organic seed industry. Easy digestion and high nutrition value of organically grown green leafy & cruciferous vegetables have raised the valuation of organic seed market in this sector. Shift from chemicals and genetically modified crops to naturally sourced crops have provided a considerable traction to the organic seed market pertaining to crops. As per estimates, organic crop market is expected to record an annual growth rate of 11% over the period of 2016-2024. India, Japan, China, and Indonesia are the key countries producing organic crop seeds which include barley, oats, rye, rice, corn, and alfalfa.
Asia Pacific organic seed market accounted for a revenue over USD 400 million in 2015. Governmental initiatives to boost the organic farming techniques and growing consumer awareness are the key drivers fueling the regional growth. India and China are the chief revenue pockets for the APAC industry. With an estimate of over 13% CAGR from 2016-2024, China organic seed market is slated to surge as the trend of consuming natural food grows.
This industry has a huge value chain network spread across the local and numerous regional manufacturers. Various product distributing channels in organic seed market include retailers, wholesalers and co-operatives. Wholesalers have clutched the largest revenue chunk of organic seed industry covering almost 60% of the overall share in 2015. Organic seed market size from this distribution channel is slated to exceed USD 3 billion by 2024. These wholesalers stock the product in warehouses and resell it to the retailers. The retail distribution channel is also expected to expand at a striking 13.5% CAGR over the period of 2016-2024. Europe organic seed market from Germany, UK, Italy, and France together is likely to generate business of over USD 940 million from the wholesale distribution channel.
A report compiled by Global Market Insights, Inc., anticipates the worldwide organic seed market to triple its revenue record by exceeding USD 5.4 billion by 2024 at an annual growth rate of over 12.5% over the period of 2016-2024. Some of the prominent industry participants include Seed Saver Exchange, Wild Garden, Fedco, Johnny's Selected Seeds, Southern Exposure Seed Exchange, and De Bolster.
Author Name :Ojaswita Kutepatil