The surging demand for high quality print images for advertisement applications is likely to stimulate global Coated Paper Market over the next seven years. Being highly capital-intensive, coated paper industry is estimated to experience a paradigm shift from the developed regions to the emerging economies such as Latin America and Asia Pacific. Coated paper production requires natural raw material such as wood pulp and water, heavy amount of energy, and ample human resources. Pertaining to these factors, companies operating in global coated paper market are trying to expand their base across APAC and LATAM. In addition, the increased spending capability of consumers will fuel coated paper market size, estimated to cross USD 57 billion by 2024, with a CAGR anticipation of 4.2% over 2016-2024.
U.S. Coated Paper Market size, by application, 2015 & 2024 (USD million)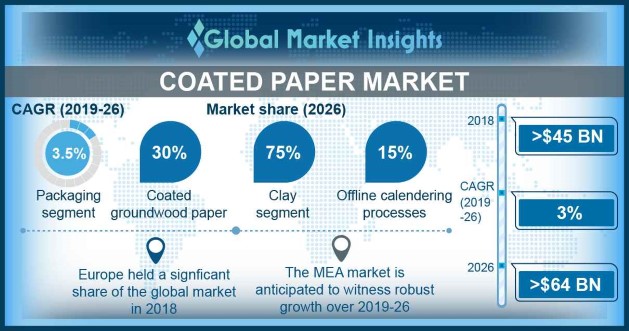 The rising popularity of the internet and the subsequent increase in home delivery system is also expected to stimulate coated paper industry. With coated paper being available in various textures, coated paper market products find extensive applications across the packaging sector. UK online trade was almost 10% of the overall UK retail sales in 2015. Online sales recorded more than 4% of the overall sales in the United States in 2015. These statistics provide ample evidence that retail packaging is slated to be one of the most promising end-user segments of coated paper market by the end of 2024.
The extensive growth of the Flexible Packaging Market will also stimulate the market trends. This type of packaging is dominant in the food and beverages sector, which is currently experiencing a massive growth. Surveys depict that there has been an increasing global awareness pertaining to the usage of plastics for packaging, which has led to a high demand for biodegradable packaging products. The F&B sector reportedly accounts for more than 50% of the flexible packing market and will continue to demonstrate a heavy growth, owing to the popularity of packaged and ready-to-eat and ready-to-cook meals.
Get a Sample Copy of this Report @ https://www.gminsights.com/request-sample/detail/1099
Packaging applications accounted for more than 48% of coated paper market in 2015 and are anticipated to grow at a rate of 4.5% over 2016-2024. Subject to the growing product demand from the retail, e-commerce, and F&B sectors, packaging applications are slated to hold a share of 50% of coated paper industry by 2024.
Global media advertisement expenditure was worth USD 600 billion in 2015 and is projected to rise extensively over the next few years, pertaining to the increased product commercialization. Print ads are expected to have a high-quality finish – be it glossy, matt, dull, satin, or silk. The increasing demand for excellent quality ads will spur coated paper market from printing applications.
Coated paper market from printing applications was valued over USD 18 billion in 2015. With the advent of digital media, the demand for printing ads has gone down a great deal, owing to which coated paper industry from printed applications will witness a sluggish growth rate over 2016-2024.
This market encompasses fine and groundwood coated paper products. Fine products held more than 50% of coated paper industry, with a revenue generation of more than USD 20 billion, in 2015. The segment will grow at a fairly modest rate, however, it is likely to lose its demand to groundwood products.
Groundwood products accounted for more than 33% of coated paper market in 2015 and is anticipated to grow at a significant rate over the next few years. Light weight and medium weight groundwood coated paper products are used in brochures, pamphlets, and magazines, and prove to be apt alternatives for their expensive counterparts.
Europe held more than 35% of the global coated paper industry share in 2015, with a valuation of USD 14 million, and will experience a modest growth rate over the next few years. This expansion can be credited to the stringent regulations mandated by REACH, regarding the usage of harmful plastics for packaging.
APAC coated paper market is projected to be the region exhibiting the highest growth rate of 6% over 2016-2024, subject to the rise in home delivery demand and the surging online trade in the region. The increased spending on advertising and rising commercialization of various products will spur APAC coated paper industry, slated to generate a revenue of USD 20 billion by 2024.
Global coated paper market is rather fragmented, with the top seven players holding less than 40% of the overall revenue. Companies are engaged in frequent mergers & acquisitions and are renowned to spend heavily in research & development activities, subject to which coated paper industry is slated to get fiercely competitive in the ensuing years. Key participants partaking in this market include Arjowiggins SAS, Nippon, Oji Holdings Corporation, Stora Enso Oyj, Burgo Group S.p.A., Verso Corporation, UPM-Kymmene Corp., Sappi Ltd., Lecta Deutschland GmbH, Asia Pulp & Paper Co. Ltd, Resolute, NewPage Corporation, Dunn Company, and Boise Inc.
Author Name :Saipriya Iyer