Conveying equipment market is gaining prominence with increasing automation trends and rapid industrialization. Achieving higher output and efficient time management has become the need of the hour. This has provided a significant impetus to the adoption of conveying equipment in the manufacturing units to reduce material handling time and production cost. This pickup in demand has significantly fueled the conveying equipment industry share, which stood at over USD 32.5 million in 2015. As per a report by Global Market Insights, Inc.,
conveying equipment market
is estimated to exceed USD 39 billion by 2024 growing at an annual rate of more than 2% over the period of 2016-2024.
Europe conveying equipment market size, by application, 2015 & 2024 (USD Mn)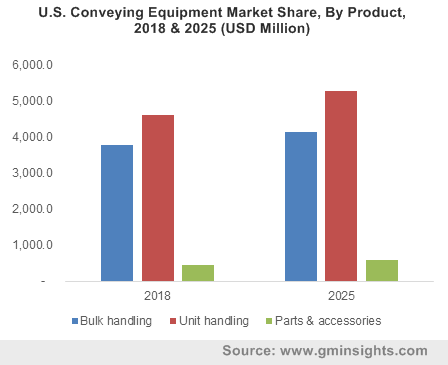 Conveying equipment market is witnessing a high growth potential with increasing installation of conveying systems in automobile, packaging, food & beverages, pharmaceutical and other such industries. The automobile industry has seen a major deployment of these systems in their assembly lines and mass production units which has significantly increased the productivity. Conveying equipment market from durable goods applications is expected to generate revenue worth USD 15.3 billion by 2024. The non-durable product application is also estimated to witness gains at over 1.2% over the period of 2016-2024.
Get a Sample Copy of this Report @ https://www.gminsights.com/request-sample/detail/754
Asia Pacific conveying equipment market is experiencing high growth prospects as many automobile manufacturers are planning to invest in the region. Growing construction projects related to building malls and airports in the emerging economies of the region will have a favorable influence on this industry as these systems are used in luggage handling process. India and China conveying equipment market has contributed majorly toward the growth of overall APAC market, anticipated to grow at a CAGR of 2.5% from 2016-2024.
North America primarily led by U.S. is a hub for various manufacturing industries including automobile, electronics, and computers. A steady conveying equipment industry growth can be estimated, as the production rate is stable in the region. The unit handling conveying equipment is widely used in small scale production units as it finds application in shipments, automotive, and food & beverages industries.
Unit handling and bulk handling conveyors represents the major product segments in conveying equipment industry. Unit handling conveyors market in 2015 collected revenue worth USD 17.5 billion as installation of these systems needs minimum service and maintenance costs. The bulk handling conveying equipment industry is also anticipated to observe moderate gains at a rate of 2% over the period of 2016-2024. These type of conveyors finds extensive application in the process of loading & unloading of goods and in mass production units.
Europe comprise several automotive and mining industries that seeks automation in their manufacturing units. In an attempt to reduce unnecessary human efforts in these units, the regional conveying equipment industry share has shown a significant upsurge over the recent years. Led by countries such as UK, France, Germany, and Italy, the Europe conveying equipment market is set to record a revenue generation of more than USD 13.5 billion by 2024.
Prominent conveying equipment industry players include Sandvik, Webster, FMC Technologies, Fenner Dunlop, Hitachi, Fritz Schafer, Siemens, Nordstrong Equipment, Dematic, Rexnord, Daifuku, and Richards Wilcox.
Author Name :Ojaswita Kutepatil
This entry was posted in Automotive & Transportation and tagged Bulk Handling Conveyors, Conveying Equipment Market, Conveying Equipment Market Size, Durable Goods, Global Conveying Equipment Market, Non-Durable Goods, Parts & Attachments, U.S. Conveying Equipment Market, Unit Handling Conveyors.