Extensive product utilization to improve the flexural, mechanical, thermal, and morphological properties of composites will spur UPR industry over the coming timeframe. UPR-based composite products are heavily utilized as metal substitutes in the automotive, construction, and many other end-use sectors. Besides, the composites market was worth more than USD 25 billion in 2014 and will exceed USD 40 billion over the span of the coming years, which will suitably impel unsaturated polyester resins market. Global Market Insights, Inc., reports that Unsaturated Polyester Resins Market, worth USD 7 billion in 2014, will register a revenue of USD 12 billion by 2022, growing at a rate of 7% over 2015-2022.
Europe Unsaturated Polyester Resins (UPR) Market share, by end-use, 2012-2022 (USD Million)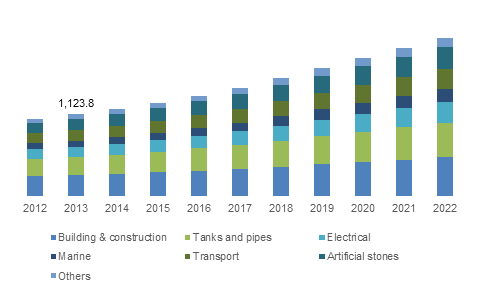 UPR products are heavily used in the manufacturing of sailboats, canoes, personal watercraft, and kayaks, subject to their properties of excellent strength and water resistance, which prevent deformation. Alongside, this product is also used in the automotive sector to manufacture structural elements and body panels that help reduce the overall weight of vehicles, thereby stimulating unsaturated polyester resins industry trends.DCPD (Dicyclopentadiene) unsaturated polyester resins market is expected to witness the maximum gains of 8% over 2015-2022, owing to the fact that this product is used to manufacture recreational boats and tanks. It is also used in adhesives, inks, and paints subject to its aromatic properties.
Get a Sample Copy of this Report @ https://www.gminsights.com/request-sample/detail/133
Subject to the rapid industrialization and the significant growth of the transportation sector, the world has witnessed an increase in the international trade via oceanic routes. This has led to a rise in the number of recreational boats and trade boats, which will spur unsaturated polyester resins market from marine applications, slated to grow at a rate of 8% over 2015-2022.
The automotive, electronics, construction, and other end-use sectors have been observing a tremendous surge across the North American belt, which is likely to fuel the regional unsaturated polyester resins industry. In addition, the United States has observed a massive growth in shale gas exploration and oil extraction activities, which has propelled the regional oil & gas sector. On these grounds, North America unsaturated polyester resins market will grow at a massive rate over the coming years, having accumulated a valuation of USD 1.2 billion in 2014.
Unsaturated polyester resins industry from construction applications was worth USD 1.5 billion in 2014 and will grow significantly over 2015-2022, pertaining to the product's widespread utilization for household structure composites, roofing, and reinforcement. In addition, the governments of various countries, especially across the APAC belt, have been spending excessively on construction and infrastructural development, which will further fuel the market trends.
Speaking along the same lines, Asia Pacific, in 2014, was the region that generated the maximum revenue for unsaturated polyester resins market, led by India and China. The massive growth of the automotive and constructions sectors across the region will spur the market growth. Thailand, India, China, and Indonesia are slated to be the key contributors.
Orthopthalic products dominated the overall UPR industry in 2014, pertaining to the product's extensive usage across fiber reinforced polymer rebars market subject to their excellent corrosion resistance and chemical endurance properties, owing to which they find massive usage across the marine, automotive, construction, and aerospace sectors.
Major companies operating in UPR market have been concentrating on implementing strategies such as high R&D investments and enhanced production capacities, to sustain the business position and expand their presence across the globe. Many companies have also bent on acquiring smaller firms to improve their productivity, in addition to establishing new manufacturing facilities all together.
Major participants exploiting the numerous opportunities in worldwide unsaturated polyester resins market include Tianhe, Changzhou New Solar Co. Ltd., CCP Composites, Ashland, BASF, AOC Resins, SABIC, and Dow Chemical Company. The top players of this fragmented UPR market accounted for more than 30% of the overall share in 2015, though the business space is now witnessing the entry of a plethora of fresh players.
Author Name :Saipriya iyer